Krautchi
We have packaged the global kimchi hype of recent years in the form of a down-to-earth Hessian recipe.
Hessian Kimchi. Our Food Lab has come up with a recipe that combines this Korean staple with Hessian influences. Without further ado, we present to you a brand that will extend the reach of the wonderful kimchi to the German state of Hesse.
Customer
MILK. Innovation Lab
Additional services
Recipe Development, Design Vision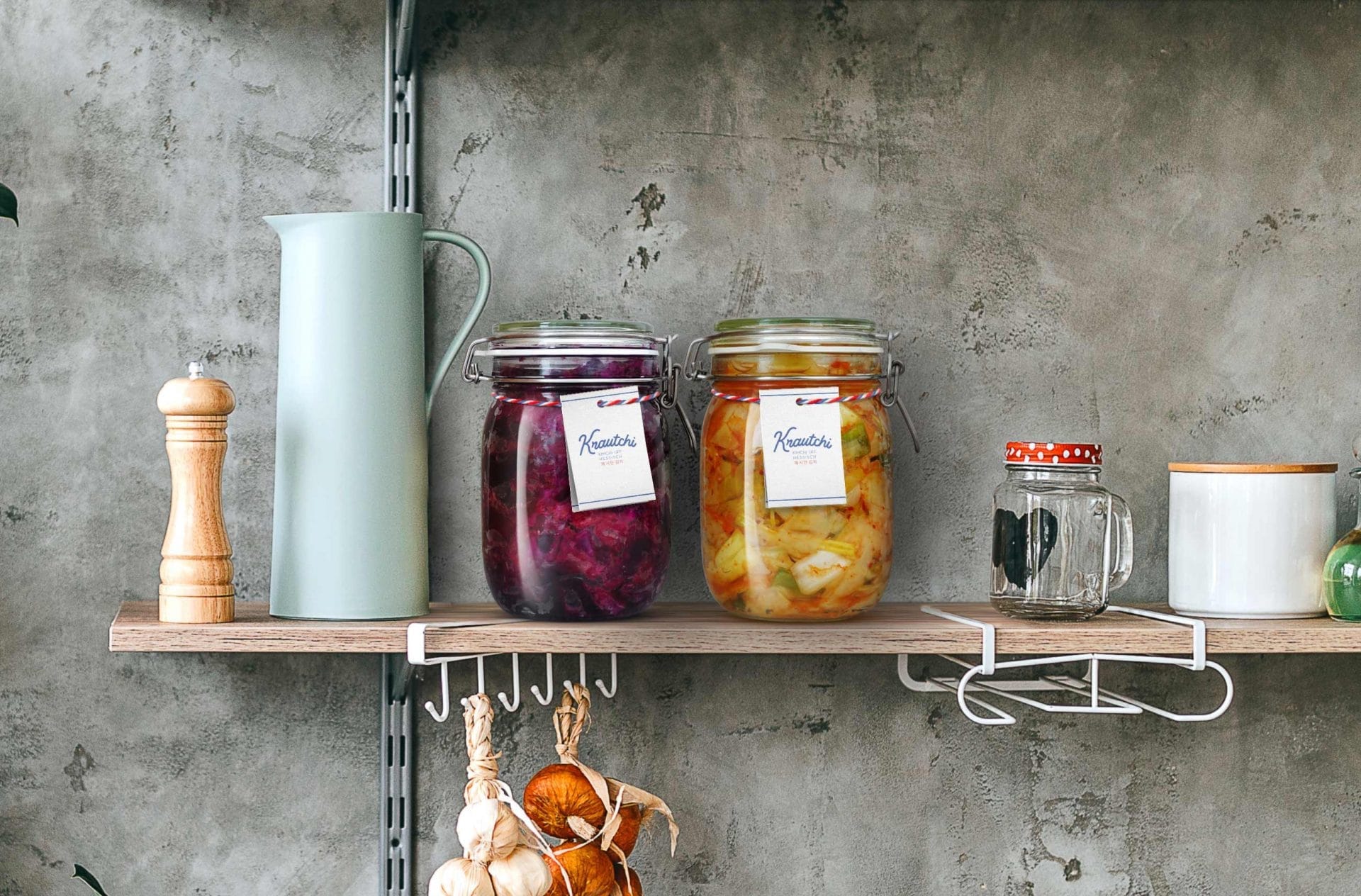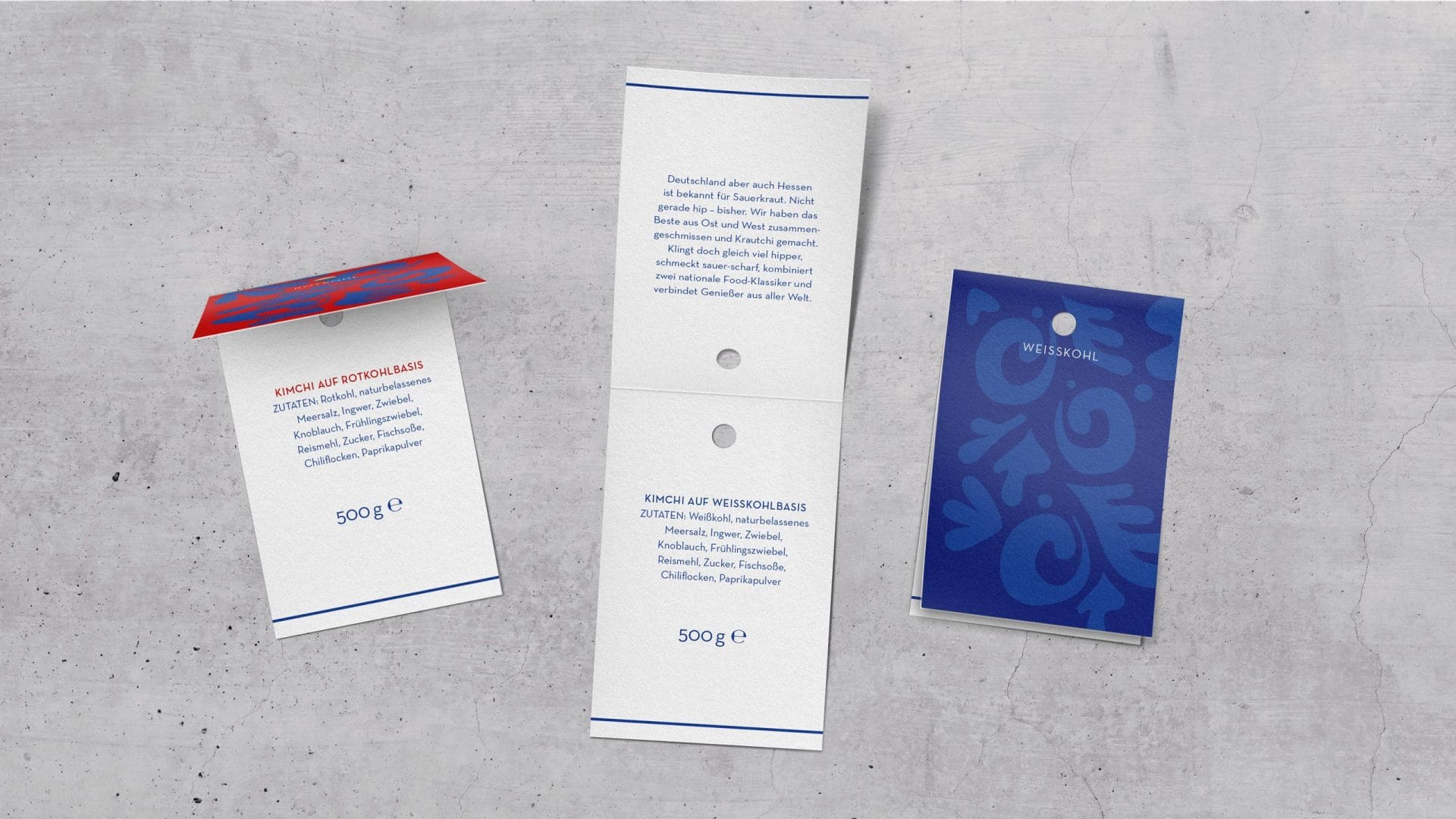 What would German cuisine be without cabbage? It'd be missing a trick. That's what it'd be. You wouldn't be wrong in thinking that the differences between the cities of Seoul and Frankfurt (the world's smallest metropolis) could hardly be greater. But once you consider their shared love of 'cabbage', you realise that they're not so different after all.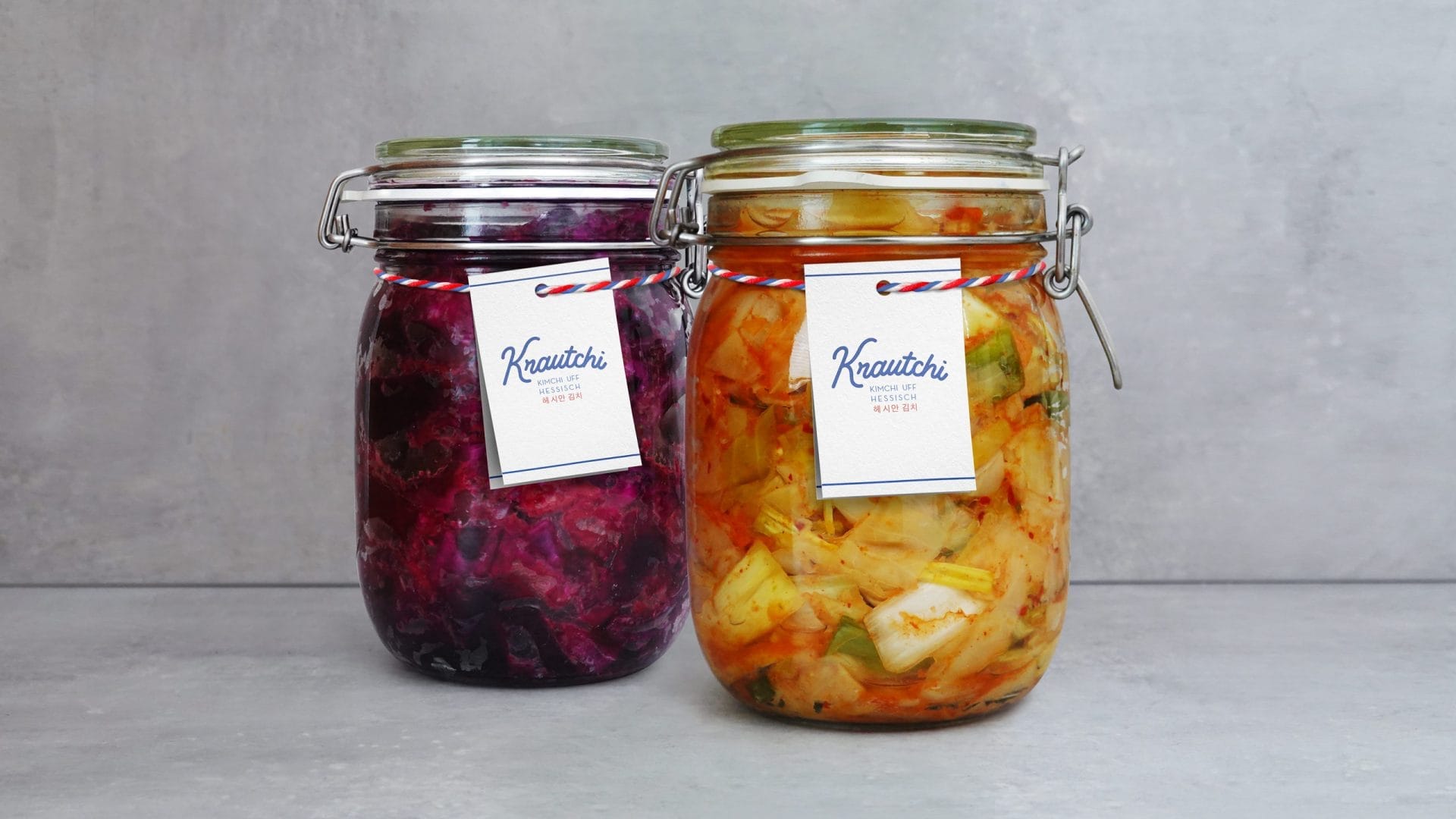 We have packaged the global kimchi hype of recent years in the form of a down-to-earth Hessian recipe. Are you familiar with our recipe development in Milkshake Magazine? But this time, it's cabbage recipes that are taking centre stage.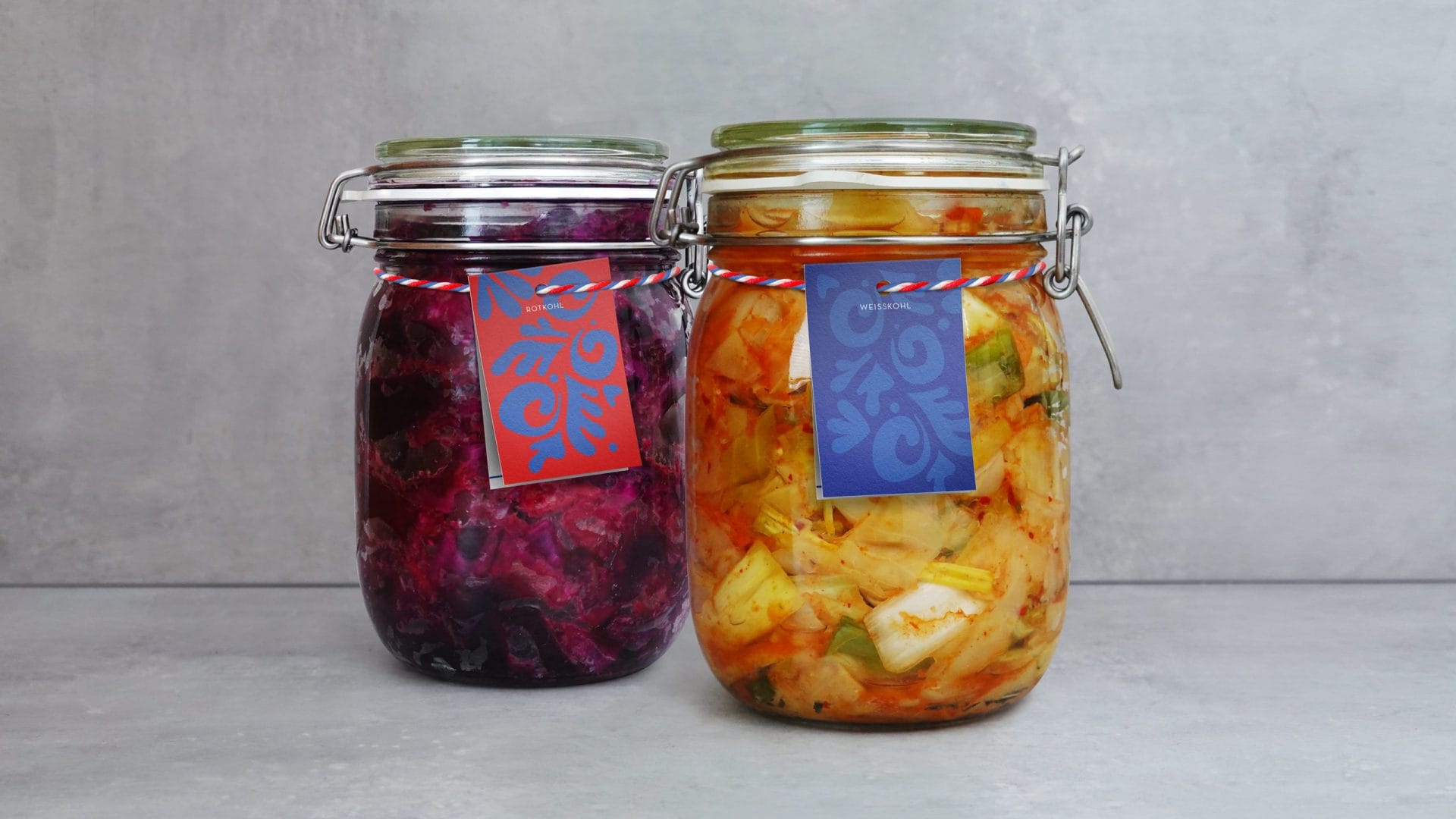 There's nothing left for us to say other than: You absolutely have to try it!
Please send any enquiries, creative suggestions or sales ideas you may have about the "Krautchi" brand to our Food Lab team directly. Bon appetite to everyone nationwide, regardless of whether you're young or old, from the East or from the West.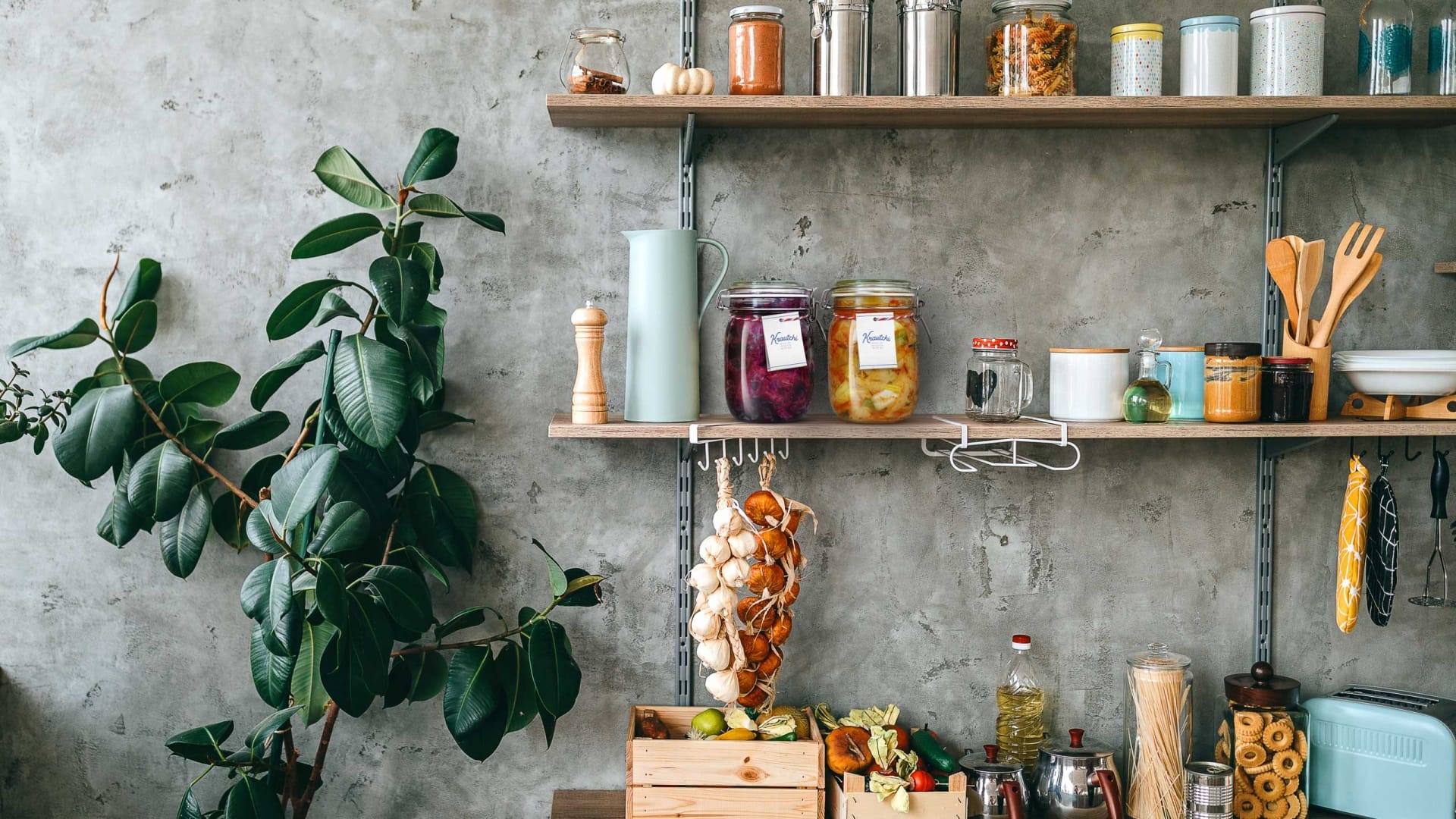 Did you know?
Krautchi hang tags aren't made from any old paper. We use eco-friendly Crush Paper by Favini in our design. Crush by Favini is an eco-friendly paper collection that is produced using 100% green energy. 40% of our paper comes from consumer waste that is recycled and then added to the material. Organic residues from nuts and fruit are used to reduce the amount of waste created and recycle by-products. Crush is certified by the FSC® and is suitable for use in brochures, letters, cards or as a high-quality packaging material. You can access our database for further information about our production-ready "Material Star" here.
Using glass as a primary material in packaging has many advantages, but it is also underpinned by an energy-intensive production and logistics process. In order to create sustainable packaging, the packaging needs to be used for as long as possible, i.e.: used again and again. That is why we have been printing helpful tips on the small print of our packaging leaflets – so-called DIY tips for recipes for preserves, tea light ideas, and insect hotels.
In the future, we still want to connect the cover (the glass) with the contents by developing a seed paper that contains cabbage plants seeds. If you plant the seed paper label in the empty Krautchi jar after you're finished with it and follow the instructions, a new cabbage head will grow. However, this process is still very much in development and we are curious to see whether this element of the packaging can be realised in the future.