The impossibly sensational mushroom patty
It is not only a special experience to pick mushrooms yourself in the forest, mushrooms are also unique as an ingredient and when used in the kitchen. As a mushroom pan they already taste very good but we want more than good taste. Mushrooms have a special texture and this combination of texture and depth of flavor is very suitable to replace meat. We are developing a meatless or vegan burger patty in the Food Lab using mushrooms.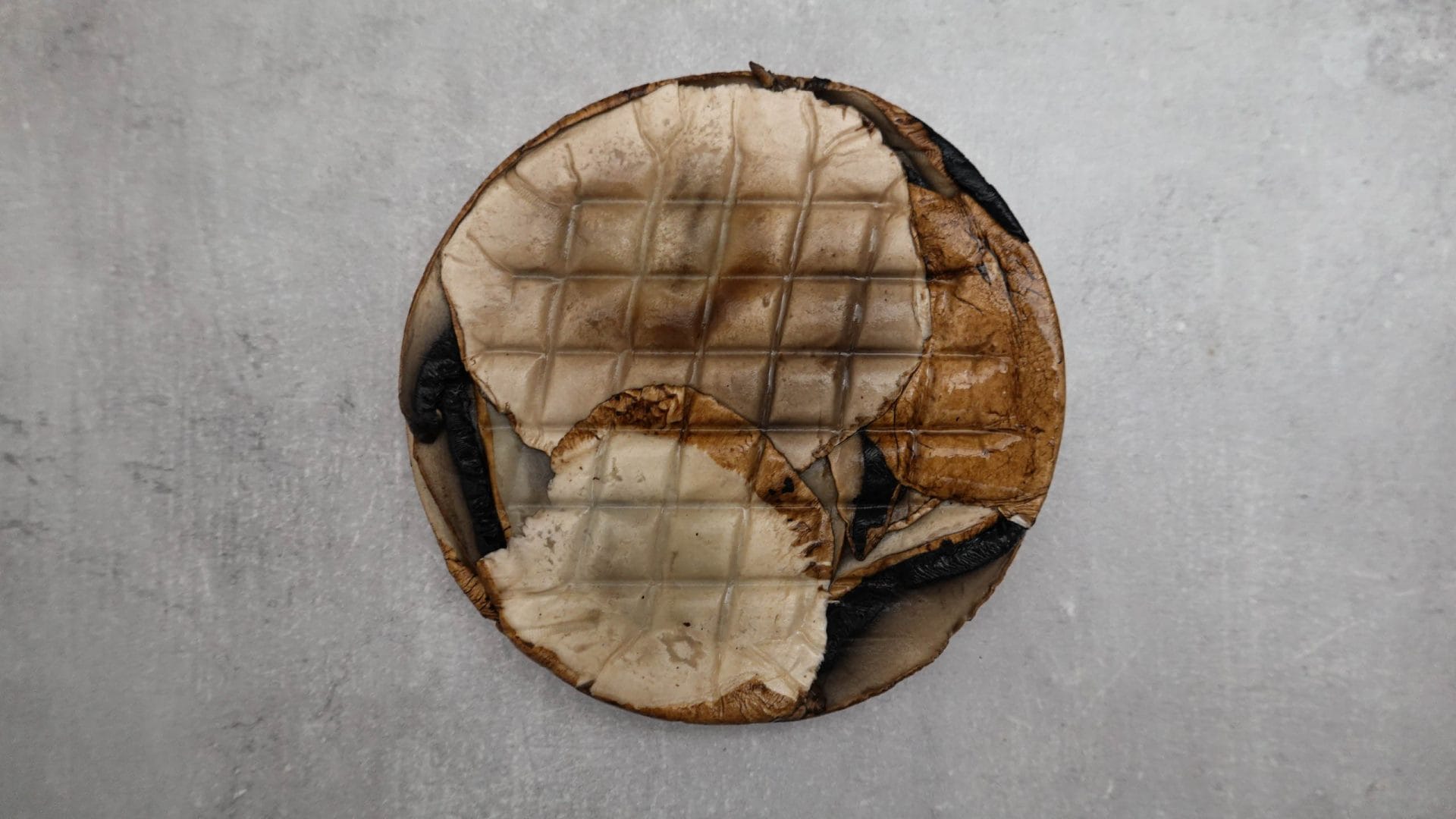 There's a lot of hype around meat-free patties, and even though there are exciting imitations in the process that really make you feel "meaty," we take a different approach. The goal is not pure imitation, but a product that scores with its own characteristics and is simply a very tasty alternative to meat. This makes the development much easier but not more tasteless!
Please a mushroom
The basic ingredient, with which we want to realize our project, sprout from the ground in thousands. Some we find in the forest, the others we get at the weekly market. We still find a few very special varieties in a Hamburg delicatessen. Finally, we have a wide selection of mushrooms lemon broom, trumpet mushrooms, mushrooms, chanterelles, portobello, herb broom, shiitake and white and brown beech mushrooms.
First of all, we want to know what we are actually looking at, so we fry each mushroom individually to get to know the consistencies and to be able to assess how to make the most of the structure.
We especially like the portobello and trumpet mushroom in this regard. When cooked, the trumpet mushroom has a firm-to-the-bite texture. This is good for adding texture to our patty. Portobello is also firm to the bite and the lamellae contract and firm up during frying. The rest of the mushrooms taste very good, but the consistency is rather soft, so they serve us as a tasty filling.
From mushroom to patty
We start the first tests with these ideas:
First, we clean the mushrooms in the Food Lab, free them from sand and moss residues. Then we vacuum some mushrooms with locust bean gum and guar gum and cook them in a water bath. In the process, a larger amount of mushroom stock forms around a solid block of mushrooms. We leave the vacuum bag to cool in ice water. Unfortunately, when we open it, we find that the result does not meet our expectations. The consistency is much too firm and even after frying, this variant can not convince us.
For another variation, we cut a portobello mushroom into rough pieces and form a burger in the patty press. What looks very nice (see first picture) unfortunately falls apart directly during frying without further ingredients.
Too firm, too soft – with our next approach, we're trying to create a meat-like texture for our Food Lab Burger based on lentils and mushrooms. For this we cook a lentil mash, we mix it with a mass of chopped onions and fried mushrooms. The first attempts are not satisfactory, so we continue to experiment.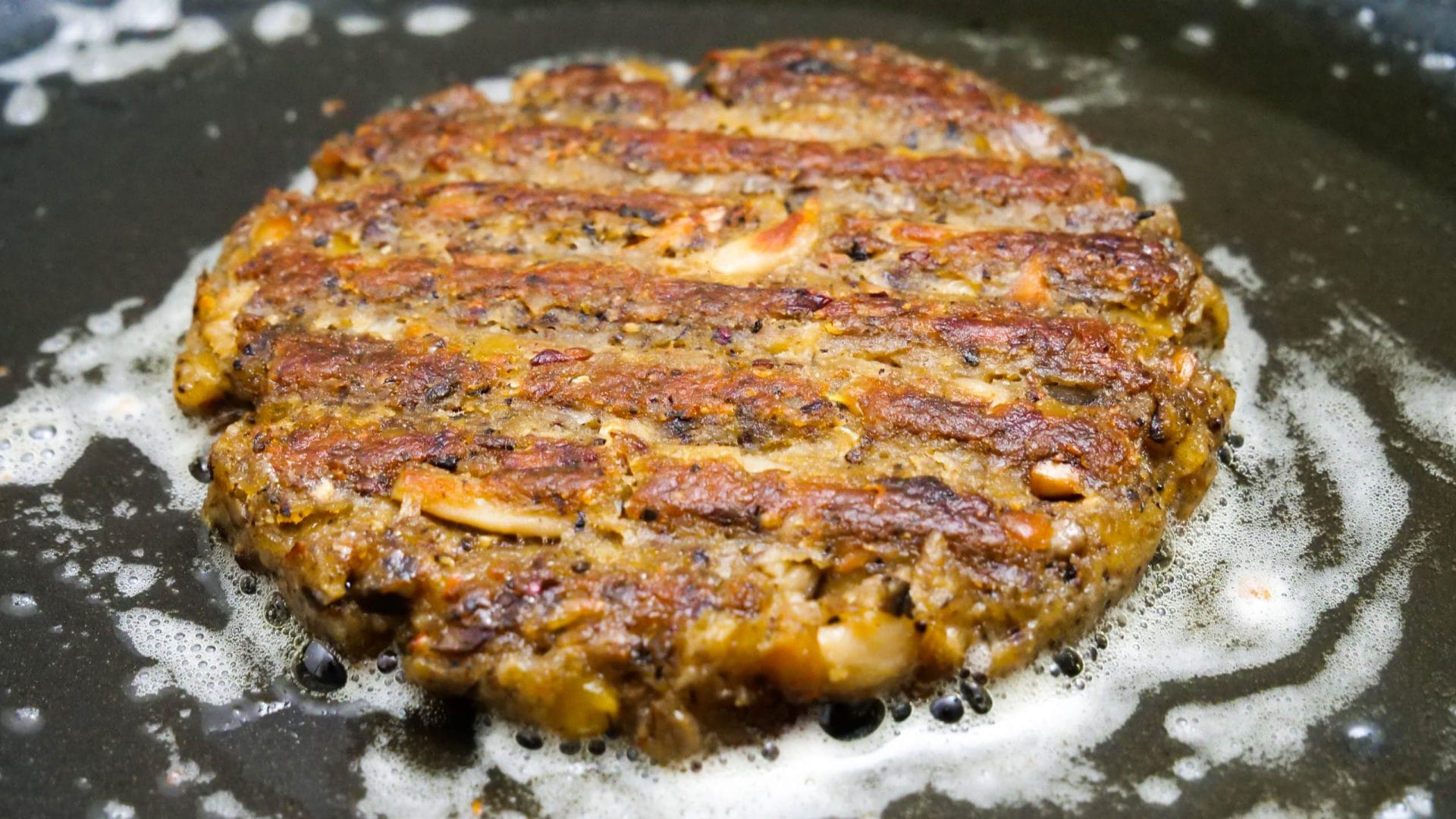 For our preliminary version, we cook a mushroom stock from the mushrooms with onions, thyme and rosemary. We have this one reduced. Then we put on our lentil mash with this decoction. Instead of lentils, bean mash could also be an interesting alternative, but we didn't pursue it here. We bind the mash with locust bean gum and guar gum to obtain a creamy but at the same time firm texture. For the mushroom mixture we mix all kinds of mushrooms, chop marjoram and thyme and fry everything in the pan. Then we mix both masses and add the roasted trumpet mushroom for a better texture, the mass is seasoned with a smoke essence and miso, both support the glutamic acid of the mushrooms and together we get the desired hearty meaty umami flavor. We bring the mass into the typical shape with a burger press and fry the finished patties in vegetable oil.
Our vision of a vegan patty with good mushroom flavor, interesting texture but without highly complex processing, goes beyond comparable products, so it is not impossible and actually quite sensational! Quasi beyond impossible…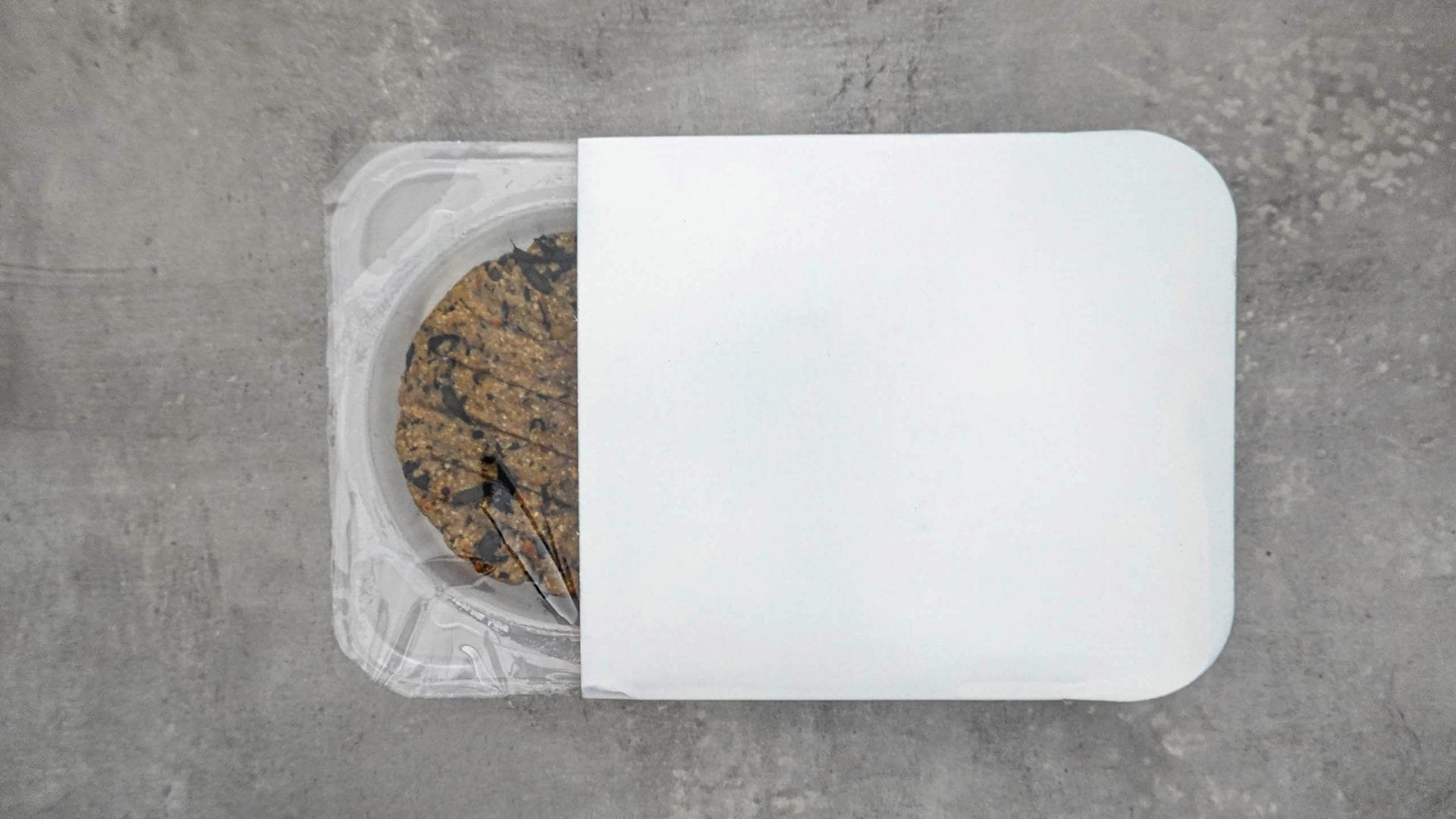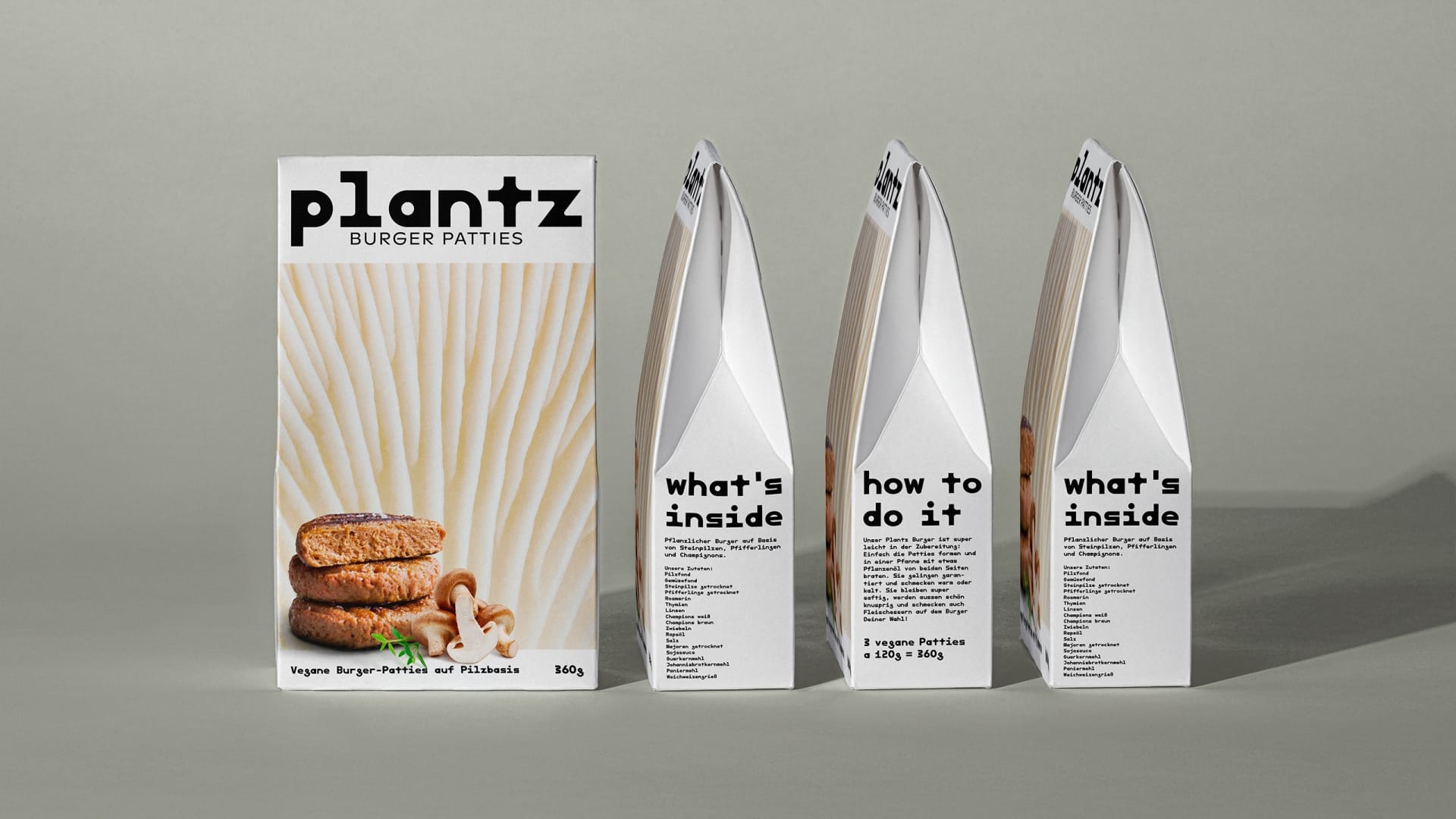 Here you can see what happened to our product idea in the Design Lab___ Plantz for friends.