A tribute to the Frankfurt kiosk
What would Frankfurt be without its kiosks? When the booths in Munich have long since closed, Frankfurt kiosks are only just beginning to blossom. But they are more than just "Spätis" – they are a meeting place.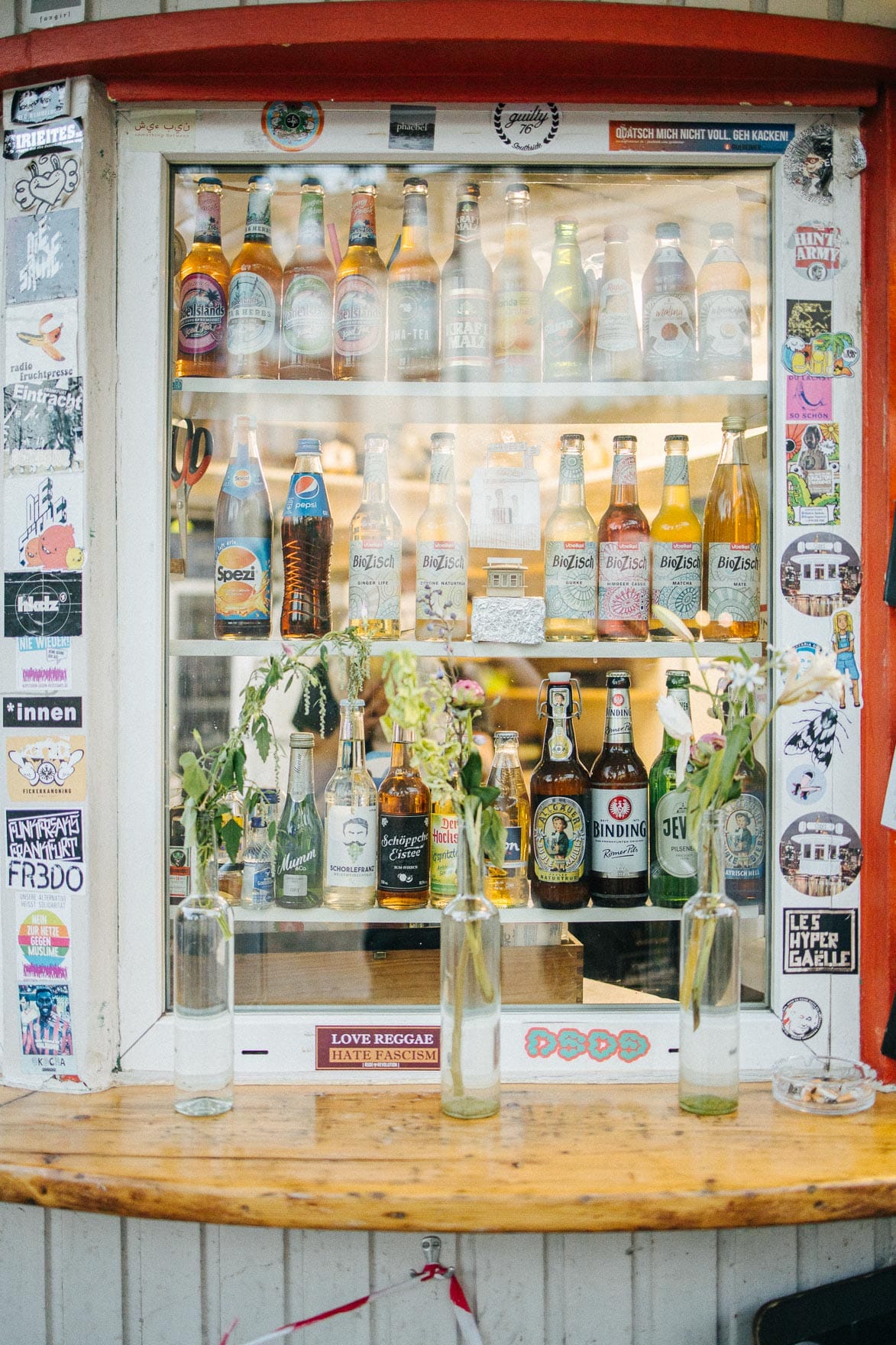 Sober kiosks
Refreshment kiosks or "Wasserhäuschen" are an integral part of Frankfurt's urban culture. These kiosks have a long tradition and still shape life in the city today. We are enthusiastic about our kiosk culture and give a brief overview of this phenomenon here. Drinking halls were created during industrialization, i.e. in the middle of the 19th century in cities such as Düsseldorf or Aachen.
Contrary to what the name suggests today, it was not about drinking alcoholic beverages like in a pub. The workers should be provided with clean drinking water in the form of mineral water. Tap water was not suitable for consumption without boiling it beforehand and it was quite common to drink brandy or beer during work breaks, which was sometimes even supported by the employer. Mineral water manufacturers saw sales potential here and representatives of the municipalities saw the possibility of reducing alcohol consumption among workers. Initially, medicinal waters were also given out, making drinking halls a "health resort" for workers.
A Gropiusbau for seltzer and milk
Martin Gropius made his mark with his drafts a pump room with the appearance of these little houses. The widespread mineral water from the Seltersquelle in Taunus led to the term Seltersbuden in some areas, but in Frankfurt one usually speaks of "Wasserhäuschen".
By the way, milk stalls were also opened, but they could not establish themselves, we would probably have to tackle this project again ourselves.
From the workers' cure to the leisure meeting place and cultural asset
The "Wasserhäuschen", in turn, expanded their range to include newspapers, small dishes, sweets, tobacco products and small everyday items. So they are small supply stations that are there for us almost at all times. And there for us are not only the products, but also the operators and the other visitors. The people turn a water house into a social hub in the city. Unlike in the past, people are less likely to get non-alcoholic drinks during the breaks, rather the small stalls are becoming a popular meeting place after work to drink an after-work beer together. Some water houses have specialized in this aspect like the Gudes, a popular meeting place in the north end. The Fein also invites you to have coffee and cake, sofas around the water house make it an open-air living room. Even without specialties, the Frankfurt drinking halls are always worth a visit. Lovers have created a website on which all water houses are listed and even Diploma theses added.
So "Wasserhäuschen" are a good piece of home and everyday culture that we are happy to support. All you have to do is visit a water house from time to time and have a drink with the people there. And should milk stalls soon cause a sensation, then maybe we have started a new project to encourage the Frankfurt drinking culture to enrich.