Taste explosion instead of restraint
Tofu is now available in decent quality almost everywhere but sometimes we lack that extra bit of flavor. Therefore, we made tofu ourselves to find out how versatile this versatile product is.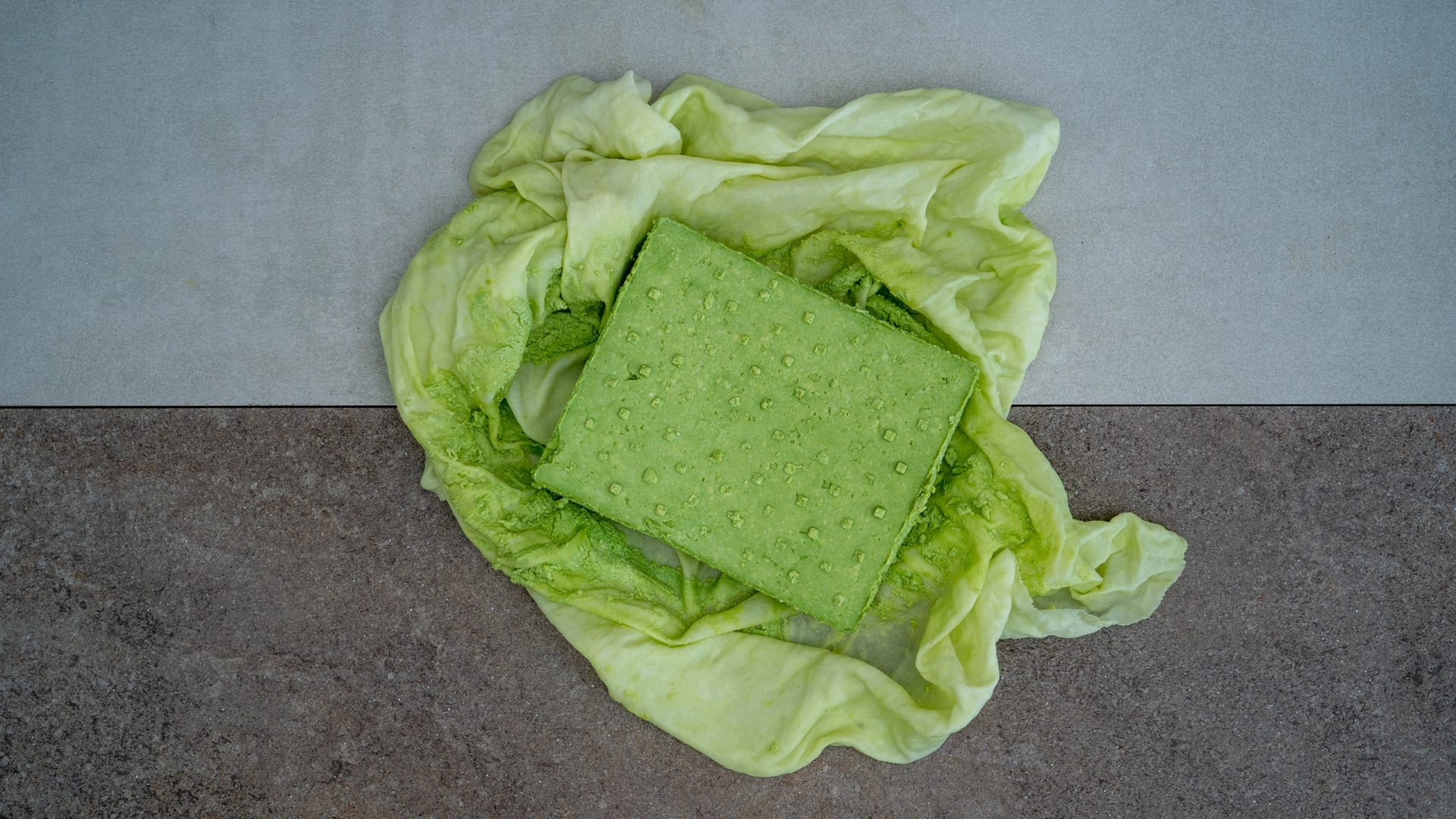 Vegan cheese? Nothing new!
Basically, from a European perspective, tofu is a type of vegetable cream cheese. Not a newly created zeitgeist food like our cash cow cheese, but a vegan alternative to animal products for about two thousand years. And also a more effective source of protein than the animal sources that are more common in our country. In Asia, tofu is as commonplace and widespread as bread is here. However, in this country tofu still has an image of being a sustainable and healthy, but also bland food. This may have to do with the qualities available, but certainly also with our expectation that tofu can replace steak 1:1. Once again, it is necessary to free oneself from prejudices and false expectations and to be open to the potential that tofu undeniably has.
Steffi has been working with soybeans and has not only produced normal tofu variants, but has also experimented with different flavors and thus elicited new tastes from tofu.
News from Munich – Steffi's Tofu Experiments
The first approach to tofu making still involved some learning for me, but once you have some routine, tofu is easy to make yourself. I thought of three variations for my tofu experiment to bring some color and flavor into the often rather monotonous tofu world.
But first, I'll go into the basic production of tofu, and then introduce my variations. Finally, there is again a recipe, for a complete dish with tofu.
For the production of the tofu I chose regional soybeans from the organic farm Lex near Erding.
Tofu natural cold pressed:
500 g dried soybeans
2.5 liters of water
15 g magnesium chloride or nigari
Wash and then soak soybeans overnight in enough water. Drain the swollen soybeans (smell like raw corn on the cob fresh from the field, by the way) and finely puree in 2-3 portions, (otherwise even the high-powered blender will break down) with 2.5 liters of water, little by little. Strain the milk through a straining cloth, this manufacturing process is called cold pressed. (although the blender does generate heat, the process would probably only be truly cold with a slow juicer). Okara (from jap. Kara for pod) is what is left over. Okara can be used, for example, for frying patties and is also used in Japan for various dishes.
The yield is about 1.2 liters of soy milk
The soy milk is now brought to a boil and simmered for 10 minutes. By all means stick with it and stir as often as you can so that nothing burns. Meanwhile, dissolve 15 g of nigari in a little hot water. Cool the hot soy milk to 75 °C and stir in the dissolved nigari. In this case, the flocculation becomes immediately apparent. Remove from heat, cover and wait 15-20 minutes. The coagulant causes the protein in the soy milk to falter. The whey thus separates from the protein. Pour the curd into the straining cloth, drain, wring out, put into a soy press, press and refrigerate.
Tofu yield: 318 g
Summary: After the often recommended pressing time of 30 minutes, the tofu was not firm and had a sandy/coarse appearance. But the cause was a manufacturing error: the soaked beans were not mixed finely enough. This step should be done with some patience to get a good result. The firmness overall got better after pressing overnight and my first fresh tofu really won me over taste-wise. But what already tastes really good can be varied as desired. I did this with some of my favorite flavors
Thai tofu (not cold pressed):
500 g dried soybeans
2.5 liters of water
15 g magnesium chloride
For this, the basic recipe is supplemented with the juice of these ingredients:
10 g Thai basil
15 g coriander root
2 kafir lime leaves (you can buy them frozen at the Asian grocery store)
150 g baby spinach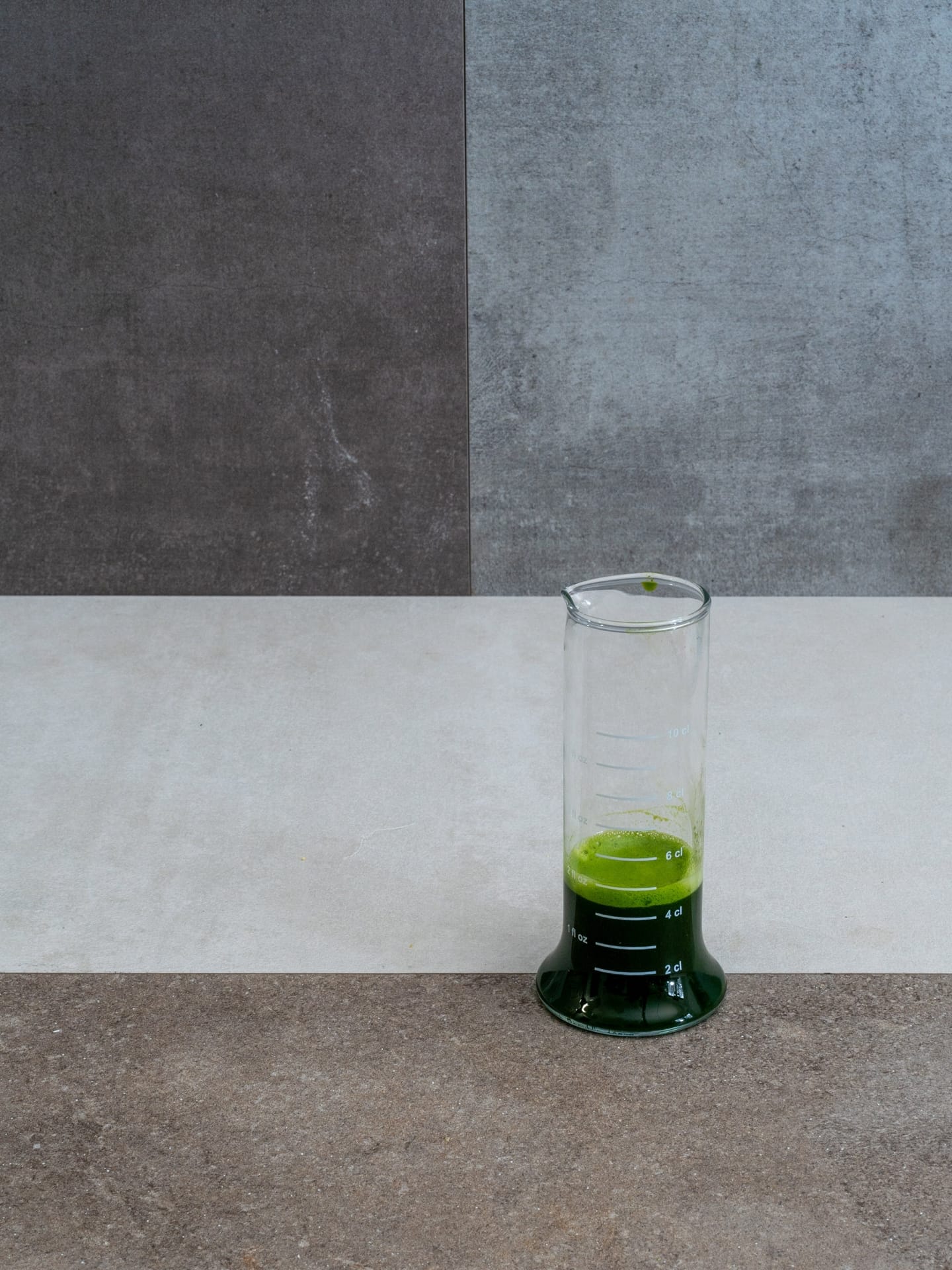 Wash and soak soybeans again, but this time do not cold press, but mix, immediately bring to a boil and simmer the mixture for 10-15 minutes. Then strain through the straining cloth and collect the soy milk. Add the coagulant dissolved in hot water to the soy milk at approximately 75 ° C. Wait 15-20 minutes and strain the flocculated protein and return it to the cleaned pot. Add the green juice and stir in with 5 g salt. Then drain in a straining cloth, press, place in the tofu mold and refrigerate. Save the whey and use it elsewhere (e.g., mix it with a juice and enjoy it in the home office).
Conclusion: Great green color but unfortunately without noticeable change in taste. With a lot of imagination it tastes green and grasses. However, by more finely pureeing and pressing the tofu harder, the end result is better than my first attempt. The tofu became firmer and finer.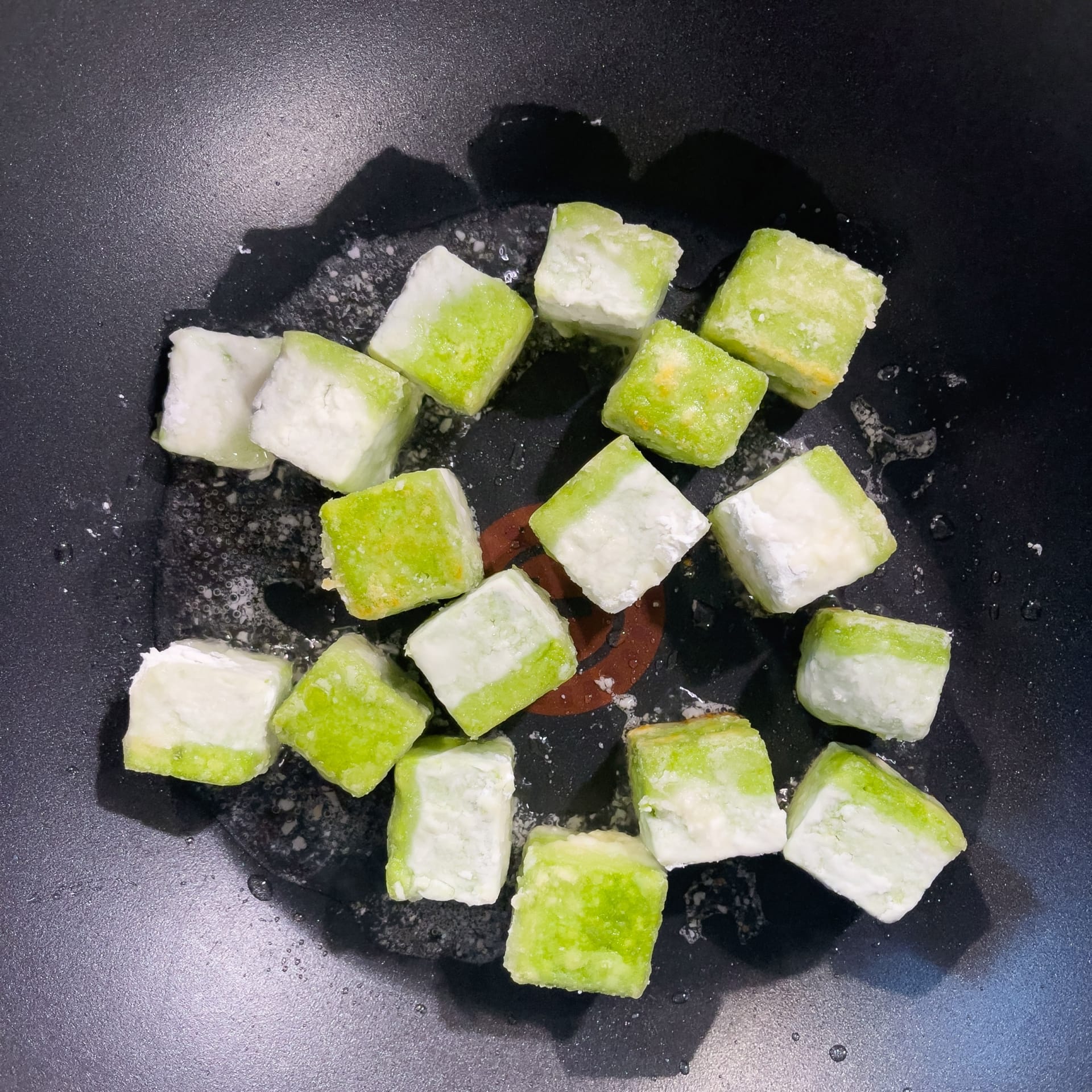 But now I want to bring a little more flavor to the tofu in addition to a nice color, so a third approach. Instead of juicing ingredients, I now work with more intense flavors: my favorite curry powder, some turmeric, and mango-passion fruit.
Tofu with curry spice mixture
500 g dried soybeans
2.5 liters of water
15 g magnesium chloride
Seasoning:
100 g mango passion fruit
3 g turmeric
8 g curry (fruity hot curry)
10 Salt
1 pinch of black pepper (ensures that the substance curcumin contained in turmeric can be optimally absorbed by the body, which has a healing and anti-inflammatory effect)
Proceed as for the 2nd recipe. Now, however, has resulted not only a beautiful color, but also a sensational taste. Tofu of such varieties is fun and tasty. From my point of view, exactly such a thing would be an ideal product to convince tofu skeptics. I would love more color and flavor in the tofu shelf!
The Green Tofu fell short of my expectations, but I use it in this recipe to give it that extra something after all. If making tofu is too time-consuming for you, you can of course cook the recipe with store-bought tofu.
Green tofu sweet and sour on lentils with baby spinach
For 2 people
Lenses
200 g organic mountain lentils
50 g baby spinach
2 tablespoons grape seed oil
Salt and pepper
1 pak choi
2 Red pointed peppers
Wash lentils and prepare according to package directions. Tip: Cook for about 30 minutes, always without salt and with bay leaf (salt prevents the lentils from becoming soft). Season with salt, pepper and grape seed oil and fold in the baby spinach. Preheat the oven to 200 °C and cook the peppers in it for about 30 minutes. Black spots appear on the skin, ready! Remove to a metal bowl and cover. Allow to cool slightly, then peel off the skin. Quarter pak choi and sauté briefly and vigorously in a wok with a splash of oil.
Tofu
1 handmade tofu cut into 2 cm cubes
50 g starch
60 g agave syrup
60 g soy sauce
2 tsp Asia vinegar
1 tablespoon sesame oil roasted
2 small cloves garlic, small cubes
1 large piece of ginger (or as desired), cut into small cubes
1 green chili, chopped
Roll tofu cubes in starch. Heat neutral oil in a coated pan and fry the cubes until golden brown on all sides. Remove from pan and set aside. Dissolve the remaining starch in 50 ml of cold water. Add agave syrup and soy sauce to the hot pan and stir. Stir in vinegar, sesame oil, garlic, ginger and chili. Add the starch and as soon as the liquid thickens, fold in the fried tofu cubes.
Serve immediately on the lukewarm lentils and garnish with sesame seeds.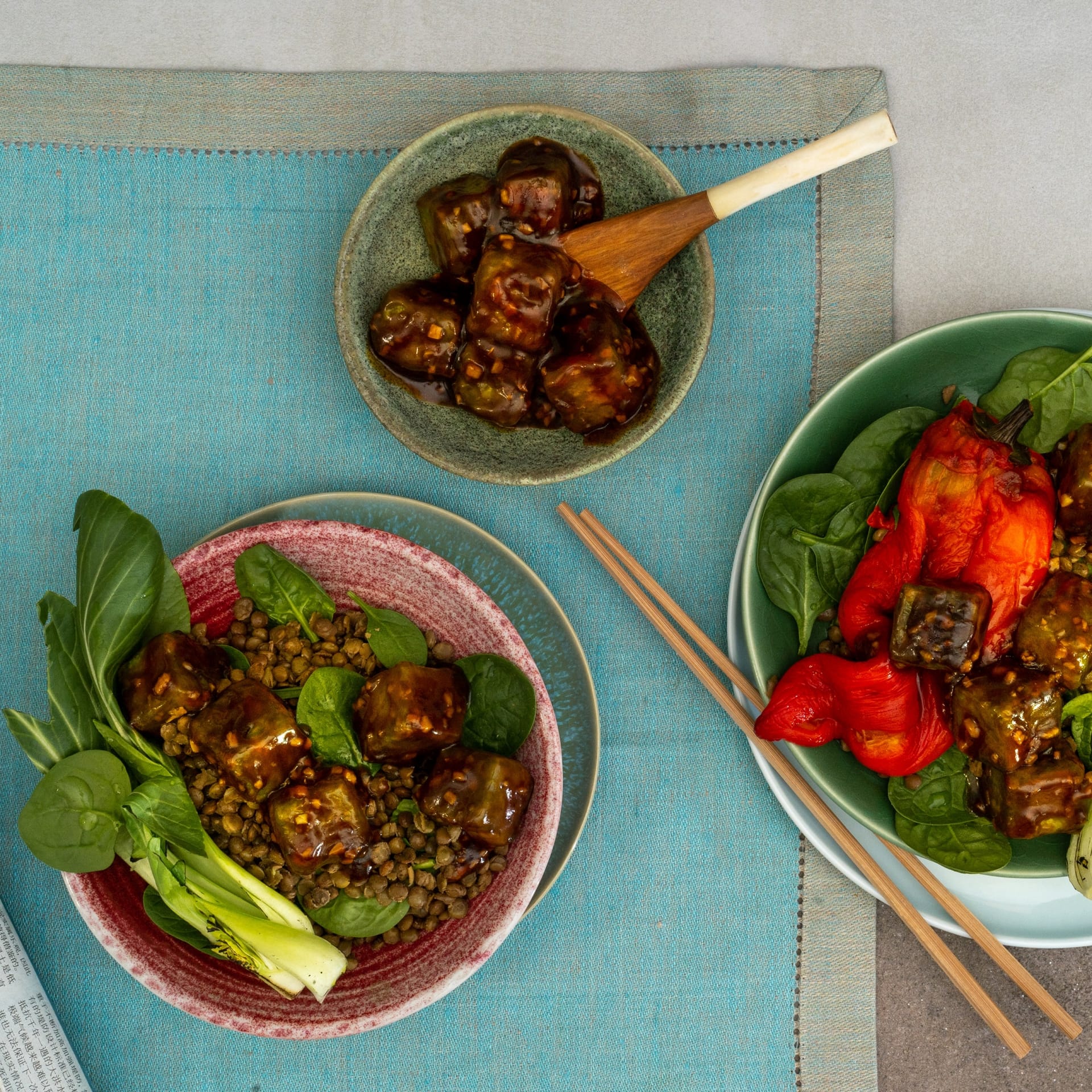 Bon appetit!
Second helping: vegan tripe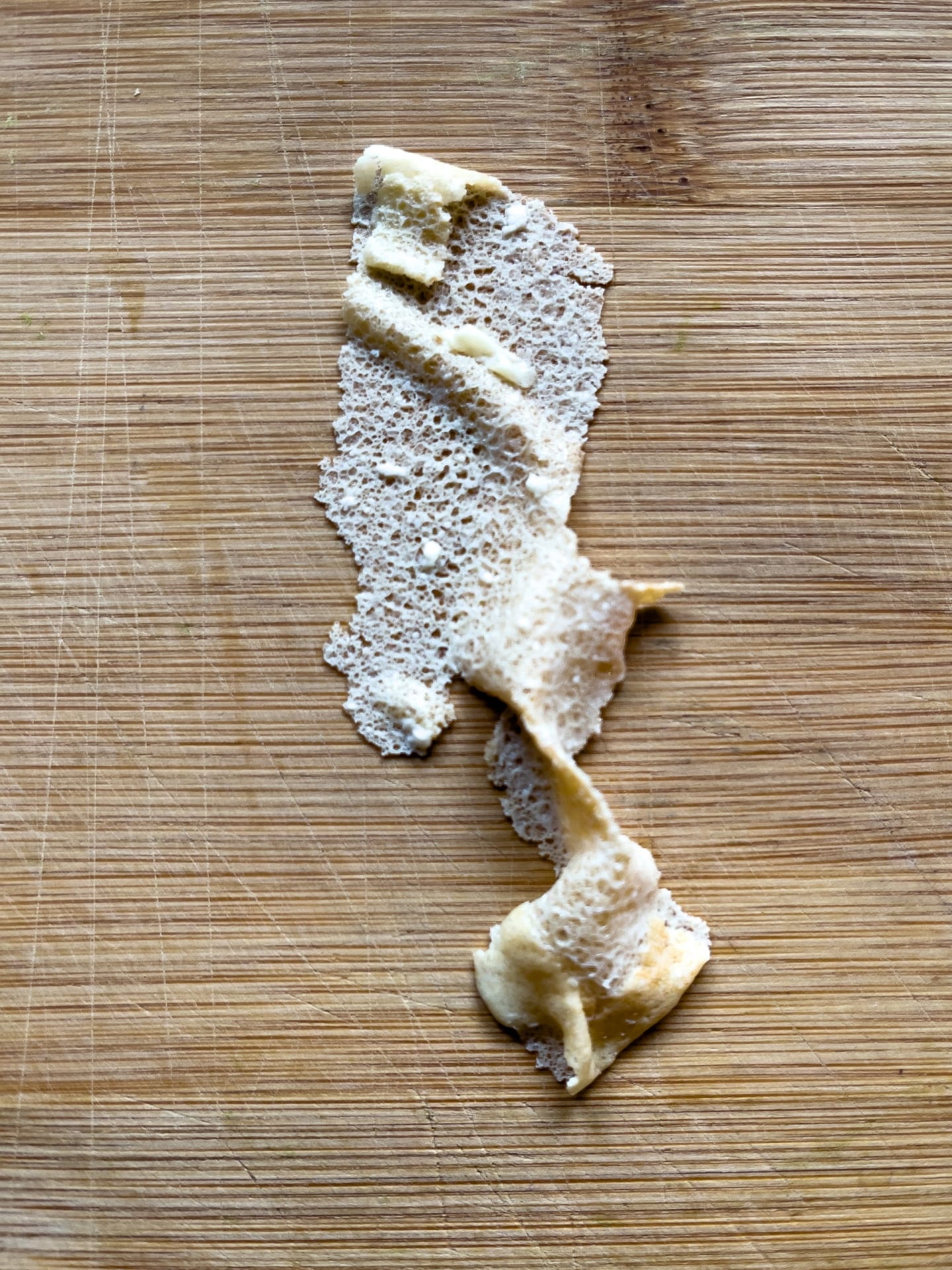 During the production of the tofu, another special feature has arisen: A crispy tofu skin has appeared at the bottom of the pot. Yuba, or tofu milk skin, is popular in many Asian countries, but forms on the surface like milk skin. The version from the bottom of the pot is also somewhat reminiscent of the crispy rice from the bottom as it is prepared in some countries and looks like tripe. Vegan tripe, perhaps also an exciting innovation!
As a packaging design agency, we are also interested in what goes into the packaging. With our experiments and recipe development we hope to create inspiration and make a small contribution to more variety and innovation.