The cash cow
We continue to ferment diligently, this time it's about cheese – but not with milk from the cow! Cheese is a fascinating food with a very rich cultural history.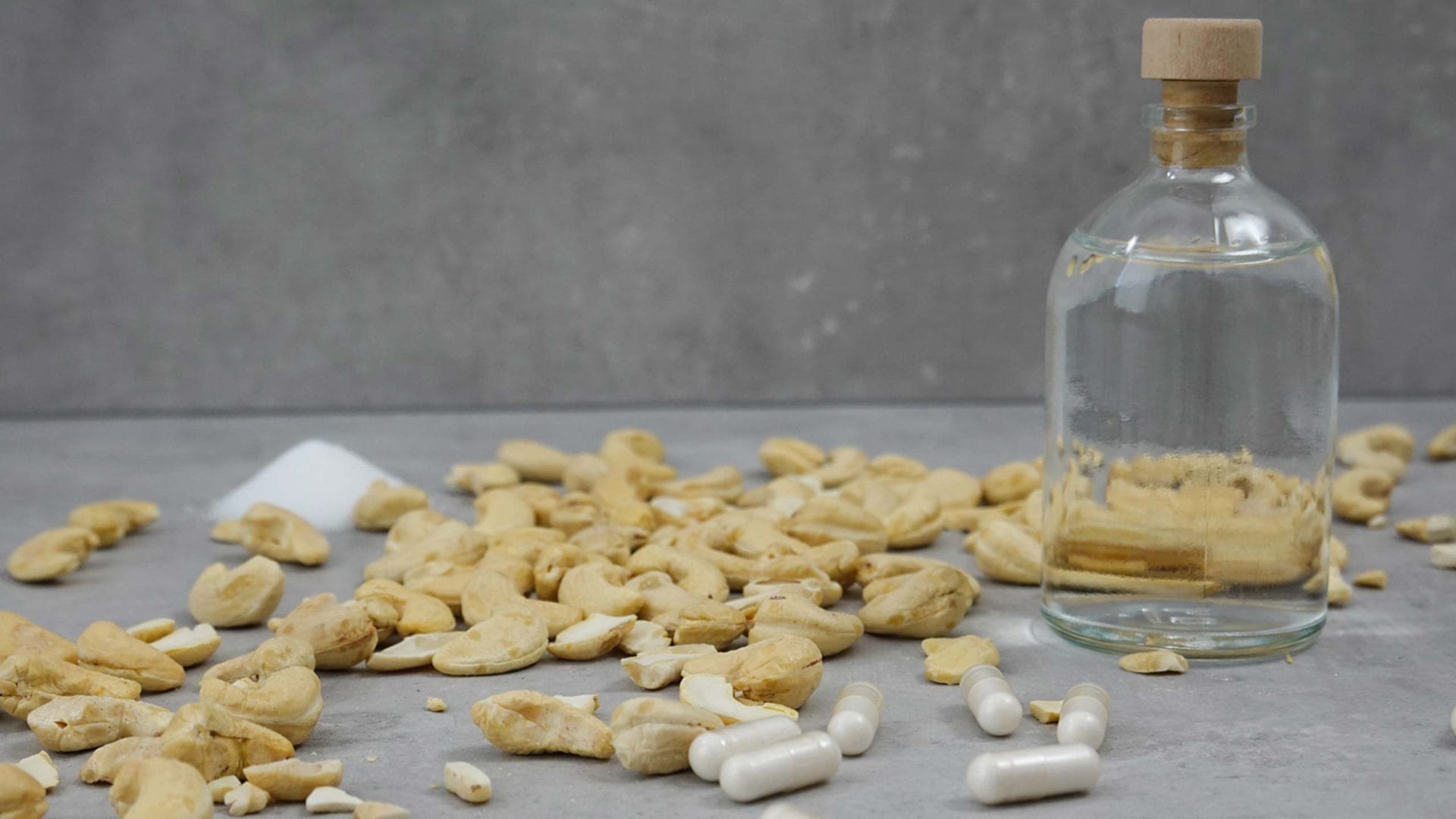 Fermented nut milk
Milk becomes more durable and concentrated through the fermentation process. In addition to this practical aspect develops a special taste and people have cultivated it in a wide variety of varieties and through various treatment techniques.
We are continuing a history of about 5000 years in cheese making. Now we are not cheese professionals, but simply curious and enthusiastic. This is often enough to make interesting new discoveries. Robin from the design team told us about a vegan cheese made from cashews and encouraged us to give it a try.
Pure culture
So for this we break with one of the important constants of traditional cheese making: milk from animals. Instead, "milk" from seeds, with the aim of producing a cheese that is purely vegetable-based. As ingredients we use cashews, salt, water and probiotic cultures. If you want to know exactly, here are all the cultures. Read quickly, it makes a beautiful expressionist poem:
Lactobacillus acidophilus, Lactobacillus plantarum, Lactobacillus casei, Bifidobacterium breve, Bifidobacterium longum, Bifidobacterium lactis, Bifidobacterium bifidum, Streptococcus thermophilus, Lactobacillus crispatus, Lactobacillus gasseri, Lactobacillus bulgaricus, Bifidobacterium infantis, Lactobacillus rhamnosus, Lactobacillus salivarius, Lactobacillus paracasei, Lactobacillus reuteri, Lactobacillus fermentum, Lactococcus lactis, Enterococcus faecium, Lactobacillus jensenii).
and white mold cultures (Penicillium Candidum PC Vegan is a vegan – who would have thought – culture used in the production of white mold Bert. The cultures start at optimal temperature after 5-6 days. The white mold cultures are a noble mold, it forms a woolly structure on the cheese).
So the cheese we do not just let it go bad, that might be art but not necessarily edible, but reasonably controlled mold and ripen. It is also an exciting cultural technique with our vegan cheese.
The cash cow
We soak the kernels in cold water for a day, during which they almost double their volume.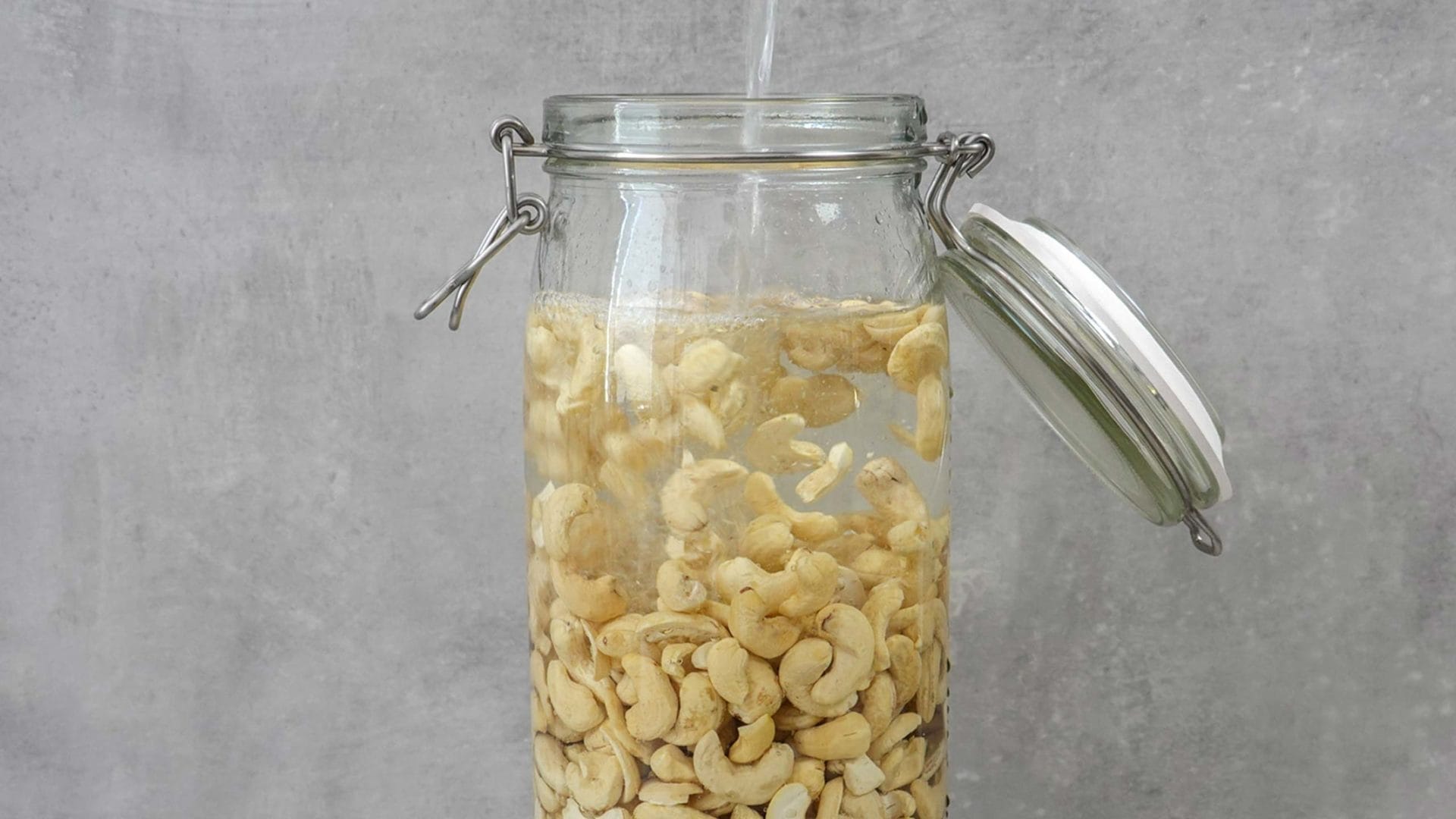 The next day we rinse the seeds thoroughly under running water. The liquid from soaking is slimy and bound almost like a sauce. The washed off kernels are soft but not mushy. We put them in a blender with a little water, here we get a fine mush by high speed. Our milk from the cash cow!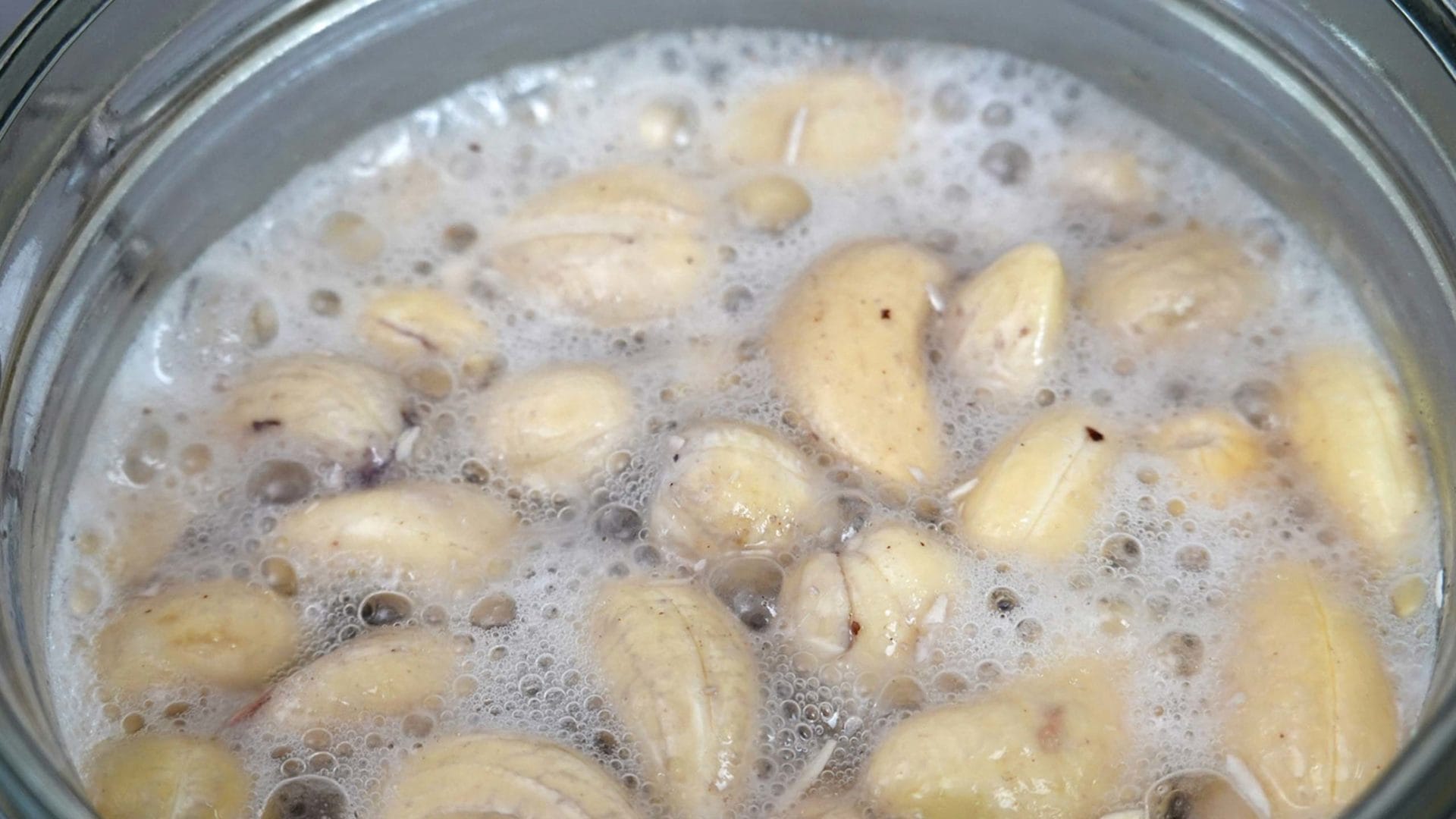 We first mix the cheese cultures with water, then add them to the seeds in the blender. We open the capsules and remove only the powder they contain. This powder contains natural microorganisms with lactic acid bacteria and yeasts. They are all an important ingredient in the production of vegan cheese.
Care and nurture
Then we mix the core puree again. Using a dough scraper, transfer the finished mixture into a clean glass bowl. Covered with cling film, the mixture is now left at room temperature for 24 hours. In the process, the mass begins to form a pore and work. With a dough spatula we mix the mixture once again. To give the cheese wheels their typical shape, we take cookie cutter rings and line them with cotton linen and fill them with the cheese mixture. Finally, we cover the loaves with linen and press everything well into the rings. Thus prepared, the cheeses rest, covered for 24 hours, in the refrigerator.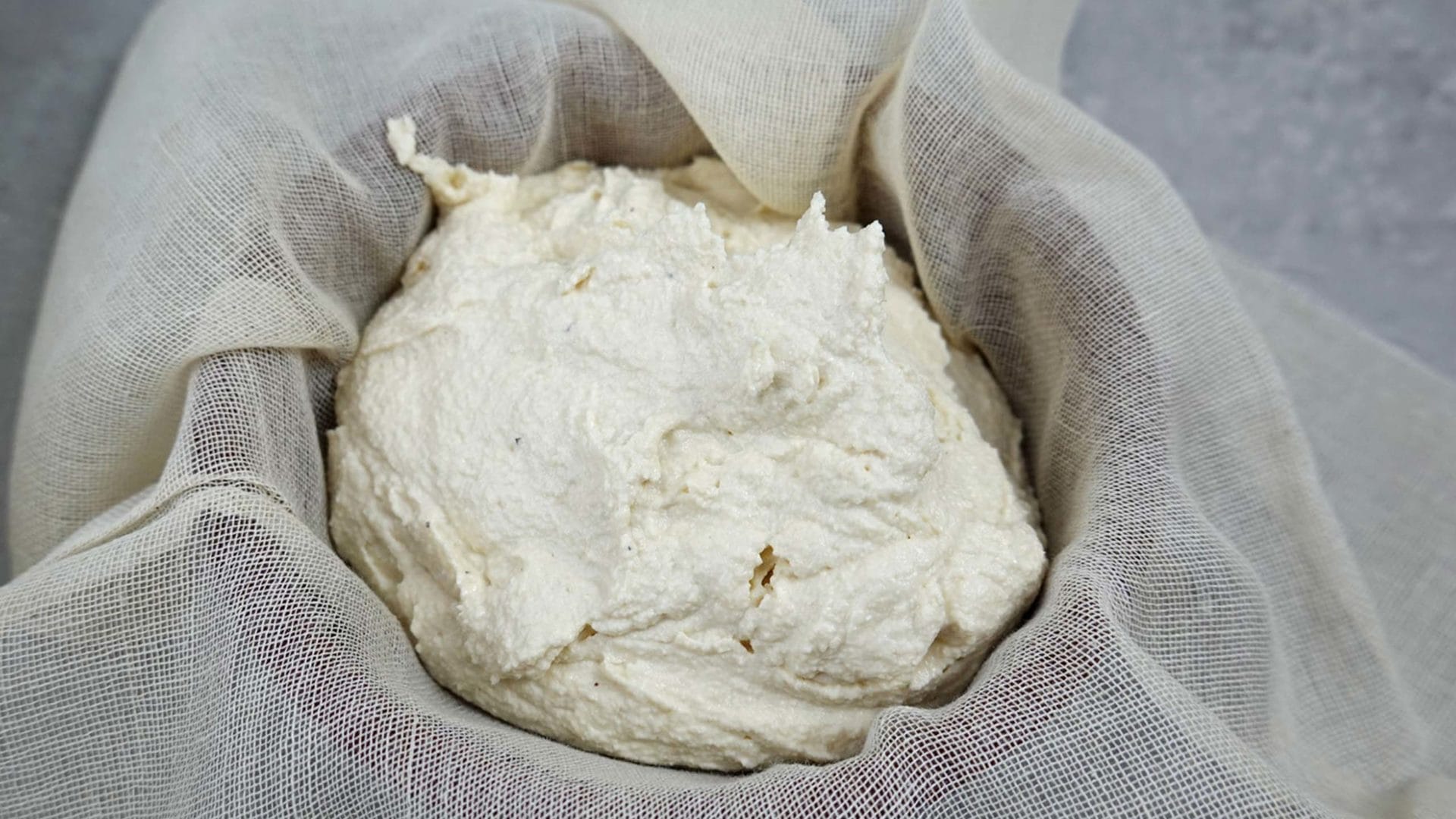 In the next step we remove the rings and also the cotton linen, we now place the loaves on baking paper and salt them from the top and bottom. Now we put our loaves covered, for another 24 hours in the refrigerator. The next day we turn the loaves, also changing the damp baking paper. This is how we proceed for the next five days. It is important to make sure that the baking paper and the containers in which the cheese wheels ripen are always dry. After five days, mold cultures are not yet visible, it smells cheesy and slightly sour. In the following days, however, we can observe how the mold cultures slowly but continuously spread from day to day.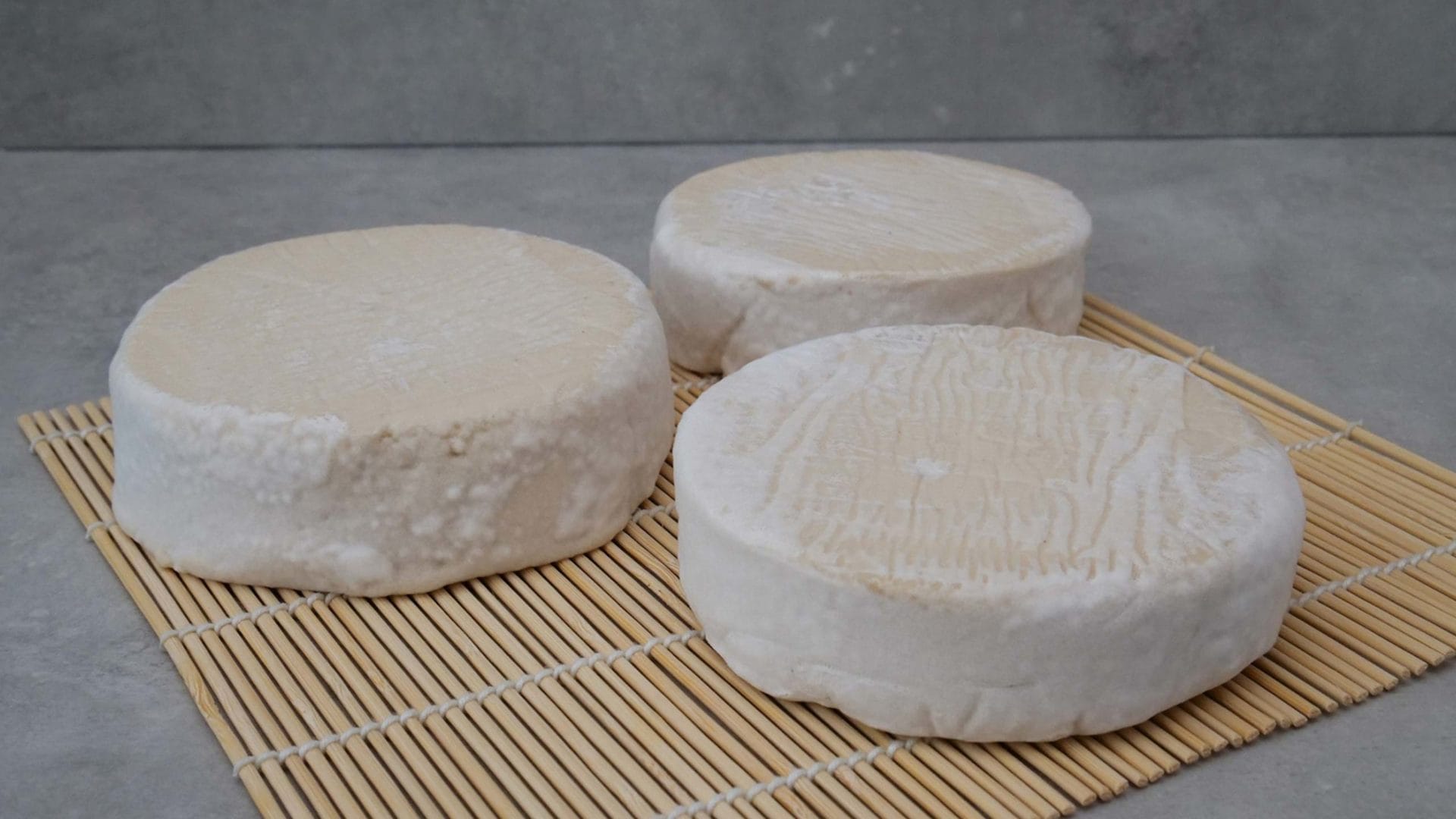 Once the mold has settled around the loaves, we place our cheese on a bamboo mat, which in turn is placed on a praline grid. This gives our cheese enough air to breathe from all sides and the mold growth can proceed optimally. Then we wrap the loaves in baking paper and put them in the wooden boxes like this, where they ripen for another two weeks. A taste judgment, we can make only after complete maturation.
The same applies to vegan cheese: good things take time. We are excited and confident that our cheese will not be an analogue cheese, in the sense of an inferior substitute product, but a product with its own profile, which through passionate preparation brings honor to the conventional cheese culture!
Maybe our cashcow cheese is even a product with cashcow potential.