Change in the pots and minds
Even better quality on Berlin plates – that's what Kantine Zukunft, commissioned by the state of Berlin, has been ensuring since 2019. But not for restaurants, but where many people eat every day, namely in community catering: daycare centers, cafeterias, company cafeterias, retirement homes.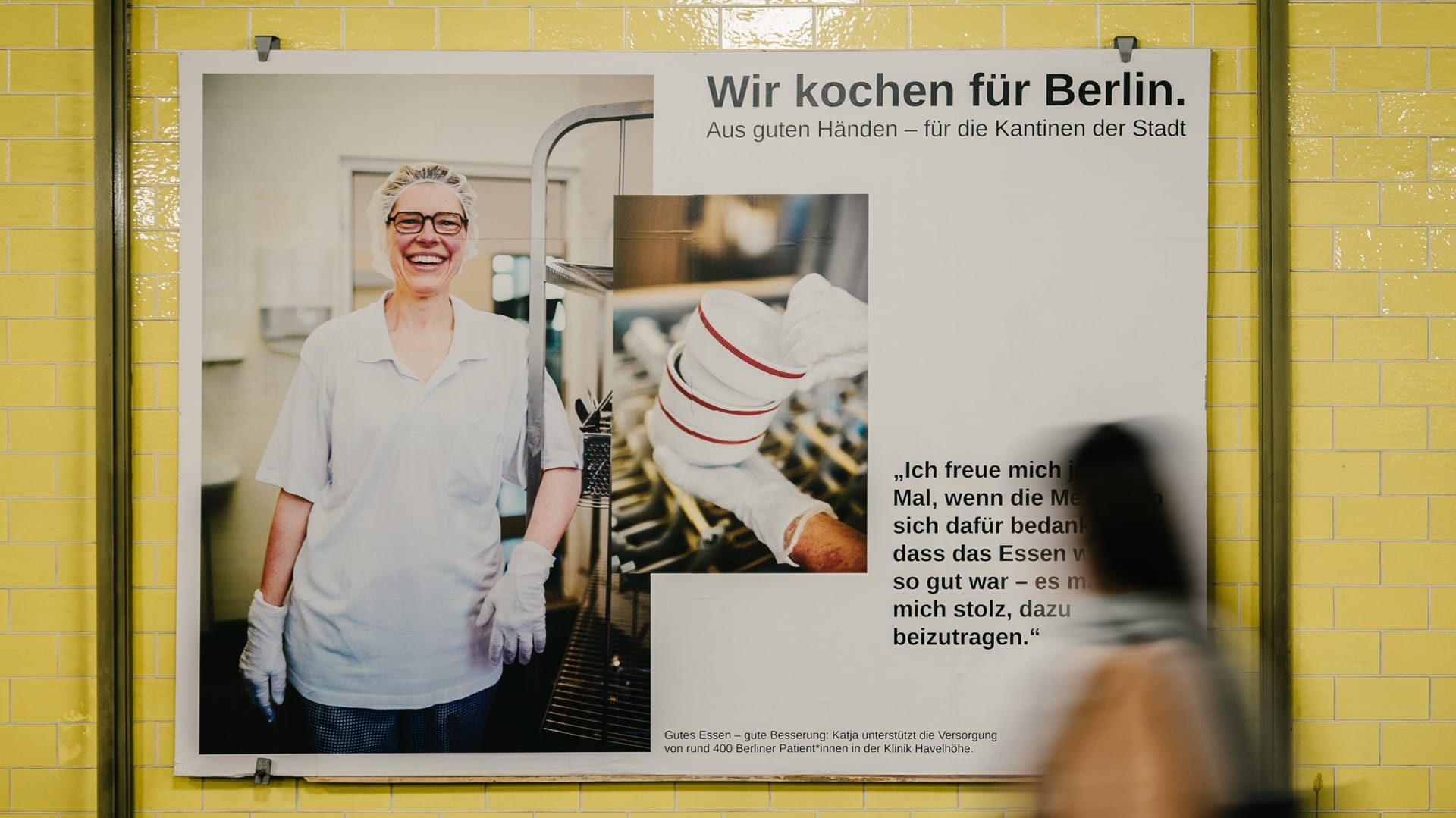 The Kantine Zukunft canteen workshop only works with institutions where the food is financed with public funds – either in full or at least in part. In other words, company cafeterias that are publicly owned. Accordingly, the facilities do not pay anything for the service. It is important to note that participation is always on a voluntary basis, i.e. the canteens are not under political pressure to do anything differently, but do so because they want to be part of the transformation of community catering. And there are quite a few of them: The kitchens with which Canteen Future currently works produce almost 4 million meals a year. Working together means primarily consulting and training, because Canteen Future does not provide the kitchen teams for the facilities but supports the kitchen teams in changing processes and building up new competencies.
Dinah Hoffmann, studied gastronomy science and deputy project manager, was in conversation with Felix and Can from the Food Lab together with social designer Anastasia Eggers, who is responsible for the visual appearance of the Kantine Zukunft, among other things.
What exactly is the process with the canteens, and how long do you expect the changeover to take?
On the one hand, the cooperation is about picking up all the important actors of the participating institutions from the "customer". It is also necessary to find certain "multipliers of change" so that the change process can be established. The Canteen Future also does not simply impose something on the facilities; the facilities are supposed to contribute their own ideas. As a rule, a project lasts six months at smaller facilities. At larger facilities, this takes longer simply because some processes, such as purchasing, have to be planned and tendered for the long term. Therefore, we also have to take people from purchasing with us so that tender documents change.
"We don't show how to cook – the chefs and cooks already know how to do that – but optimize processes."
A first and important part of the work is the analysis of purchasing data, especially in the evaluation of change. When you look at what is purchased, you know exactly what is processed. Convenience products, fresh fruits & vegetables, seasonal, meat. Example: If flour and sugar are not purchased, then presumably there will be no home baking. Based on this analysis of purchasing, it is relatively easy to compare how the cafeteria has changed at the end.
We notice that the kitchen staff, with the way we approach it together, enjoy their work more. By producing more themselves (instead of just reheating) for example. This change also creates a new attitude with which they also give hospitality in a completely different way. The kitchen staff realizes, "We are the hosts of the city. This is where people come to eat, and they come every day." Making such changes visible beyond the kitchen counter is another part of our work, for example with the "We cook for Berlin" campaign.
What are the challenges?
Often the chefs are reluctant to implement changes – they fear criticism from the cafeteria patrons. But: It is a great advantage of community catering that people are regular customers and there is a relationship between serving staff and guests. As a result, there is already a relationship of trust, which means there is a greater willingness to try something new. We convince with taste.
Find money and invest in better quality
The change doesn't have to be drastic. A lot of our work is about finding money that can be saved at one end and then invested in better quality. This then often means less expensive ready-made products and convenience meat. So when we propose a lentil lasagna, part of the meat is replaced by lentils. This does not actually change the taste and texture, but saves costs, which you then invest in organic quality for the remaining ingredients, for example. "Our green spelt bolognese goes over great with kids!" We prefer to use vegetables, ancient grains and especially legumes rather than meat substitutes. We are not interested in removing meat from menus, but in establishing a healthier relationship, for people and the planet. The "Berlin Method" (see gallery below) describes our principles, which serve as a guide for the project. It also says: fish, meat and dairy products are valuable supplements, but the basis of canteen food is unprocessed, plant-based raw materials.
First picture Anastasia Eggers (photo credit: Kristina Kast), second picture Dinah Hoffmann (photo credit: Lea Ligat)
"We convince with taste"
How do you communicate meat alternatives?
Sometimes it also helps not to communicate things. In some facilities, we have reduced menu lines from 6 to 3. So that you can plan better, so less is thrown away, the kitchen can focus on preparing fewer dishes, making them even better, and as long as people find something they like – whether with a lot of meat, a little meat, or no meat – the guests are satisfied and the kitchen has done its job successfully.
Sometimes it's also the order in which something is presented, so that's another place where change is encouraged. It is not necessary to communicate that menu 1 and 3 are with meat and 3 is always explicitly the vegetarian alternative. Maybe just the first one is vegetarian – without explicitly emphasizing that, the second one with meat and the third one vegetarian again.
Dinah Hoffmann (who, by the way, studied with one of our last interviewees ) believes substitute products are part of the transformation phase, but may also disappear. It would be more about suggesting a new diet and these products support that. However, this is almost never suggested by Canteen Future, as the products are comparatively expensive and highly processed. Making a lentil roast yourself costs a fraction of that.
What price per dish is usually expected?
This always depends on the facility or the carrier. Sometimes the facility decides how much of a total budget to spend on food, sometimes it is predetermined. Company canteens work with a certain cost of goods, hospitals with BKT's, retirement homes with annual budgets, etc. These are always different but are often very low. That's about the size of it:
Schools and KiTas in Berlin usually work with ± 1,00 € per lunch
Per day of meals in hospitals and retirement homes, the budget is somewhere between €3.60 and €5.20.
1 Euro per lunch
How is the conversion process communicated internally and externally?
Communication is about communicating to guests why the dishes are changing and what values are involved. The name of a dish is important for many guests. Patrick Wodni (chef and deputy project manager) likes to call the dishes as it is currently often done in the gastronomy. So the celery schnitzel with mashed potatoes is then labeled "sweet potato, bitter lettuce, celery" on the menu. This is also a transformation that is happening slowly.
The "Berlin Method
What is the ingredient of the future?
In any case, legumes, so a whole group of ingredients. They are a cheap source of protein and will play an increasingly important role in agriculture in the future. Because they are more drought resistant than some other crops and also give something back to the soil (which allows them to play a big role in organic farming). Legumes also play a big role in the Planetary Health Diet. Many people are not yet aware of the diversity behind this. There is still a lot to discover.
We wish the Canteen Future continued success in the great and important work they do and thank them for the interview.
The work of the Canteen Future has also produced two – free of charge – publications in recent years, which we do not want to leave unmentioned here, because they are great resources with. On the one hand, the recipe book FOR MANY and the guide to regional organic products FROM THE REGION.