Everything else is cheese
Everyone wants the "Dolce Vita"! Vanozza wants that for our planet too. Vegan mozzarella and other plant-based cheese alternatives make it possible. We asked how that works.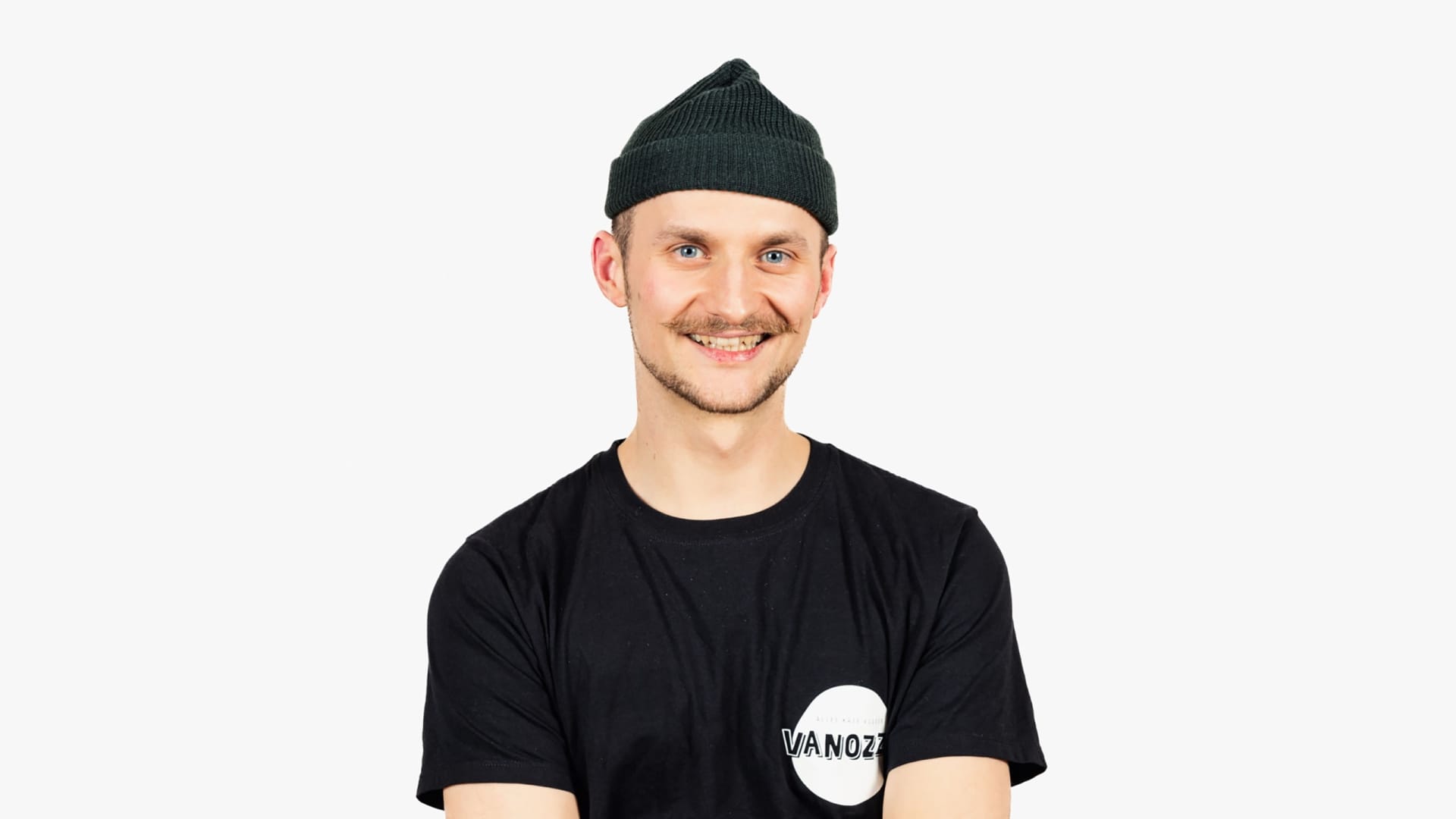 Vegan cheese alternatives may have only been in your supermarket for a few years. But Nico Hansen from Vanozza has been working on being one of these alternatives since 2015. He started developing vegan cheese alternatives in his own pizzeria and now supplies pizzerias all over Germany with his mozzarella. But it should not stop there.
Can from the Food Lab talked to Nico about communication strategies for vegan products, feedback from friends, and the secret to threading.
How did Vanozza come into being?
In 2015, I opened a small store with friends in Hamburg-Bramfeld, which is now called Vistro. There we developed 5 vegan cheeses, the mozzarella was the best received. Some customers then asked again and again whether they could buy the mozzarella from us to use it at home. That then turned into a startup.
Actually, however, one would have to go back one step further. My grandparents had a dairy farm, so I grew up close to cheese and dairy products. Then about ten years ago I came to veganism via ethical arguments.
"The food startup scene has positively surprised with cordiality"
So what's the food startup world like? Is it hard-fought or is there also an interaction to change things?
At first, I was honestly critical and rather thought that there was a lot of counteracting. But I was then quite quickly positively surprised by cordiality and many opportunities to learn from others. As a startup, you can of course also use financial help, which we found this year at IFB Hamburg, more precisely in their InnoFounder support program. Hamburg Startups and especially foodlab Hamburg have helped a lot. At foodlab, you meet people from the restaurant industry all the time who have a clue and can provide high-quality feedback. We also collaborate with a few other food startups like Taste Religion or Veggie Crumbz when we make mozzarella sticks for example (see picture below).
The cheese pull is real with them!
This was also the biggest challenge in the development, the so-called "thread pull" as it is technically called. Here we had to get help from food technicians. The ingredient list should remain small and we also do not use preservatives. Now we get this thread pull with the help of a special process. So the secret is in the technique, not in the ingredients. But even that wasn't super easy at the beginning. The salinity issue was interesting here. At first, there was far too little salt in it. You must not completely believe what is written on the packaging, because for the ingredient list, the salt content is measured before processing! But the processing, of course, changes the product.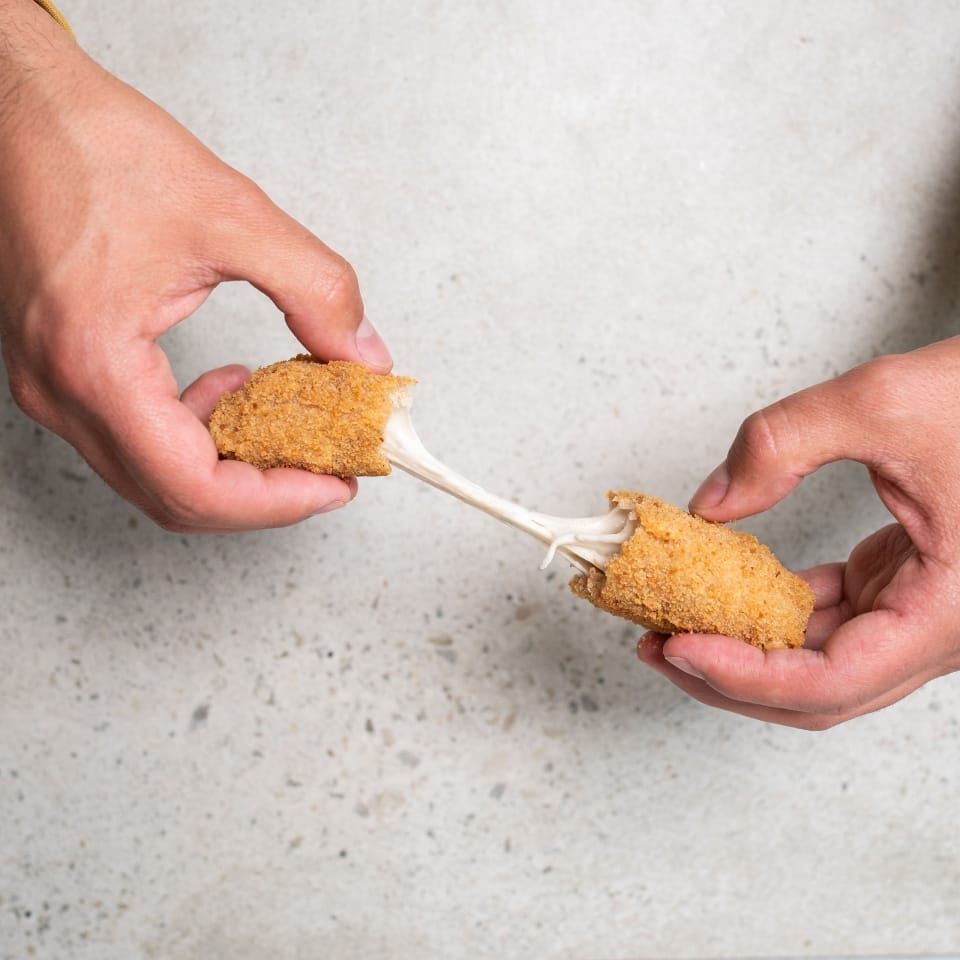 After all, any large corporation could simply copy your list of ingredients as soon as they identify you as a dangerous competitor. Are you afraid of that?
I wouldn't say fear, but the issue of patenting is already important in order to protect oneself. We are working on it.
Of the mozzarella we have now already talked a lot. I have also tried it on my pizza and got a lot of good feedback on how good it tastes, or how close it comes to cow's milk mozzarella. Why don't you tell us about your Parmesan? I've known this one since Internorga last year, but it's evolved again since then, right?
Right. The primary difference is that we are now using a different acid. With Parmesan, unlike with mozzarella, we worked with chefs rather than food technologists. There it was even more about taste instead of consistency and processing, there again contacts from the foodlab proved valuable. In general, of course, we try to further develop our products and respond to the market. Many end customers now want to buy organic products, so at some point we also want to be certified. At the moment, we're still doing mostly B2B business, so that's not so important yet. Restaurants would have to have their entire operation certified to advertise with it, so it's not worth it for most to buy organic.
There are several labels in Germany for both organic and vegan. To what extent do such labels help or hinder your life or business?
You can't generalize that. Proveg, for example, which issues the best-known vegan label in Germany, does some political work around animals and climate protection, which already helps. However, the dairy products industry is very strong. Did you know that you can't write "vegan cheese" on the product? That is why there is no vegan milk but only "soy drinks". With meat substitutes, there's a lot more going on.
We were also not allowed to call our Parmesan Parmenio – like Vanozza a first name. That would have given problems with a known cheese….
Why is there veggie bratwurst but no cashew milk?
Yes, product communication and marketing are not easy. What is your strategy as far as the alternative/replacement issue is concerned. Do you communicate "close to the cheese" or do you try to market your products detached from it?
We want as far as it goes and we may communicate in the direction of cheese alternative. The association simply helps people and many really want something vegan that tastes like mozzarella, parmesan etc. that is made from animal milk. Fritz-Kola did not call itself Fritz-Limonade (editor's note: there are Fritz-Limos, but the argument is specifically about the cola drink with which the brand was launched).
What does the Vanozza future look like?
In a few months, we will be represented in a large supermarket chain in the Hamburg region. In the long run, we want to eventually become the vegan cheese alternative brand and not just be known for one specific product. The next one is also already in development. Little hint: It will be saucy.
(Photo credit: Vanozza)
We are looking forward to more delicious Vanozza products and thank you for the interview.