Mushroom Katsuobushi
Katsuobushi is an exciting and, above all, flavorful product. It is made by drying, smoking and fermenting bonito, a fish from the mackerel and tuna family in Japan. And this already since the 17th century.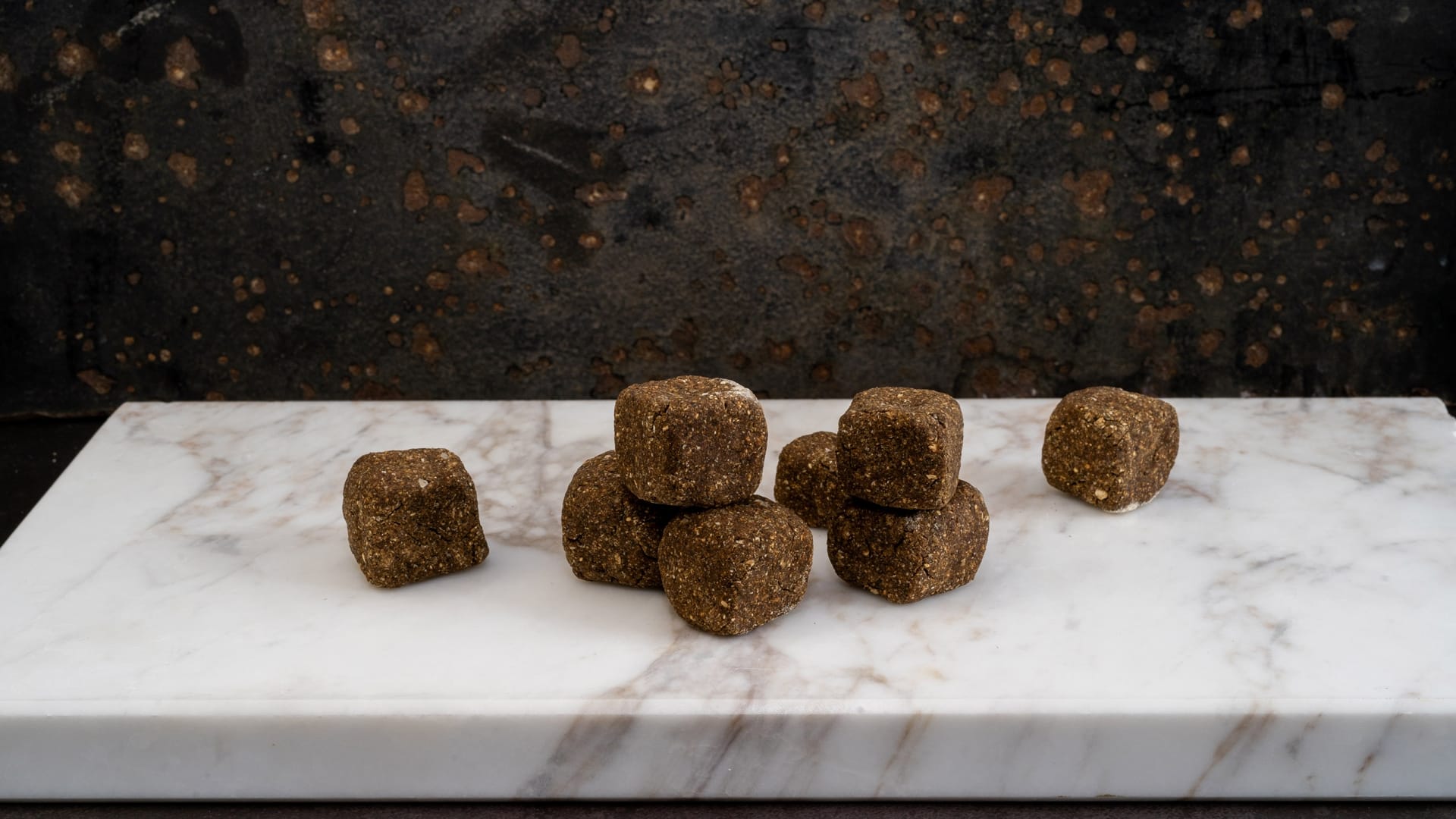 This turns the fish fillet into a hard block (some call it the hardest food in the world) that can be sliced into very fine intense flakes. Katsuobushi is an ingredient in dashi, an important staple broth in Japanese cuisine. Pure, the flakes are added as a seasoning over food. This is remotely reminiscent of Parmesan cheese. Again, a particularly umami-rich product is shaved and placed over dishes to intensify their flavor. Steffi from our Food Lab Munich experimented with this idea.
Vegan umami spice cube
I have set myself the task of implementing such a practical seasoning product vegan. Initially, instead of a fish, I had the idea to process vegetables in one piece and obtain intense flavors by drying and smoking. Vegetables on their own don't have the most intense flavors, which is why I wanted to season them first. However, the plan to inoculate parsnips and parsley roots with a vegan "fish sauce" failed and also the pickling in the sauce and subsequent drying did not lead to a satisfactory result.
Therefore, instead of working with a whole vegetable, I decided to make a mass and dry it. Vegan dashi is made with seaweed and mushrooms and these very ingredients are the basis for my mushroom katsuobushi or vegan umami seasoning cube.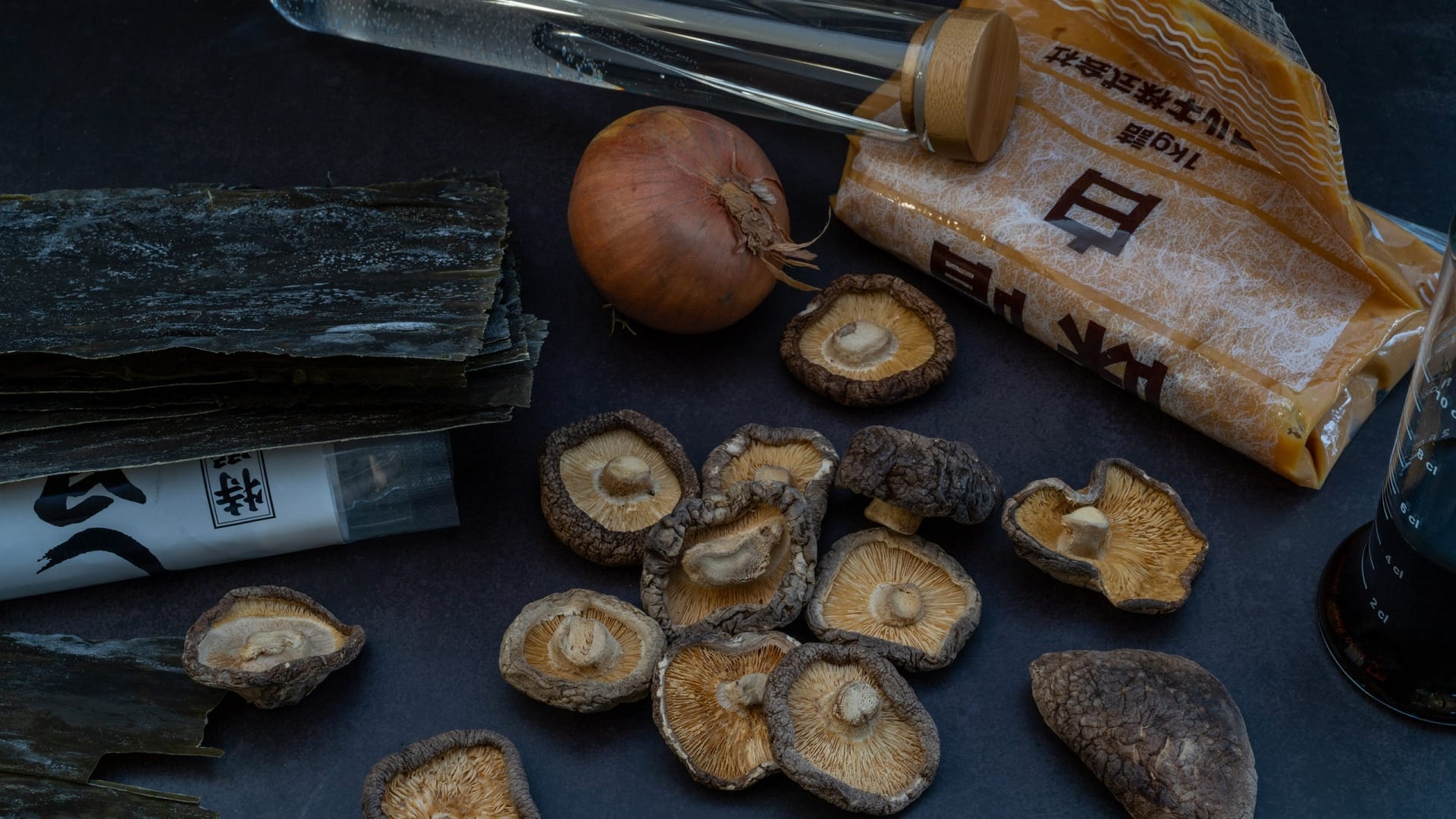 The search for the right dark and intense flavor, mixing and testing felt like an alchemical transformation process and also inspired the recipe images. Have fun re-cooking in your test kitchen!
UMAMI spice cubes approx. 8 pieces
Required equipment: Electric spice grinder/coffee grinder
Ingredients:
60 g shiitake mushrooms (dried)
5 g Kombu algae (dried)
15 g miso paste (light)
25 ml soy sauce
10 g onion powder
2 g agar agar (for binding)
35 g water
3 g salt
Preparation:
Step 1
Gradually process the shiitake mushrooms into a fine powder in a spice grinder. Tear the kombu leaf into pieces and also process it into powder in the grinder (this will steam in the kitchen).
Place ingredients in a bowl and mix lightly: Shiitake powder, combination powder, onion powder, miso, salt.
Step 2
Boil 2 g agar agar in a small saucepan with the 35 g water for 1-2 minutes according to the instructions, remove from heat and pour in the soy sauce.
Step 3
Add agar agar-soy sauce mix to the bowl with the remaining ingredients and mix with a spoon as best you can. Then use your hands to knead until you get an even and easily malleable mass. If necessary, use one more splash of water.
Step 4
Divide the mixture into 15 g portions and shape into the desired form (ball, cube, crumble…). To avoid cracks during drying, knead and shape really tightly.
Dry in dehydrator or oven at 60 °C for at least 10 hours.
Dried pieces can be pulverized again after dehydration and used, for example, as a sprinkling seasoning. I use the cube over braised vegetables, pasta, rice, Asian noodles, Pho… so can be used almost anywhere. It is just a universal seasoning, like Parmesan. In addition, here is another recipe suggestion:
Pasta à la U-Mami
For 2 people
Ingredients:
250 g fresh or 150 g dried pasta
1 organic lemon
50 g butter or olive oil, then it is a vegan dish
Salt & pepper freshly ground
Fresh oregano
Spice cubes
Preparation:
Prepare pasta according to package directions (in that case, place in boiling salted water for 2 minutes). Drain and toss in a drizzle of olive oil and a pinch of salt & pepper. Melt the butter in a small saucepan and heat until lightly browned i.e. nut butter (nutty flavor). Arrange the pasta on a plate and drizzle a tablespoon of browned butter over it. Grate a little lemon zest and a thick pinch of spice on top and serve.
Tip: browned goat butter adds extra depth of flavor!