Packaging 96% recyclable*.
*The packaging shown recently consists almost exclusively of polypropylene (PP), from which high-quality re-granulates can be obtained. The label was also changed from paper to PP in order to achieve the purest possible sorting results in the recycling process. All homework on the part of the manufacturer has been done here. In cooperation with independent institutes, adhesives and printing inks are also scrutinized and optimized from an ecological perspective.
Rügenwalder works "state of the art" with the packaging shown and does its homework. From a macroeconomic point of view, however, it must be permissible to ask when we will be allowed to turn PP sausage packaging back into PP sausage packaging. Currently, this is only possible in the case of R-PET for beverage bottles.
The problem: With the exception of PET (or R-PET), no plastic recyclate is approved for direct food contact. Thus, the plastics from which the packaging of the sensitive sausage products are also made in the future will not be recycled back into sausage packaging. At best, Rügenwalder Mühle's packaging can become lower-quality plastic products. Often there is talk about flower pots or park benches. But that's not the point. The cycle is not closed, and that is the challenge for policymakers. We need approvals for common recyclates in direct food contact to actually be able to design-for-recycling as a packaging designer. Industry has now – finally – set about optimizing the recyclability of its packaging. And now politics should pave the way for real recycling of PP, PE, and many more. free with food contact.
The regulatory framework for the approval of post-consumer recyclates in direct food contact is, of course, highly sensitive. This article provides deeper insights. Therefore, we do not anticipate a quick opening or approval and point to the other trends in the Packaging section of our radar. Take a look around and also take a look at the "tomorrow" and "the day after tomorrow" of food packaging. Let us shape this future together!
This is because if you look at the actual, mechanical plastics recycling rates of less than 60% (source: Packaging register 2019) from the yellow bag in Germany, one could also doubt the circular economy project and, for example, switch to cellulose-based alternatives from renewable, sustainably managed sources – as Alfred Ritter, for example, has consistently made his goal (here it goes to the trend). Or the proportion of plastic could be minimized by combining it with renewable, recyclable materials – as currently seen in the meat sector with hybrid solutions(click here for the trend).
Anyone who would like to have their product packaging tested for recyclability on the basis of the latest framework conditions can contact us. Together with our partner"Recyda" we will provide you with a report for the destination countries of your choice for a fee.
Best Practice: RÜGENWALDER MÜHLE , Miscellaneous
Image sources: Rügenwalder Mühle
Author's comment:
Provoked by new legislative proposals, an entire industry has discovered the topic of recyclability for itself. We have been working in the food industry for over 10 years now and can confirm from our own experience that the question of the actual recyclability of packaging has rarely been addressed in design briefings.
It was not until the state or politics intervened and EU-wide laws were finally put in place that stipulated the recyclability of packaging that speed came into play. And the food industry can play with speed! Since then, monomaterial concepts have been developed at record speed. The results are good and thus, even in sensitive product groups, close to 100% recyclability is achieved, as the example of the vegan minced products of Rügenwalder Mühle shows.
We remain open to the ideal of a functioning circular economy and optimistic about the future. However, unless better results are quickly achieved in highly developed countries like Germany with decades of recycling experience, we can imagine taking a more radical position and declaring war on plastic. By 2030, we will be doing everything we can with our customers to achieve these ambitious goals: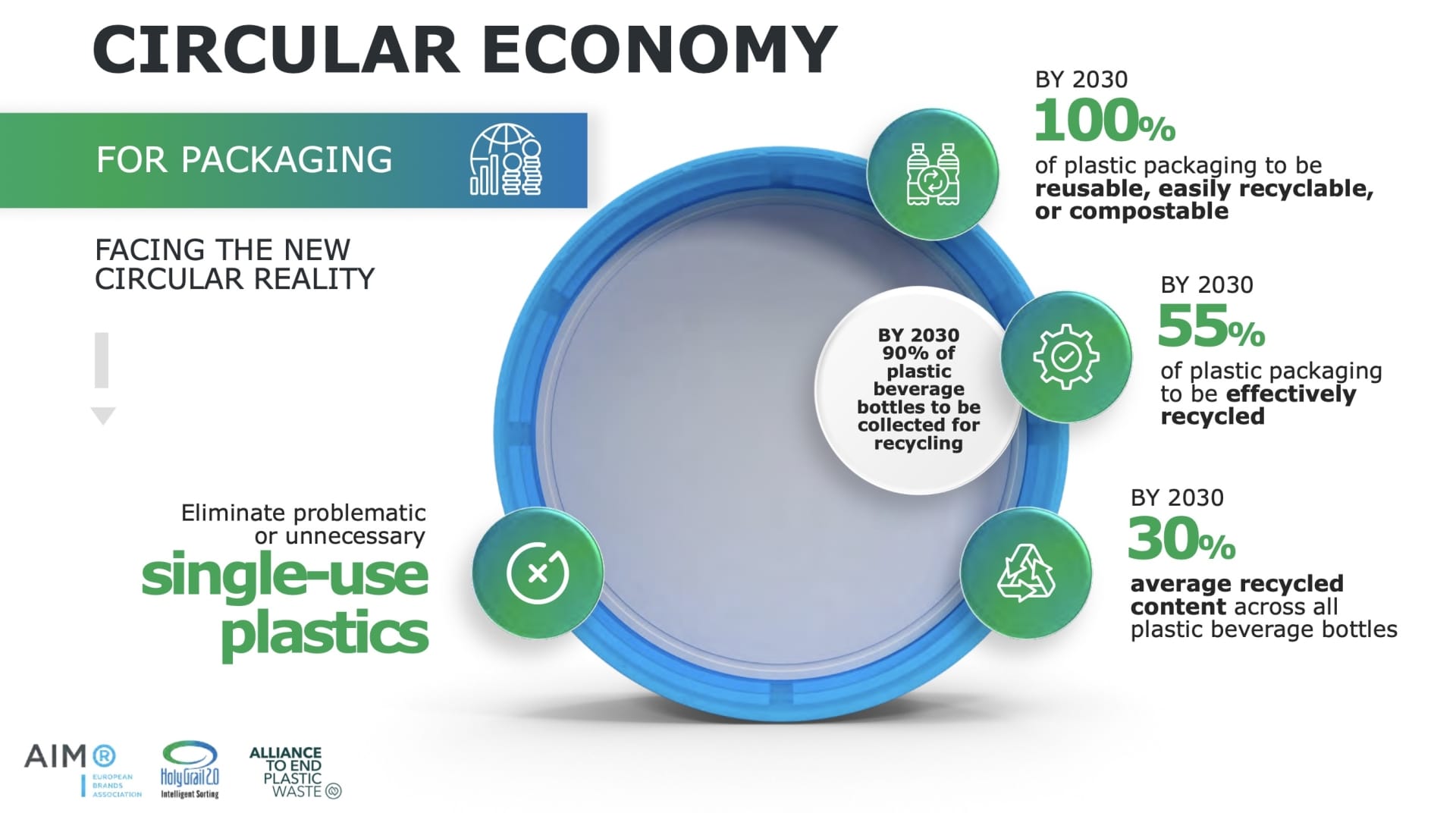 https://www.aim.be/wp-content/themes/aim/pdfs/Digital%20Watermarks%20Initiative%20HolyGrail%202.0%20-%20general%20presentation%20for%20PDF.pdf?_t=1608025169
This trend entry reflects our status quo in our highly developed, rich economy. And that is why he is so close to my heart. Allow me therefore to conclude with a critical question that won't let me go. So far, no top expert in the consumer goods or recycling industry has been able to provide me with an answer. How are we going to build a functioning recycling economy in emerging and developing countries in just 20-30 years, to which more and more products – packaged in plastic– will be imported?
An international recycling economy is virtually non-existent. If we do our homework at home and one day actually keep food packaging in the plastic cycle, we must not forget to establish the infrastructure worldwide as quickly as possible so that a so-called circular economy does not go down in the history books as a naïve dream.