Fizzy
Gettin' fizzy wit it. We have created a miracle drink.
Hard Seltzer is yet to become a household name here, but we're already in process of creating an alternative to it: Soft Seltzer. We have created a miracle drink. We're focused on creating a drinking experience that compares to having a beer or G&T at the end of a long day. Something dry, tangy, bitter, hearty, and yet refreshing. And all this using completely natural ingredients.
Customer
MILK. Innovation Lab
Services
Insight, Product Concept, Recipe Development, Packaging Design
Additional Services
Corporate Design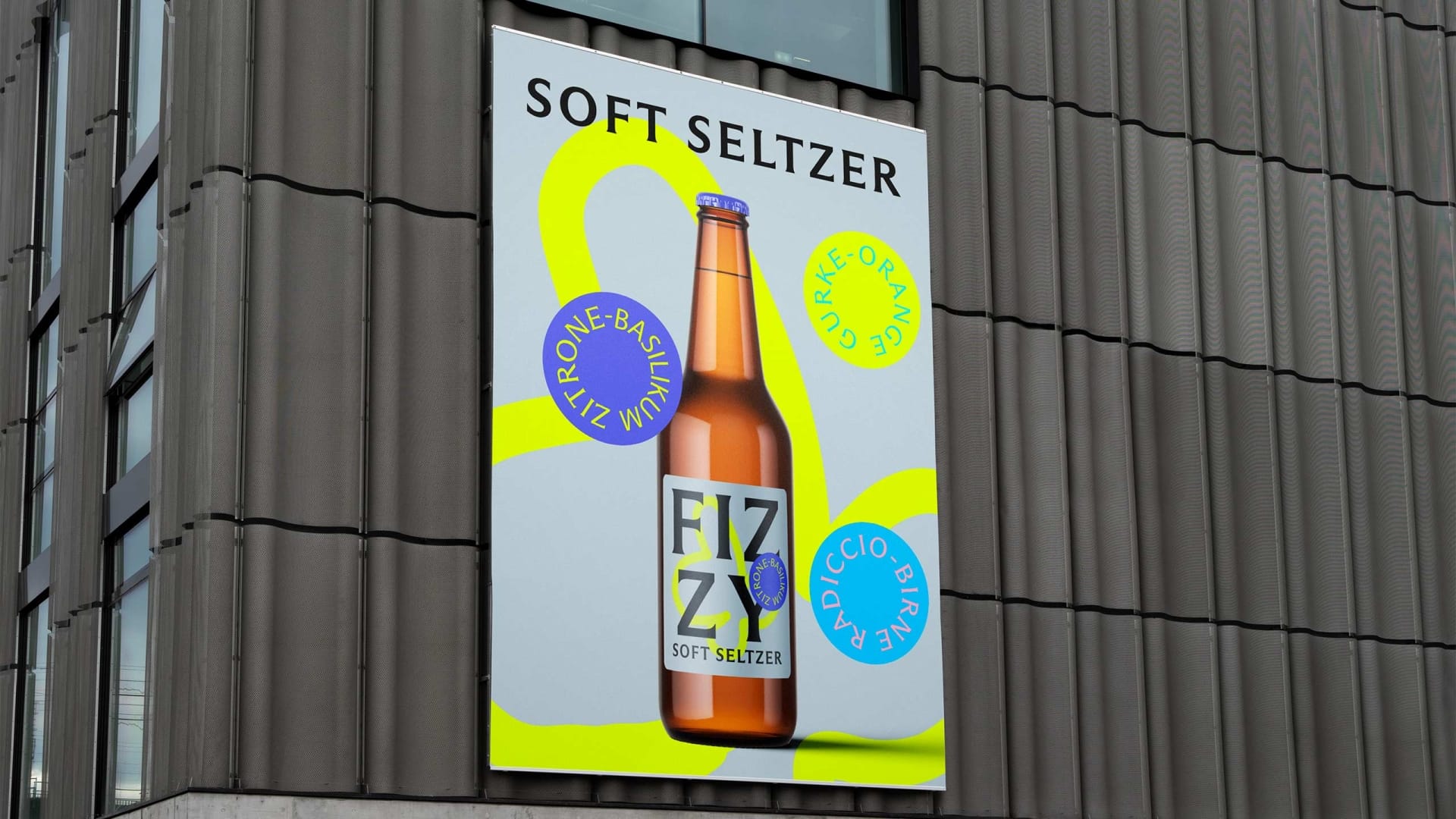 A drink that is soft, goes down well, and packs a punch!
Our taste explosions are unusual, but you will love them from the moment you take your first sip. A high-energy design and taste – and all without the effects you get from drinking alcohol. Sobriety has never been more en-vogue.
Wie uns das Food Lab Team berichtet: "Bei unseren internen Verkostungen wurde sogar gefragt, ob da nicht Alkohol drin ist. Genau das war eines unserer Ziele. Im Grunde spielen wir dabei mit einer multisensorischen/synästhetischen Wahrnehmung. Wir sind darauf konditioniert bittere, herbe Aromen in Kaltgetränken bzw. Aromen von Wacholder, den wir meist von Gin kennen, mit Alkohol zu assoziieren. Dadurch ergibt sich ein alkoholisches Trinkgefühl ganz ohne Alkohol. Hard Seltzer funktioniert genau andersherum, das klare kohlensäurehaltige Getränk wird mit Wasser assoziiert und der Alkoholgehalt überrascht, weil er kaum wahrgenommen wird."
In terms of colour, we have refrained from creating clear flavoured drinks. Our Soft Seltzer series eye-catching thanks to the vivid colours we use in them. We have combined the following, specific ingredients:
Soft Seltzer 1 "Cucumber-Orange"
Cucumber soda with a syrup made from oranges, lemongrass, thyme, rosemary, roasted juniper, cinchona bark and lavender flowers.

Soft Seltzer 2 "Radicchio bulb"
Radicchio soda with a syrup made from pear juice, mace, aniseed, tonka beans, vanilla, and salt.