SUSTAINABILITY ACTION NOW.
emissions per year*
77 t CO2
Compensation per year
100 t CO2
Climate positive effect per year
23 t CO2
*Result of the calculation per year (as of 2022) of our life cycle assessment by the company "Planted" (Scope 1: 60.52 t, Scope 2: 1.75 t, Scope 3: 14.99 t = Total: 77.25 t)
Our Sustainability Radar maps the concrete ideas and measures for more sustainability in our everyday lives. In it you will find our already established processes (today), what we are working on concretely (tomorrow) and what we want to do in the future (the day after tomorrow).
Today

Climate neutral company through compensation

Mindfulness in paper purchasing
Tomorrow

How does Banking work tomorrow?

Design for recycling becomes standard

Becoming climate-positive as a company (arithmetically)
?
No trends found matching your filter criteria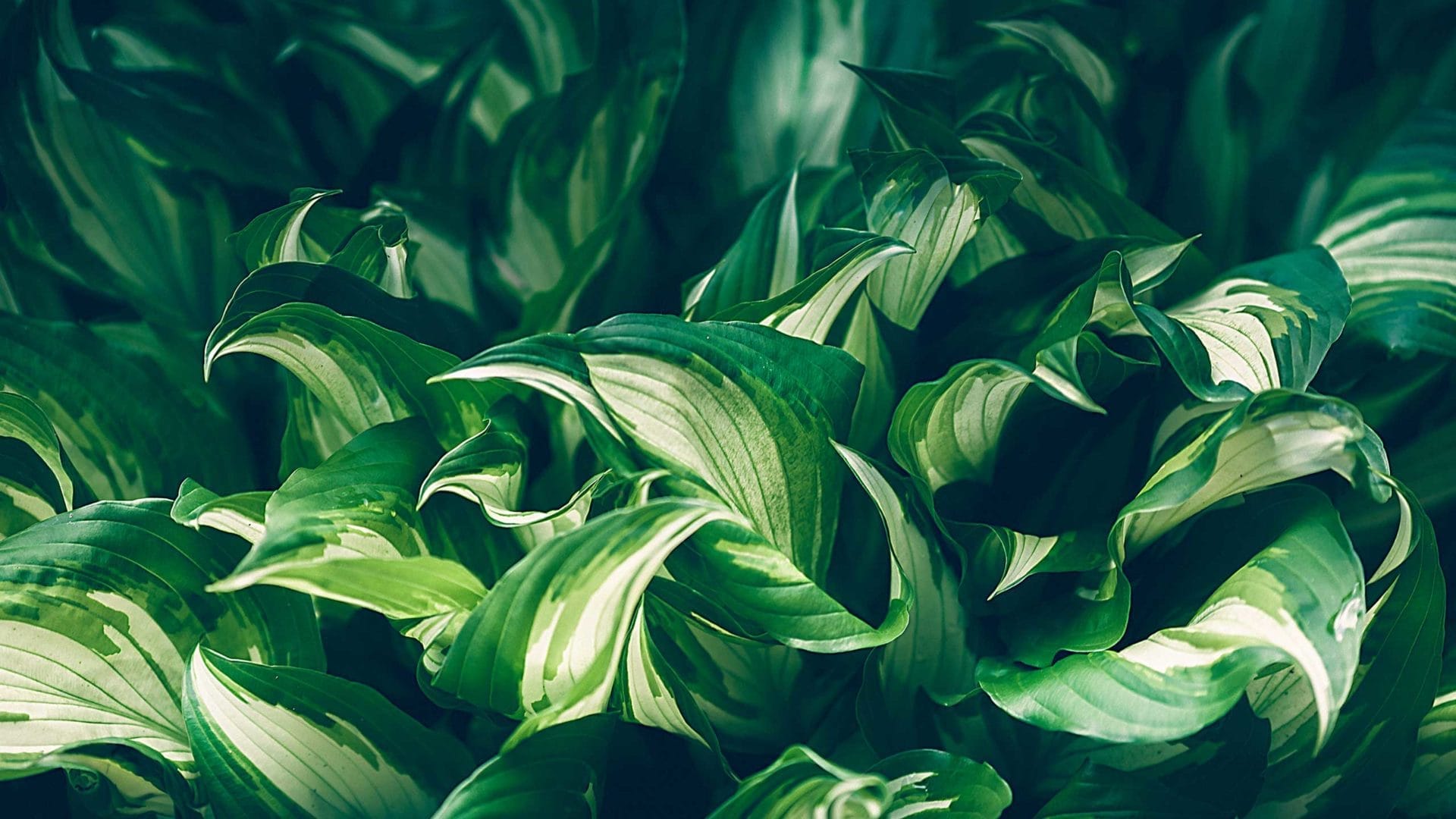 What's our purpose? Since our founding (2010), our drive has been clear: Through our work, we want to play a part in ensuring that food & drink enjoy a higher status in our society. We create added value through design.
Partner of change
We design the food of today and for a better "tomorrow". We take this responsibility seriously and actively incorporate our knowledge into every design project. In doing so, we work for the largest food manufacturers and retail companies just as ambitiously as for the smallest startup.
Ein Auszug unserer größten Kunden mit einem entsprechenden eigenen "Fußabdruck"
A question we are often asked: Why do you also work for large companies that are often criticized? The larger the "footprint" of our customers, the stronger our positive impact through design.
We think undogmatically and do not take radical positions when it comes to saving our world. As our positioning in the title reveals, we see ourselves as a partner of change. The nutrition turnaround is upon us. Alongside the energy transition, it is a second essential challenge for our generation. At least in some highly developed countries, it is already becoming a partial reality. The vast majority of companies have already set out to make their business models and products more sustainable.
We accompany our clients as partners of change and like to tickle their weak spots for more progress. We have also invested in our own tools to enable us to meet our customers on an equal footing when it comes to more sustainable packaging solutions for food.
Our Material Lab is a unique glossary for new materials in the German-speaking world. Here you can order the first edition (excerpt of the online offer) also as a bound booklet.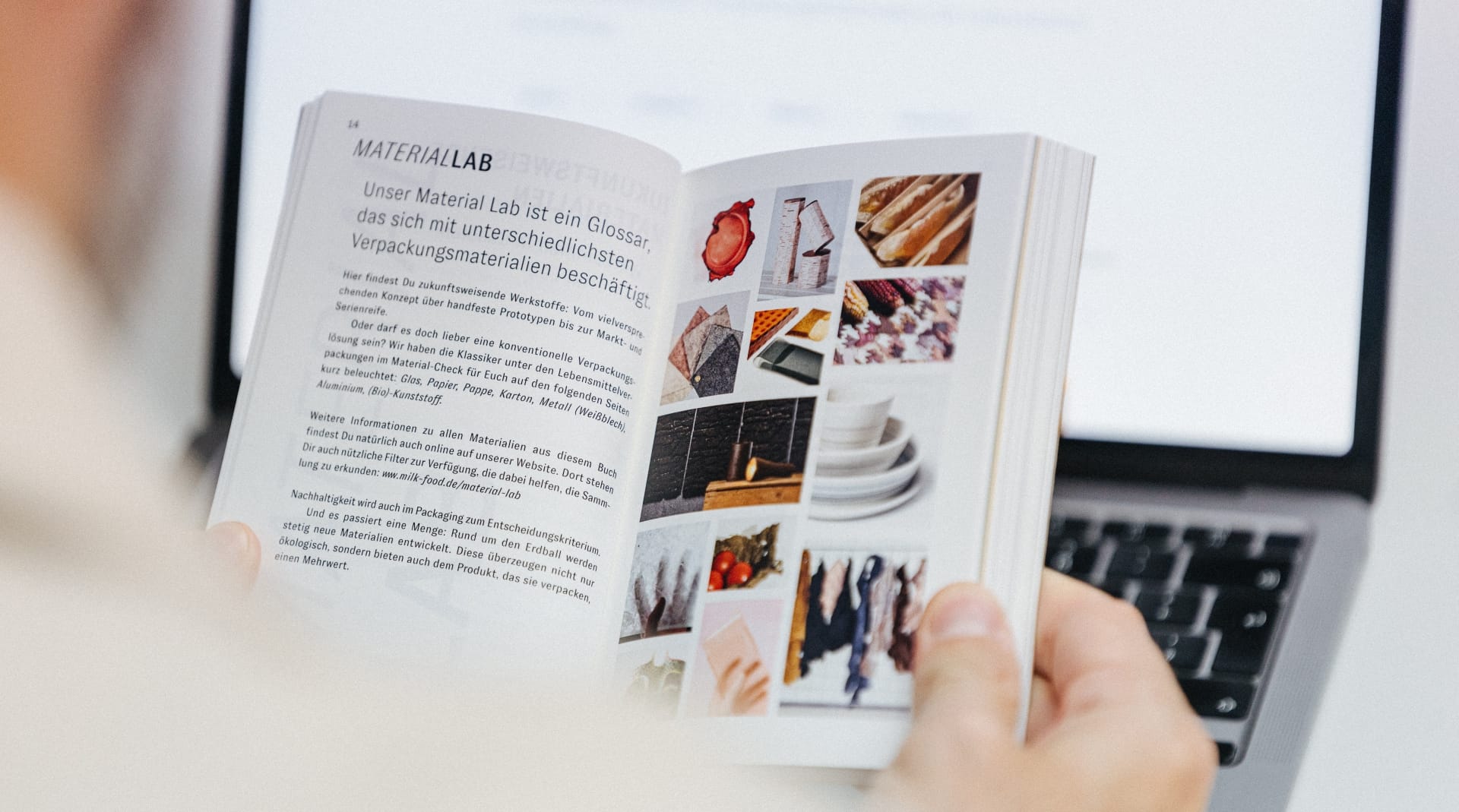 Our award winning top tool brings agile methods to the "old economy" by combining design sprints and rapid prototyping with street research via food truck. I beg your pardon? Click here for exciting case studies including video documentation. With the help of this tool, progressive ideas can be lived out and tested in the early stages of the project instead of letting them disappear as "visions" in the drawer. This is another way to enable change.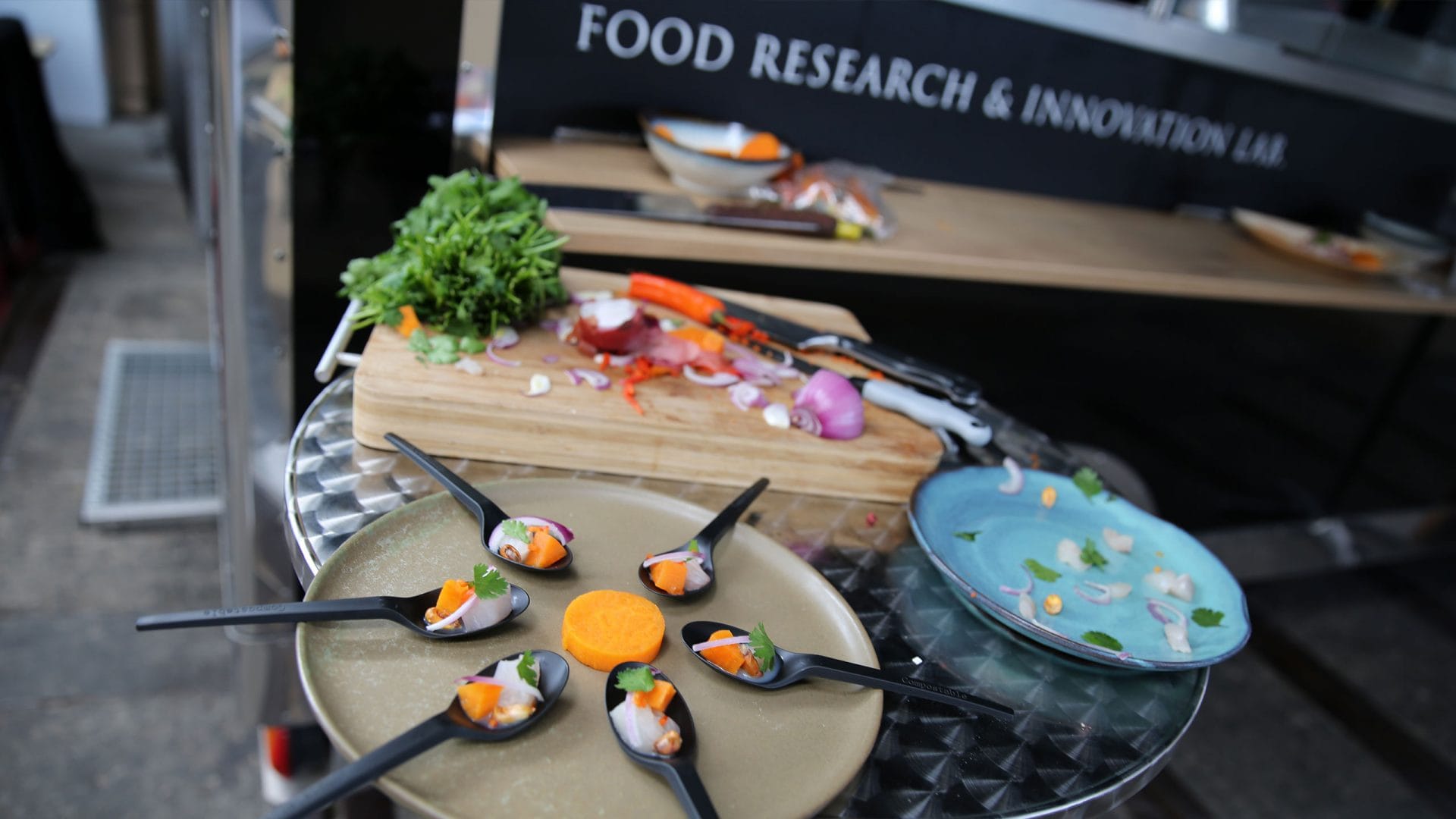 Our Food Lab has the freedom to work on new product ideas and concrete recipes to make our food world more diverse and better. The result of this work from the past years can be found in our unique milkshake online magazine.
But there is still so much to do! Therefore, this page does not look back to the past, but forward to the future. We distinguish between TODAY, TOMORROW and OVER-TOMORROW as well as according to the three categories for more sustainability: Ecology, Social and Economy (as well as their documentation). If all three areas grow together and are lived with measures in everyday work, we will be much closer to the goal of a sustainable agency. The way is the goal!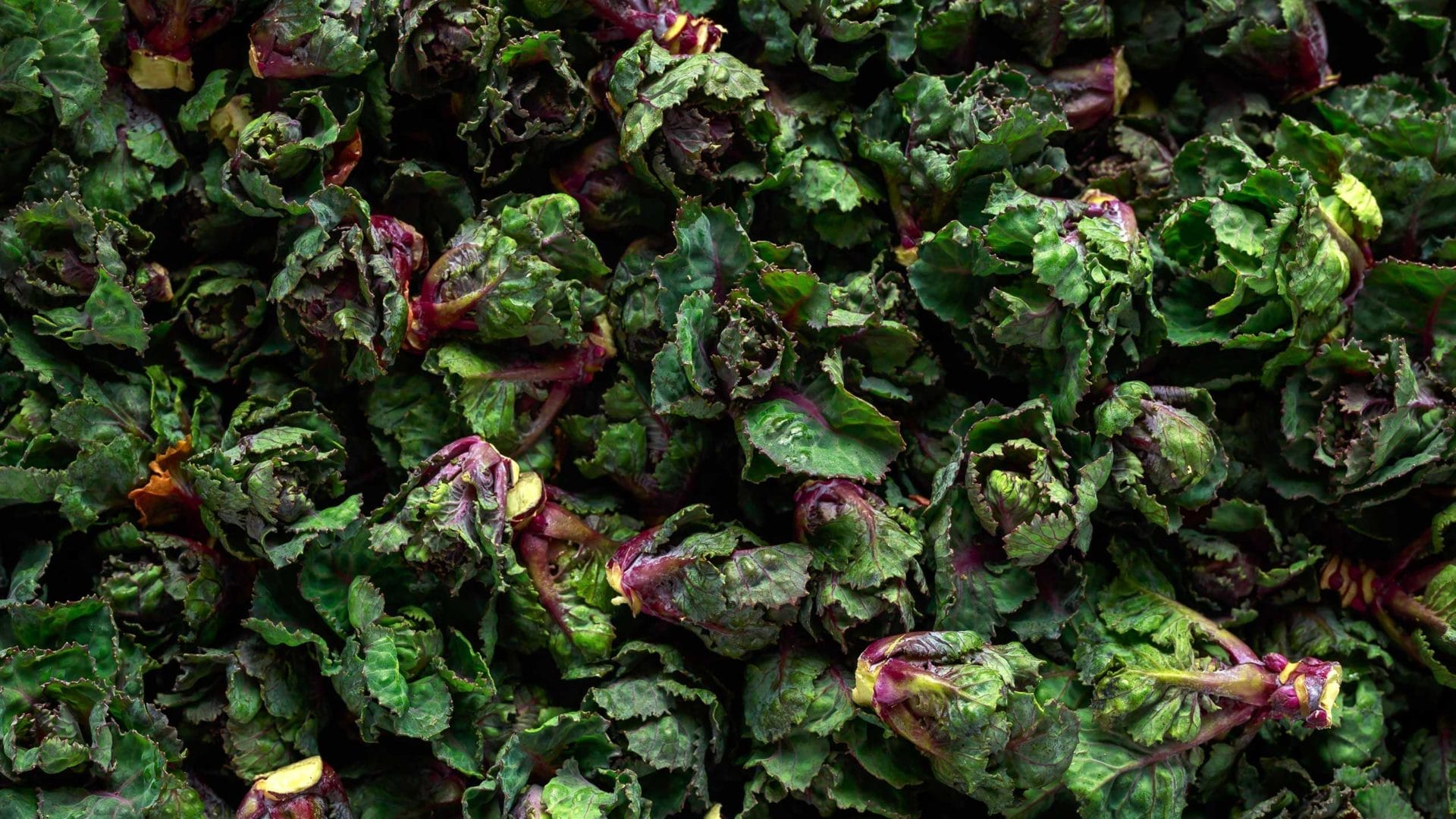 Why does a design studio need an LCA?
Our own eco-balance is relatively manageable given our field of activity as a service provider in the creative sector. But we as a company and especially we as people (all employees) also have a footprint. We have had this calculated by our partner Planted and it is 77.25 tons of CO2 in 2022. Since November 2022, we have been offsetting our CO2 emissions mathematically by supporting global climate protection projects. In addition, we plant trees in Germany, which you can see growing digitally here:
Thanks to the wonderful work of Planted, we have managed to offset or compensate our carbon footprint. As I said, our imprint is not particularly large, but you should start with yourself. In this context, offsetting CO2 is only the last of three steps towards climate neutrality that we take in sequence:

Step 1: Measure and balance emissions
Step 2: Avoid and reduce emissions
Step 3: Compensation of unavoidable emissions
As written at the beginning, we take our responsibility as designers seriously and see the much bigger lever to a more sustainable economy in our projects or our design itself. When we work with the largest so-called food packaging distributors on more sustainable solutions, every small step has a big impact!
For example, we pay attention to Design-4-Recycling in our projects to enable the EU goal of a circular economy one day. There are still many hurdles to overcome here and everything could (and should) happen much faster. But we are seeing real change and more awareness of ecological issues among industry and consumers than we did just a few years ago. The change is underway and we are on board as a partner.
Are you interested in the future of nutrition?
Our Future Food Trend Radar provides a current overview and outlook. It describes numerous trends that will change the food industry in the coming decades – for the better!
Zero Waste Packaging
Want an example? This concept "Soupa Soup" of us tries to go the royal road "Zero Waste" by dissolving the primary packaging of a noodle soup thanks to its foil packaging based on algae(Notpla) right in the boiling water and let it disappear. The LZ reported on this in the fall of 2022 ( click here for the article ). In the article, Andreas Milk makes a case for looking at different pillars in the end-of-life scenario of packaging.
If you too would like to help shape the future: undogmatic, optimistic and creative . Then apply with us now! You can find our current job postings and opportunities for speculative applications here.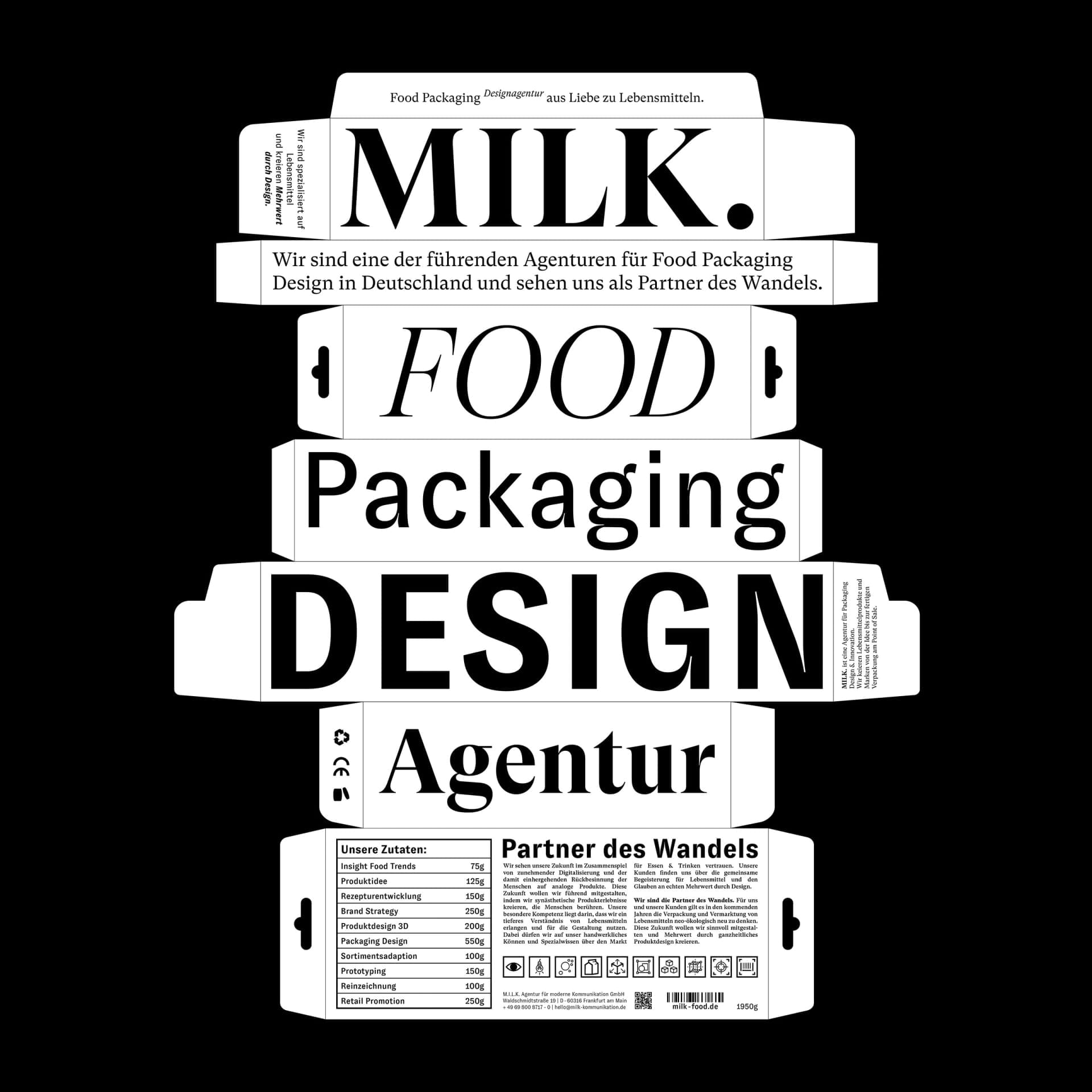 Our vision: We see our future in the interplay of increasing digitalization and the accompanying return of people to analog products. We want to play a leading role in shaping this future by creating synesthetic product experiences that touch people.
Our special expertise lies in gaining a deeper understanding of food and using it for design. In doing so, we may rely on our craftsmanship and specialized knowledge of the food & beverage market. Our customers find us through a shared enthusiasm for food and a belief in true value through design.
Our mission: For us and our customers, the challenge in the coming years is to rethink the packaging and marketing of food products in a neo-ecological way. We want to help shape this future in a meaningful way and create added value through holistic product design.