We turn the packaging into an ingredient
"Nose to Tail Packaging"
Packaging that simply disappears after use? An unrealistic dream? Not for resourceful companies and designers who are working on it. In cooperation with Notpla, we were able to test dissolvable packaging and have created the ready-made soup of the future in our Food Lab. We call it soupa soup.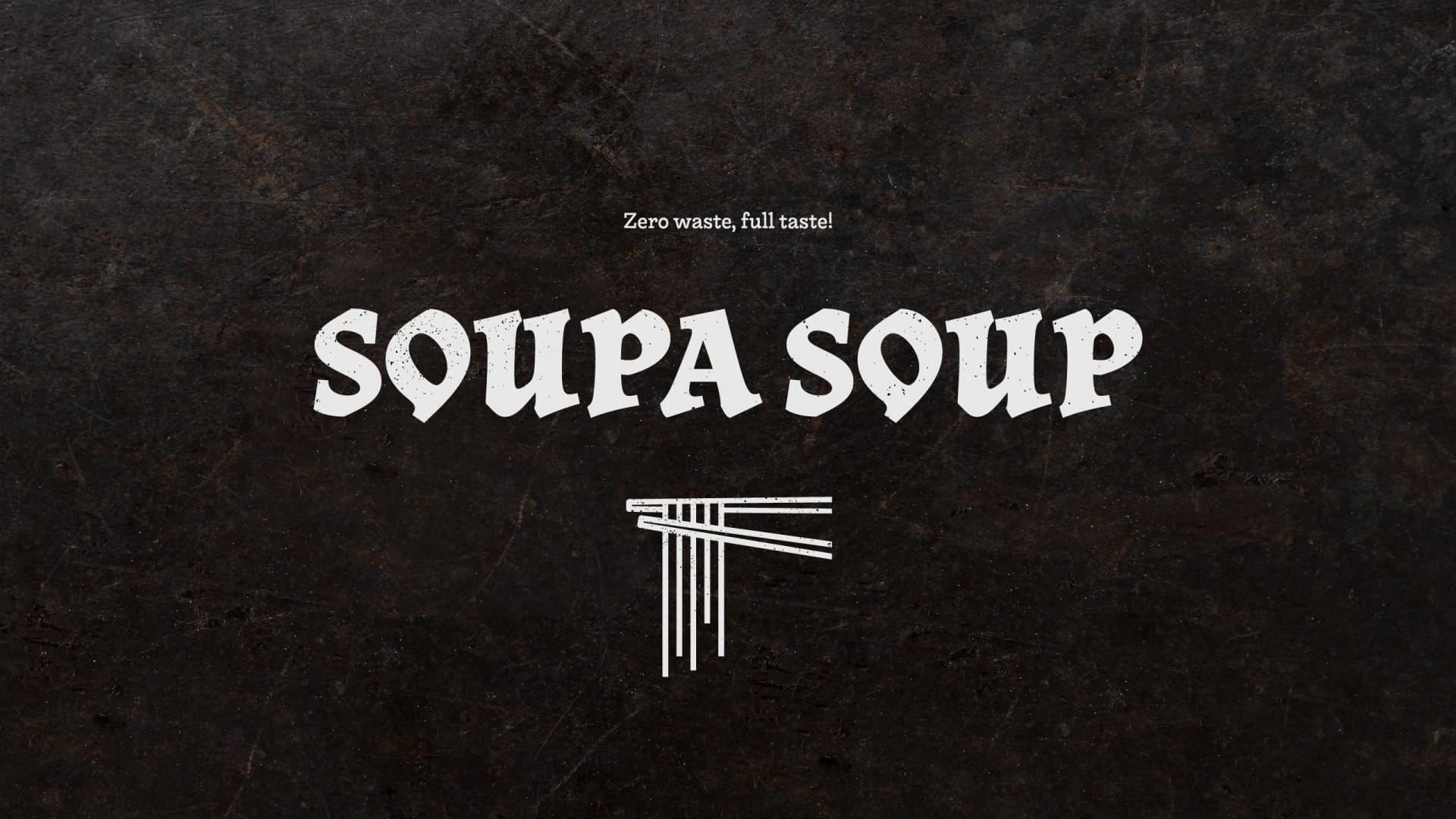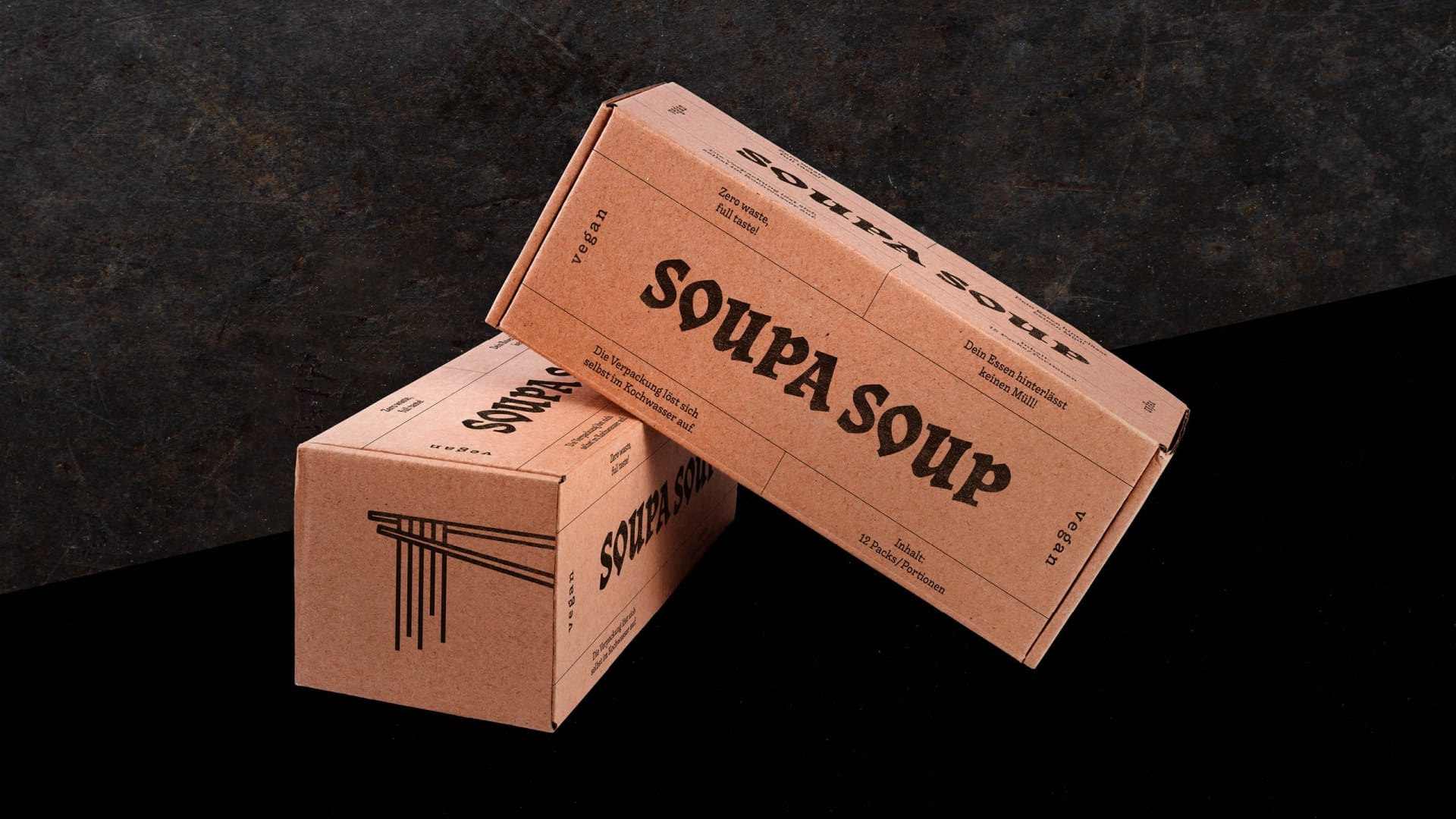 Notpla creatively and effectively uses algae from the oceans to reduce plastic packaging waste instead of bringing it into the oceans. The packaging is made from seaweed and plant and, depending on the application, either dissolves in water or through contact with soil and bacteria in the compost.
A similar material inspired the chef Ferran Adrià to create his"Vanishing Ravioli" more than 10 years ago. It consisted of obulato, made from potato starch and soy lecithin, which he discovered in Japan.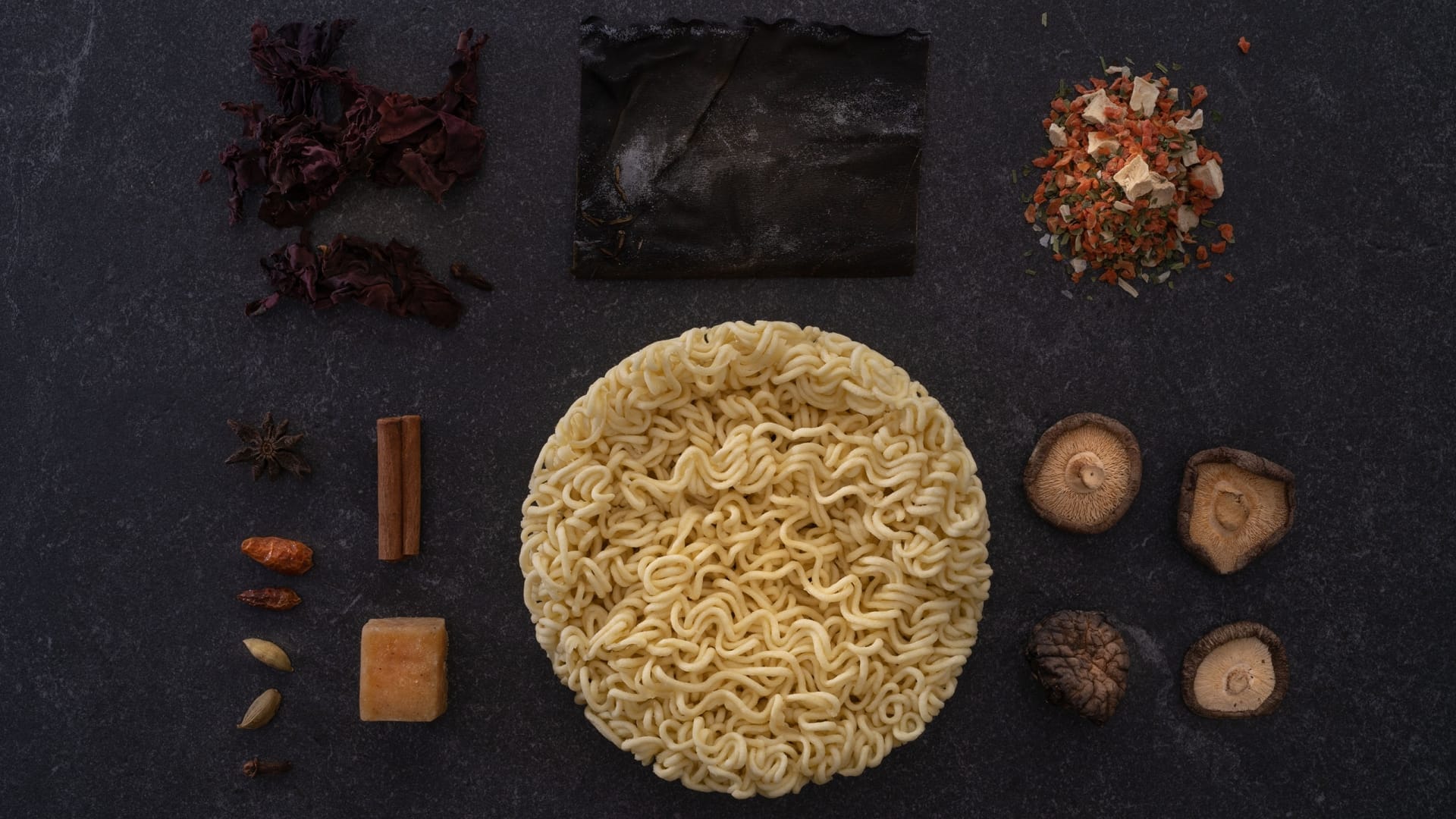 Packaging thought through culinary terms thanks to Notpla
Today, our culinary experiments focus less on the surprising effect of disappearing and more on the potential of sustainable packaging. We want to combine packaging material and content in a meaningful way and not just throw away the casing, but integrate it into the dish so that the packaging is no longer perceived as garbage that has to be disposed of – the packaging becomes an ingredient.
The dish must be water-based so that the shell can easily dissolve. A dish that itself has to do with algae also goes well with the algae shell. An algae-based soup like ramen would be an option, but we opt for a spicy vegetarian pho, which we prepare with ragweed (dulse, a red algae) and kombu (a type of brown algae) for more depth of flavor.
I'm off
Notpla is haptically reminiscent of thin outdoor functional fabrics and is very easy to use. We cut the foil to the desired size with household scissors, put in all the ingredients for our Pho and seal it with the sealing function of the vacuum sealer. Now just bring 1 liter of water to the boil and pour in the entire packet. After about 2-3 minutes simmering, Notpla dissolves completely. The algae shell gives the soup a little more viscosity – and an aromatic broth is ready without any packaging waste.
In the course of our work on the project, we saw that similar concepts were already being actively pursued. Amelie Graf and Holly Grounds show how a new generation of product designers creatively deal with the challenges of our time.
MILK. Food pack-eating agency
MILK. is a packaging design agency – that means we have been thinking about how food can be packed safely, hygienically, functionally and beautifully for years. But it is also clear that packaging is a means to an end. It's about the content, the food (our Food Lab takes care of that). The packaging is important in order to preserve the properties of the food in the best possible way up to the point of consumption and of course the casing should also inspire and inform about the contents. But the question arises as to what to do with the packaging. Some say REUSE IT. RECYCLE IT say the others. HOME COMPOST IT is what others say. But how about if we could still offer a new way? As a packaging design agency, we are increasingly working on reducing packaging. We have already collected some ideas for this in our Material Lab. Ideally, we simply make the packaging superfluous.
We are looking forward to the further developments of Notpla and will soon become a no-packaging agency or an agency for food pack-eating.
Thanks to: Notpla and Felix Gass!