Paperization.
Two major influencing factors have led to plastic packaging being increasingly replaced by cellulose-based alternatives. On the one hand, we are talking about paperization, driven by consumers' desire to feel the paper feel. Or the other way around, increasingly rejecting the feel of plastic. The warmer, more organic feel of uncoated uncoated papers is in keeping with the spirit of the times. It is their aesthetics that make products more attractive to consumers.
On the other hand, the switch to renewable raw materials is of course ecologically motivated. Virgin Plastic will not be around forever, and the effective mechanical recycling of plastics from the yellow bag, with a quota of around 60% in 2019(and rising), may not even succeed in Germany. While most of industry is working flat out to create a circular economy for plastics, others have set out to virtually eliminate plastic altogether. Alfred Ritter, for example, has firmly anchored this strategically and is now busy with successive implementation. We were allowed to accompany this in the context of the Ritter Sport mini relaunch in terms of design and also like the idea of replacing plastic with so-called high-barrier paper packaging.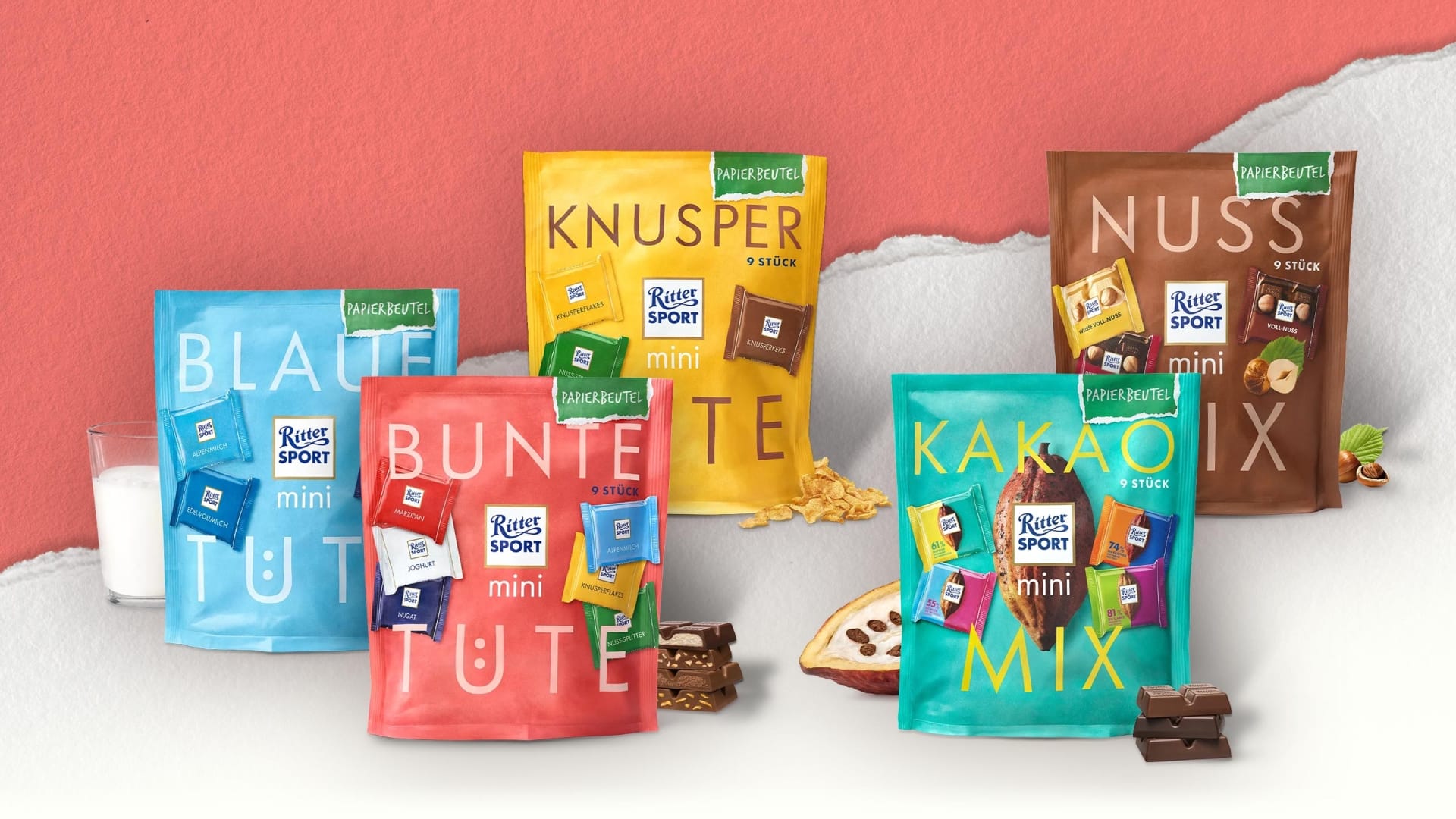 Wherever barrier requirements allow, the new high-barrier papers from companies such as Koehler or Sappi come into play. These replace plastic thanks to an ultra-thin barrier layer that can be reliably removed during the paper recycling process. It is not a composite material by definition because >95% of the packaging is paper fiber. The rest is coating, printing ink, varnish if necessary.
So the final task with this very promising packaging solution remains to answer the micro-plastic question, because when the materials are recycled, the coating has to go somewhere. However, various institutes have rated the papers as having very good recyclability – i.e. in the blue paper cycle.
This packaging solution is made possible by papers such as Koehler NexPlus Seal or Sappi Avantguard. Their barrier properties are good, often good enough – but of course not 1:1 capable of replacing plastic in every application. Where it is possible, it should be done, and the barriers are sure to get better in the years to come.
Best practice: Ritter Sport minis, Nestlé YES!
Image sources: Alfred Ritter, Nestlé