Snack from the pan
We made it possible to enjoy sourdough wraps with a baking mix. In this way we bring the art of sourdough closer to all people who otherwise have no time for good bread and introduce the pan bread. Instant sourdough with baking mix – available soon.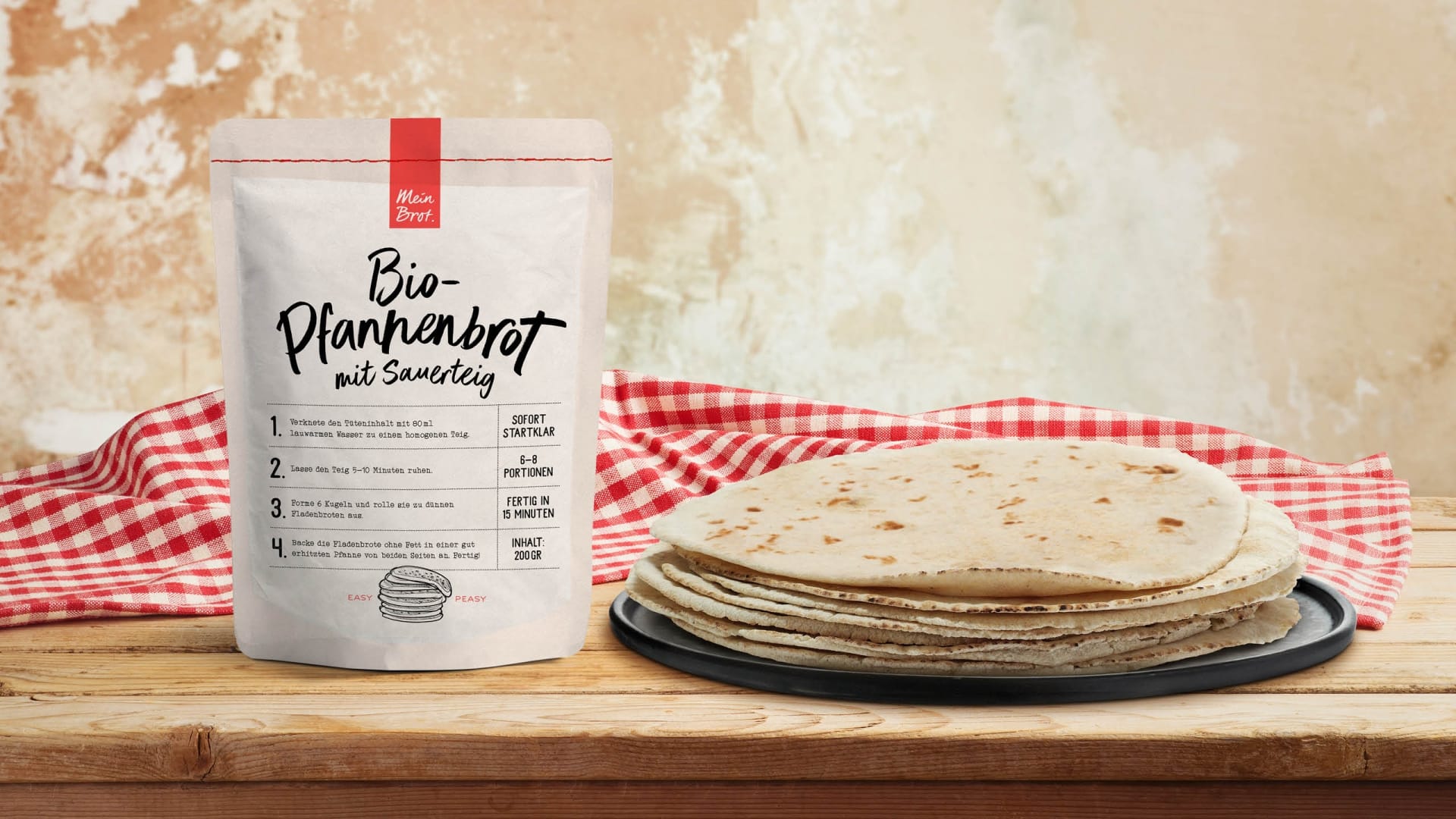 During the pandemic months, most people spent more time at home than usual. This gave me time to deal with things that take a little more time.
For example, making sourdough bread – because bread takes time. Those who take this will be enthusiastic about the many small advances and successful baking results, but failures are also part of it.
Snack from the pan
Time is currently getting scarcer again, so we came up with the idea of a bread mix. We already have a yeast-based baking mix for Die Arche project as Corona help designed, now a sourdough version follows.
In addition to time, sourdough bread also requires a lot of feeling and dedication – bread is an emotional topic. These are basic conditions that hardly anyone can muster in their everyday life. Everything has to happen quickly … We recommend taking your time and embarking on the bread adventure. Until then, we'll help out with an interim solution and dedicate ourselves to a baking mix for a sourdough-based pan bread for quick preparation.
Pan Bread? Pancake bread? Wrap or flatbread … what exactly? Germany is often called the world champion bread maker, has the word Brotzeit in the Duden and even has a Bread TV figure but there are exciting baked goods around the world. Whether pancakes, wraps, tortillas or injera, basically there is everywhere a kind of filled flatbread.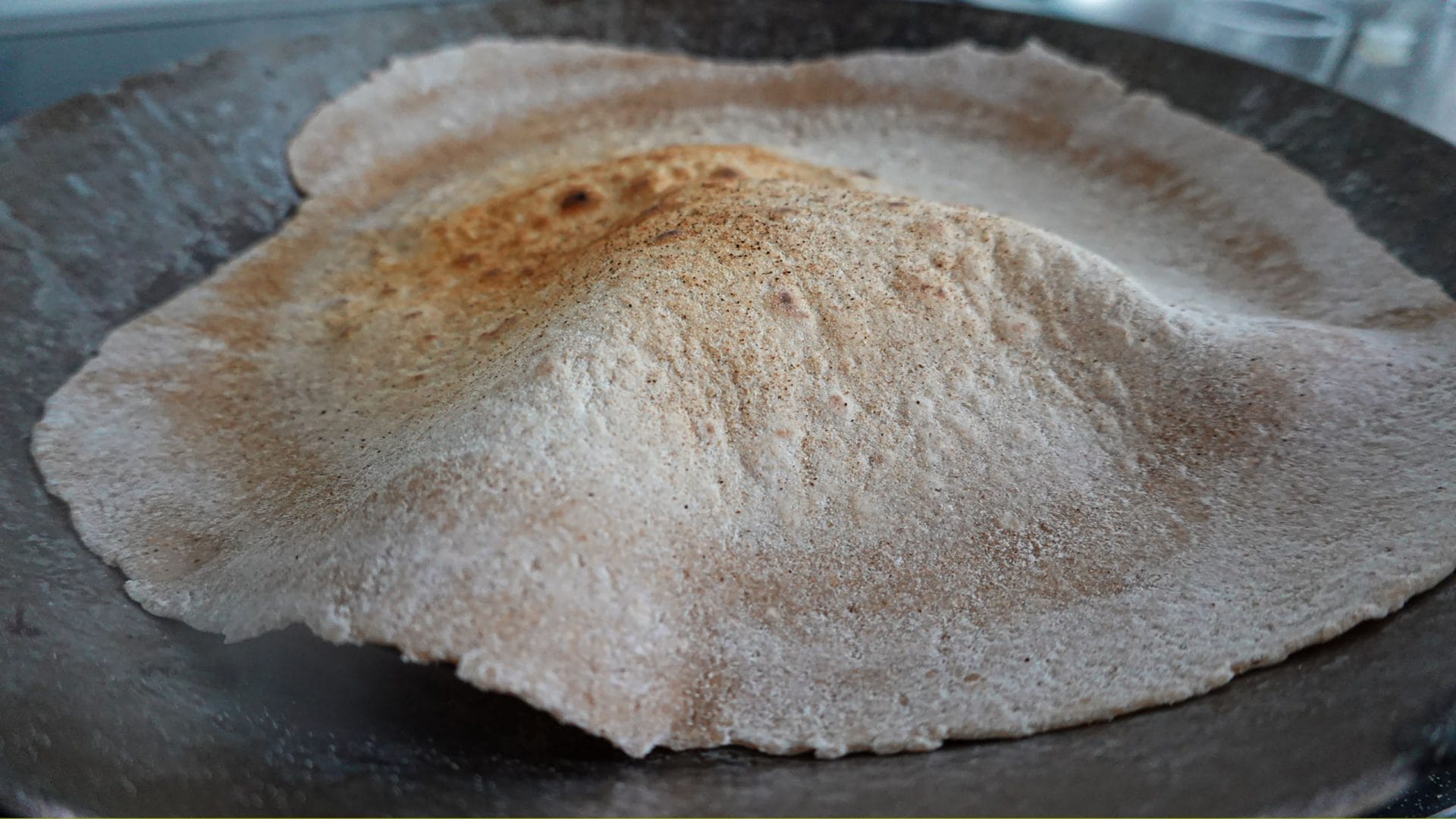 Taste takes time – the approach
For our baking mix, the sourdough is traditionally made with water and flour, fermented for a few days and then dried and packaged as a baking mix for at home. So the first step is to make a sourdough. To do this, we take a wholemeal flour and lukewarm water. Both components are mixed in equal parts in a glass. We close the jar and let it stand for 24 hours in the Food Lab at room temperature. After the 24 hours have elapsed, we mix in equal parts flour and water again. We repeat this process for a total of 6 days. You can see in the glass how the fermentation is progressing. The sourdough grows and bubbles. Lactic acid fermentation takes place: Lactic acid bacteria ferment sugar into lactic acid. The lactic acid bacteria are already present in the flour and react as soon as they are brought into contact with the water and are at room temperature.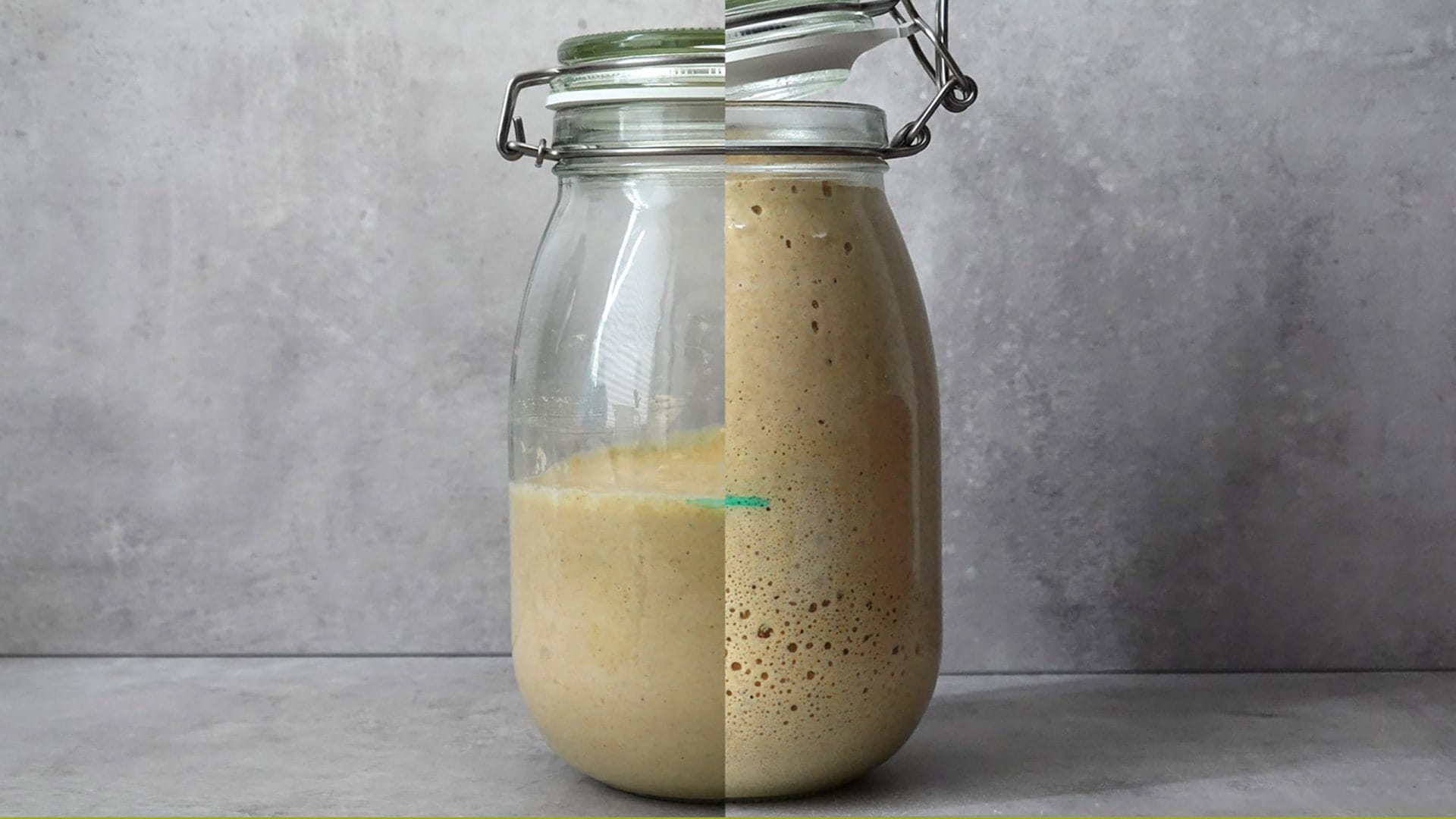 When we open the jar there is a strong bang and the lid shoots up. A pungent vinegar smell rises from the glass, but it disappears quickly and what remains is a pleasantly sour smell. Incidentally, wild yeasts are also involved in this process, so that even a sourdough bread contains yeast but not pure yeast.
Dry base
We spread the finished sourdough on mats and place them in a dehydrator to dry. Here we remove the water from the sourdough at approx. 30°C, leaving behind dry sourdough flakes. When drying, it smells like a very good bakery in the Food Lab – this immediately brings back memories of great shopping experiences from extensive snacks. We mix the flakes finely in a universal mixer. What is not that easy at all, they are surprisingly hard, but after a few minutes in the mixer, a fine powder is created.
For the bread mix we mix whole wheat flour, salt, yoghurt powder and the finely mixed sourdough. We pack this base, if you want to make bread cakes out of it, you just have to add lukewarm water. Lukewarm, because the dried sourdough regenerates a little in a very short time and works as a leavening agent. The dough should be homogeneous after kneading, so we let it rest for another 5–10 minutes. You just have to take this time, even with a quick bread. The gluten swells and the dough relaxes. After resting, we knead the dough again, portion it into 50g balls and roll it into thin cakes with a rolling pin. We heat a cast iron pan and bake the flatbreads without fat on both sides. It is nice to see how the bread puffs up due to the short and extreme exposure to heat. After baking the bread, we fill it with fresh rocket and Parma ham – and indulge in memories of piadina from Emilia Romagna. Of course, they can also be filled vegetarian or vegan, and sweet combinations are also possible. Ideas for a decent snack can be found endlessly, e.g. in wrap or tortilla recipes.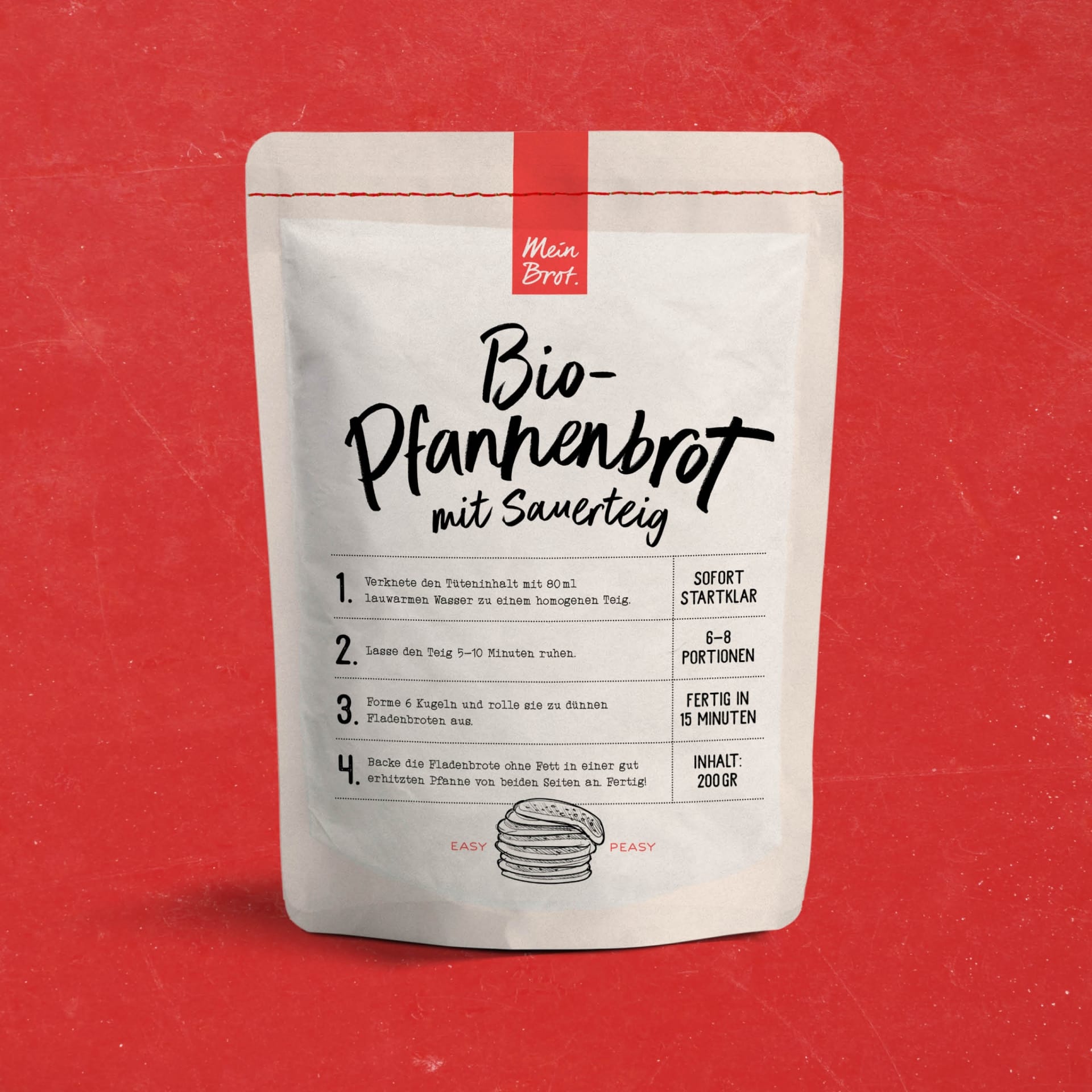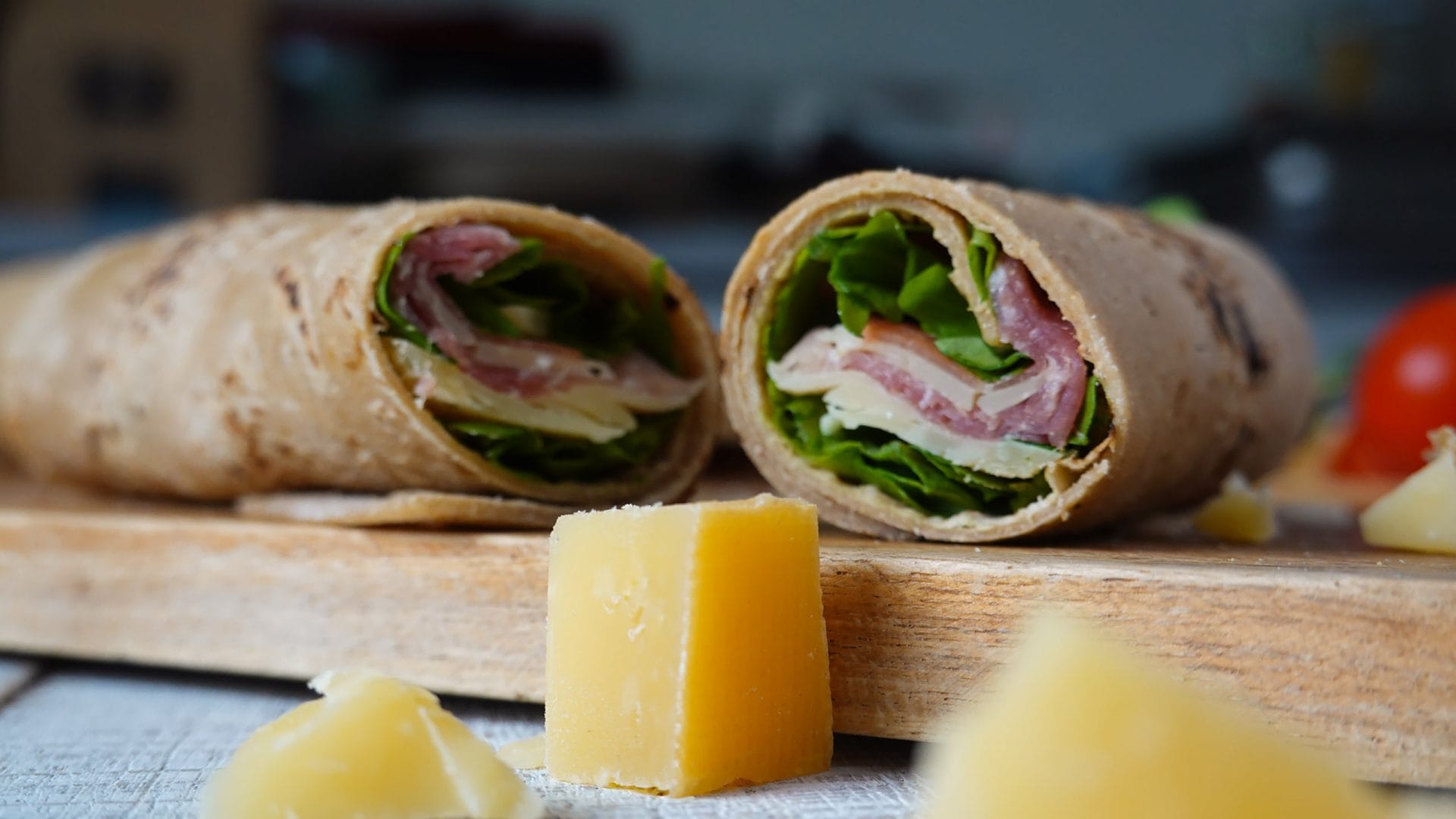 With our mixture, you can have a sourdough-based snack in no time at all. It tastes very good, but of course cannot be compared with a perfect loaf of bread with a strong crust and juicy crumb – you have to take a little more time for that.