It doesn't always have to be pizza – something new for the freezer
Pita bread is available almost everywhere in one form or another. This Chinese version is vegan, crispy and juicy. Cong You Bing aka Chinese Pancake is a simple snack from China that consists of flour, water, salt and scallions. Sounds like little, but can do a lot and is an ideal basis for us to combine the taste of the wide world with local preferences.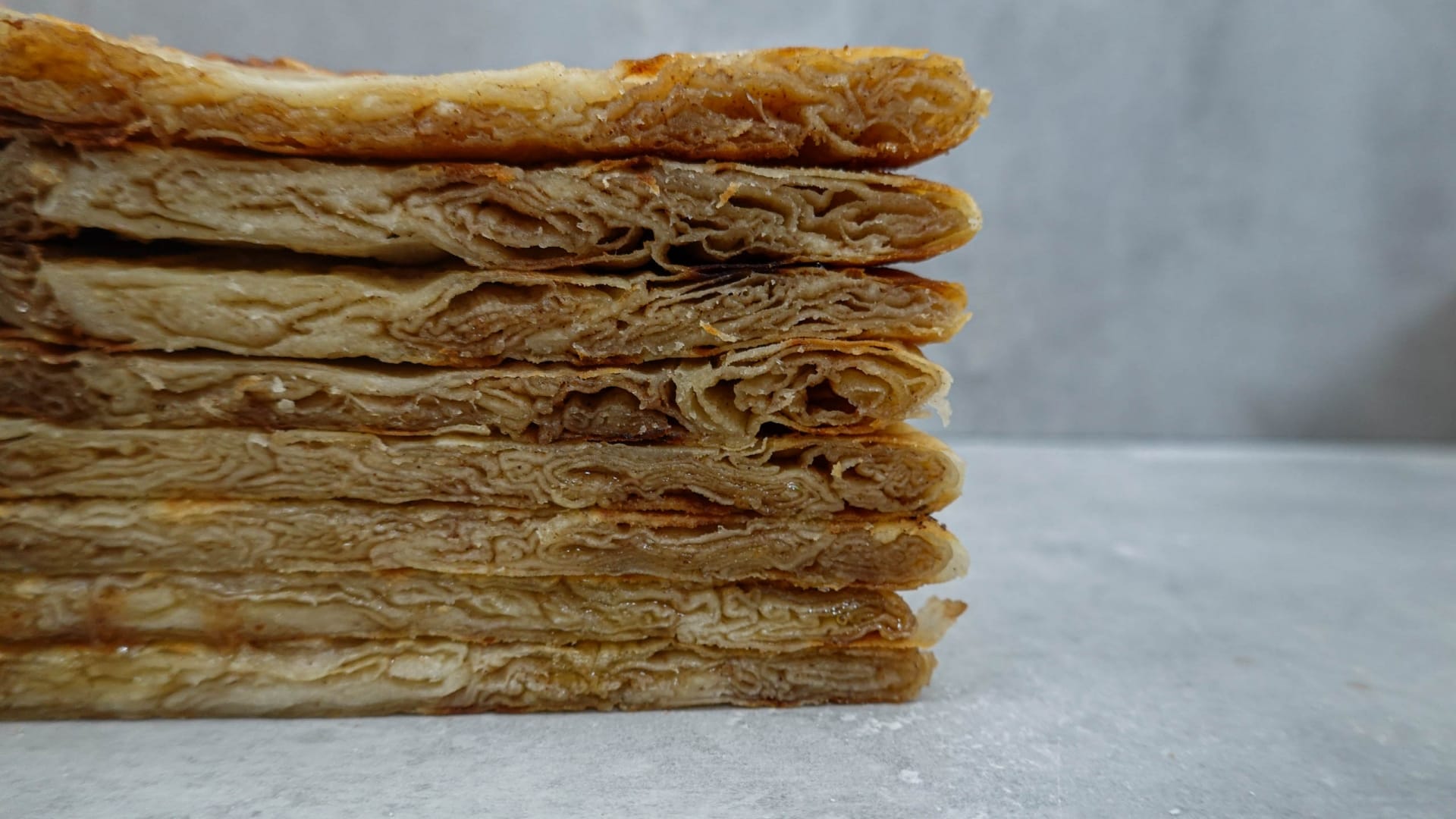 It's the water, stupid!
For the dough we use flour type 405. We boil the water once and let it cool for about 1 minute. Then we add the water gradually to the flour and knead the dough well. Hot water is the special thing about the preparation – here very nicely illustrated in the great YouTube channel "My Name Is Andong". This keeps the dough nice and elastic and soft and does not become a tough pancake, although we do not use yeast, sourdough or eggs. Let the dough rest for another half hour, then you're ready to go.
In English, what we called Chinese flatbread is known as Chinese pancake. Strictly translated, it actually means pancakes instead of pita bread. However, since pancakes are known in the German-speaking world as rather sweet and with a soft consistency, we find Chinese flatbread more appropriate.
East meets West
However, we do not follow the classic recipe for Chinese flatbread, but combine this base with ingredients from French rolls, tarte flambée and pea soup.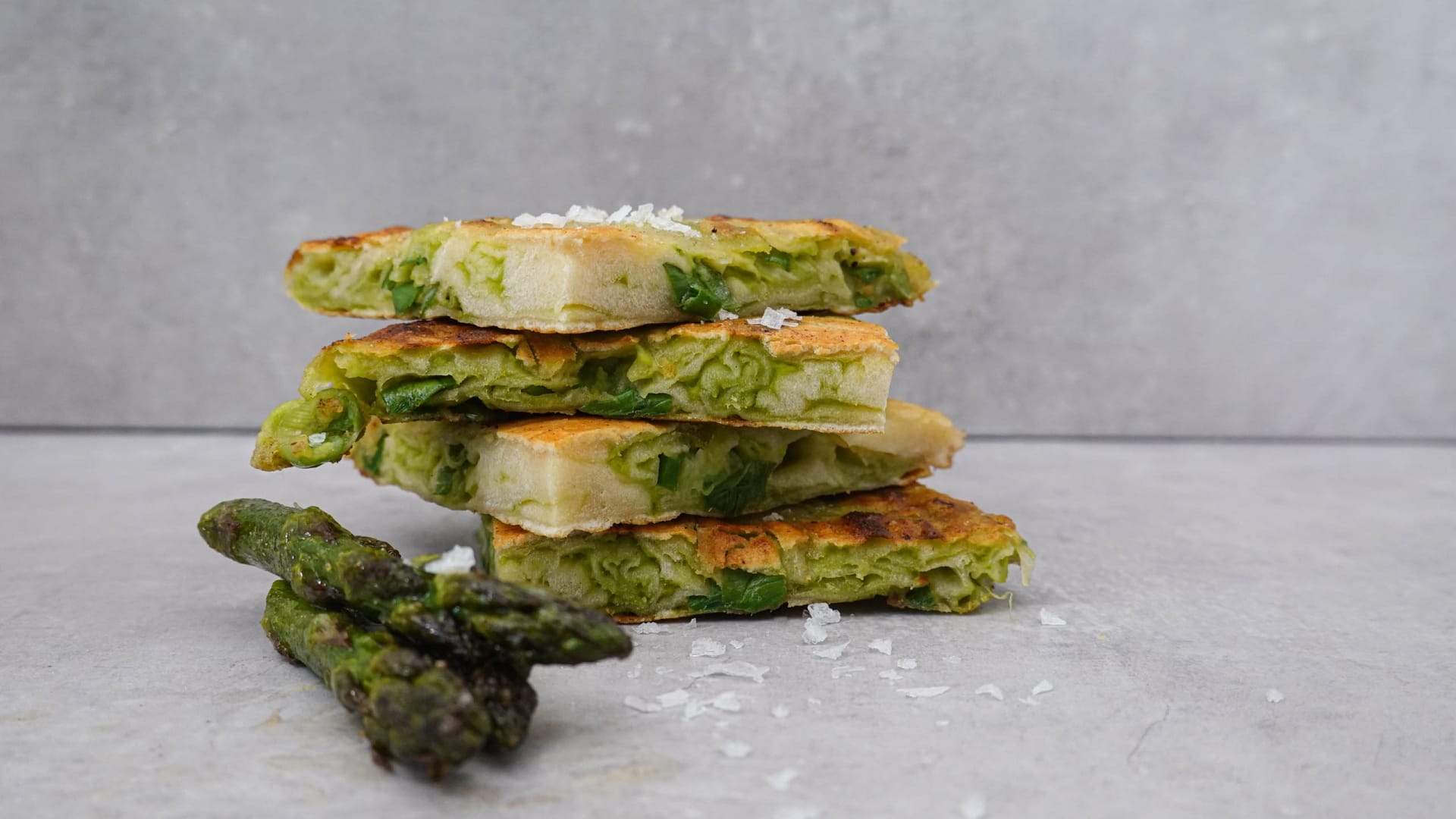 Our Food Lab is located in Hamburg, the gateway to the world, so it makes sense to combine Franzbrötchen with this Asian recipe. They are also crispy and juicy but of course sweet. Flammkuchen we can also imagine very well with the dough and a pea cream, which could also serve as a soup base, brings bright colors and combines a typical German vegetable with Asian technique.
Correct rolling
We divide the dough into equal parts and roll it out. The thickness of the dough is crucial here, it is about 2 mm, not thicker. For the French roll variant, we spread liquid butter on the rolled out dough. Then we sprinkle cinnamon and sugar on the butter. We now beat the dough together horizontally and then twist it into a snail. We press the snails together and roll them out 1- 1.5 cm thick. The resulting Chinese Pancakes can now be baked and eaten directly in the pan.
But we see it as an ideal product for the freezer. So we put the individual patties between wax paper and freeze them at -18 degrees.
Same same but different
For the Flammkuchen variant, we spread crème fraîche on the rolled-out dough and sprinkle finely chopped Katenschinken on top, again adding a bit of Nordic greetings to the Euro-Asian pastry.
For the "pea soup" version, we spread a pea cream on the rolled out dough and sprinkle fine rings of spring onions on top. Frozen we now have a stock for various needs on the basis of a simple dough. Our creation can be baked in the pan straight from the freezer and is ready in just under 10 minutes for a quick treat. This can be supplemented and increased with salad, sautéed vegetables or simple dips.
It doesn't always have to be pizza because there's never anything wrong with a flatbread either!
Of course, the whole thing must be packed. Because that's what we as a food packaging design agency are all about. Even though we report a lot and with pleasure from our Food Lab.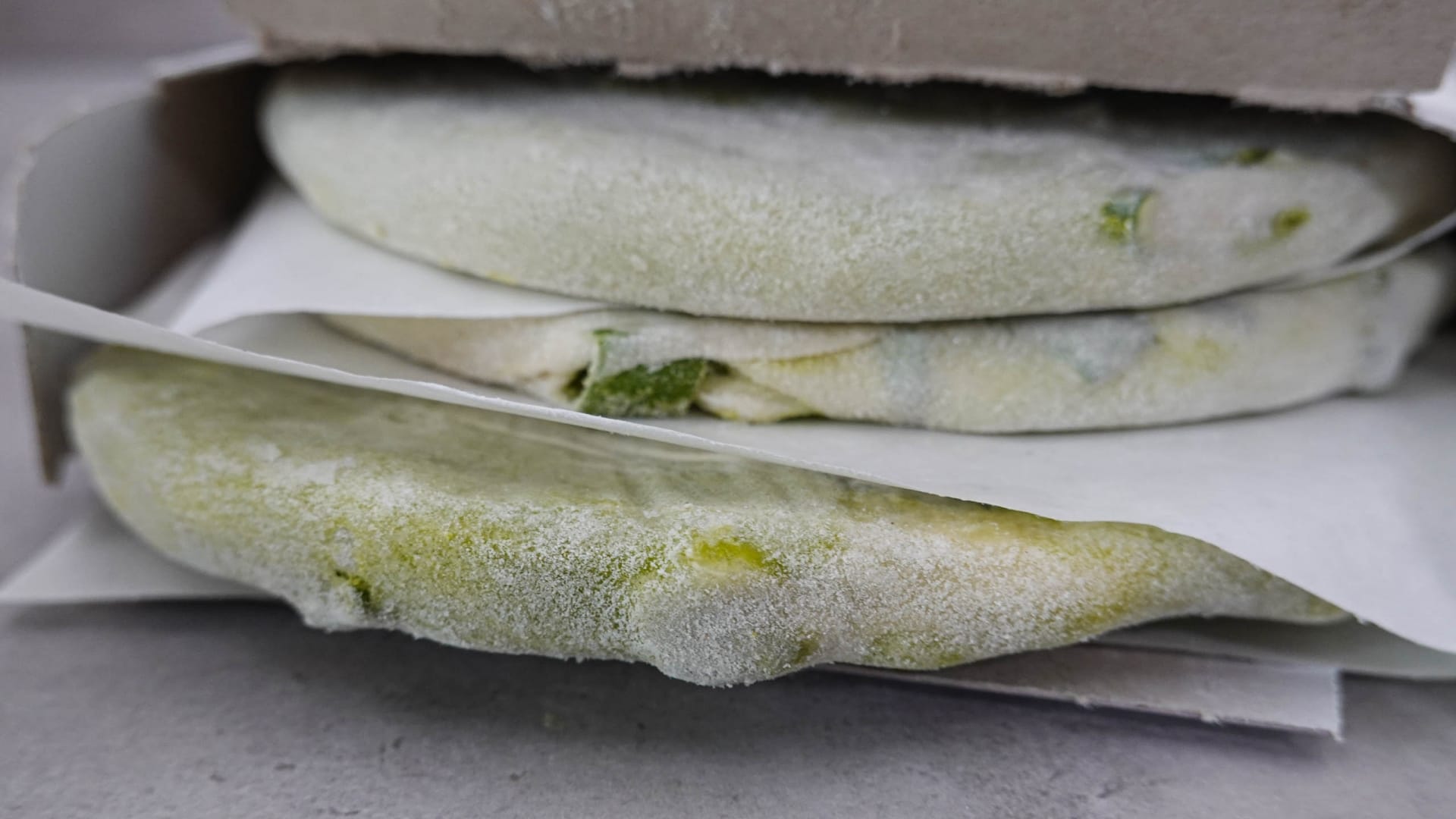 Packaging design agency meets food lab
Food Lab? What does a packaging design agency have to do with the food laboratory? We want to get to the heart of the matter before designing the surface – the packaging. Only those who understand a food product can translate its taste into suitable packaging design. That's why we have creative minds working on food in the kitchen, doing food trend scouting long before it comes to packaging.