Many colorful mayos –
Egg free mayo variations
Mayonnaise is fantastic. Creamy, velvety, voluminous, soft, mild and incredibly changeable. Whether as aioli with lots of garlic, with herbs or even coffee: Basically, there are no limits to the imagination to provide baked potatoes, fries, raw vegetables, fish, meat or other with that certain something.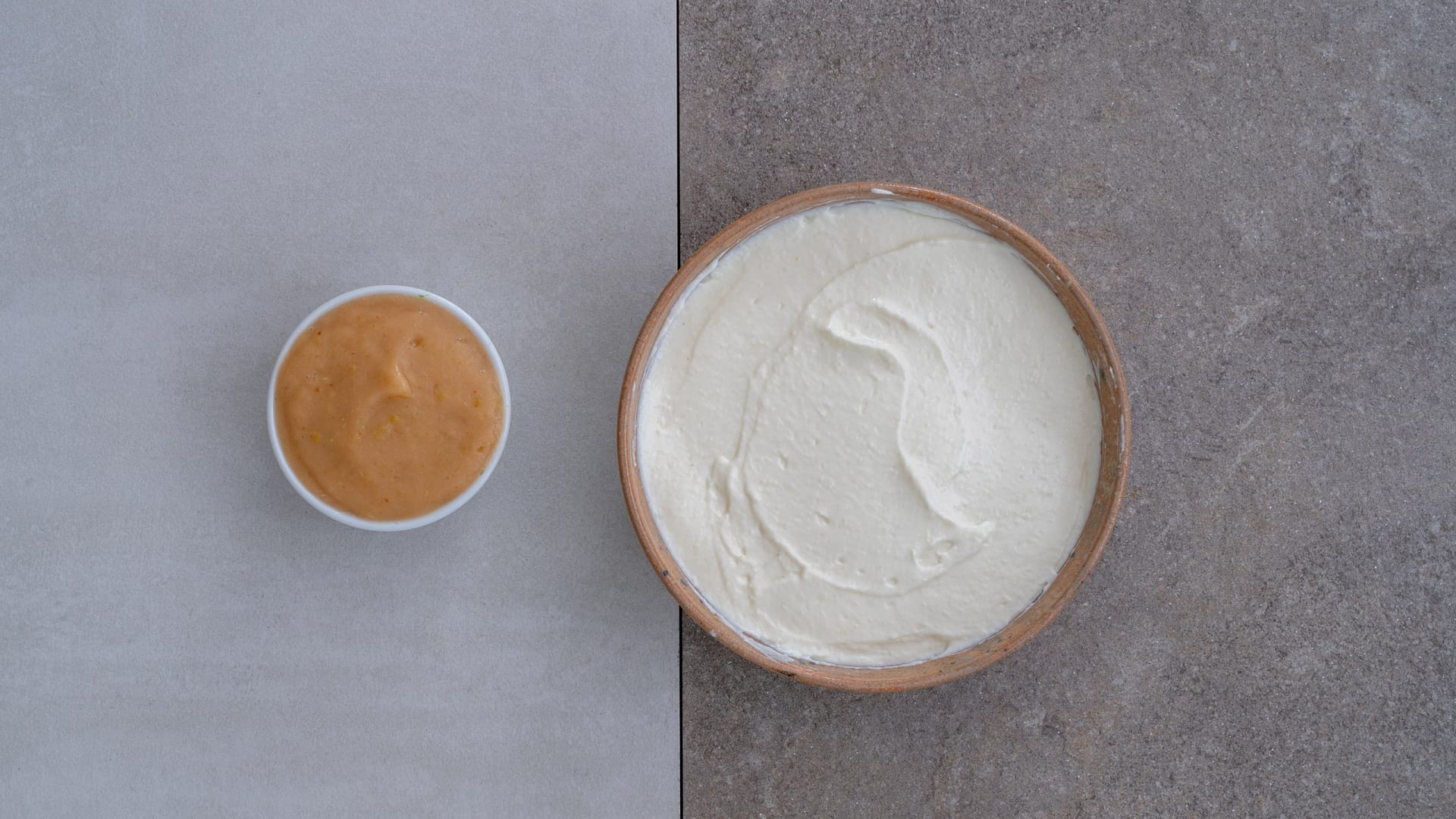 Usually for this purpose, egg yolk, mustard, lemon juice, salt and pepper are mixed and then slowly stir in oil. Either you have a velvety cream in a few minutes or an oily liquid. What seems simple is not always so easy and with raw egg mayo also makes special demands on hygiene. Ready-made mayo from the supermarket can help. Lighter and hygienically less demanding is vegan or egg-free mayo. We present some unusual creations and would not mind if we soon find a new variety of tastes of high-quality egg-free mayonnaises on the supermarket shelves, because we always do not feel like doing it ourselves.
The season mayo
Steffi experimented with seasonal flavors at Lab Munich. Hollandaise to asparagus, by the way, is also nothing more than a warm mayonnaise. With liquid butter instead of oil.
For egg-free or vegan mayonnaise, cow's milk or plant milk is used instead of egg yolk. The lecithin present in the egg yolk is an emulsifier that ensures that the water from the other ingredients combines with the oil to form a cream. Lecithin is also present in soy and cow's milk. Oat milk can also work if it's a barista version. In any case, it helps to somewhat compensate for the lower proportion of lecithin in the milk variants through Mixpower. So do not work by hand with a whisk, but with a hand blender or stand mixer.
First, I ventured into a seasonal variation with wild garlic and strawberries. Combining strawberries with savory ingredients is nothing unusual: pepper, basil or balsamic vinegar are often combined in upscale restaurants, I just took these combinations further.
Wild garlic strawberry mayonnaise
Here is the recipe with a mayo made from oat milk (barista):
Ingredients:
Aroma base:
230 g wild garlic leaves
100 g baby spinach
80 g ice water
60 g strawberries
Mayo:
150 g oat milk
15 g rice wine vinegar
12 g salt
1 g mustard powder
1 g onion powder
½ lemon, juice & zest
300 g neutral oil (rapeseed oil/sunflower oil)
Preparation:
Aroma base:
Add 2/3 of the wild garlic to the boiling salted water, after two minutes add the baby spinach. After four minutes, quench in ice water.
Drain and squeeze. Puree finely in a blender with the fresh wild garlic.
Finely puree 60 g strawberries.
Egg-free mayo:
Blend the oat milk, mirin, salt, mustard & onion powder, lemon juice and rub. Carefully pour in the oil on medium speed until the mixture is set. Carefully fold in 100 g of wild garlic mixture and the strawberry puree.
Sounds unusual but gives a perfect balance of sharpness from the wild garlic with sweetness and acidity from the strawberries.
For a second variation, I worked with cow's milk.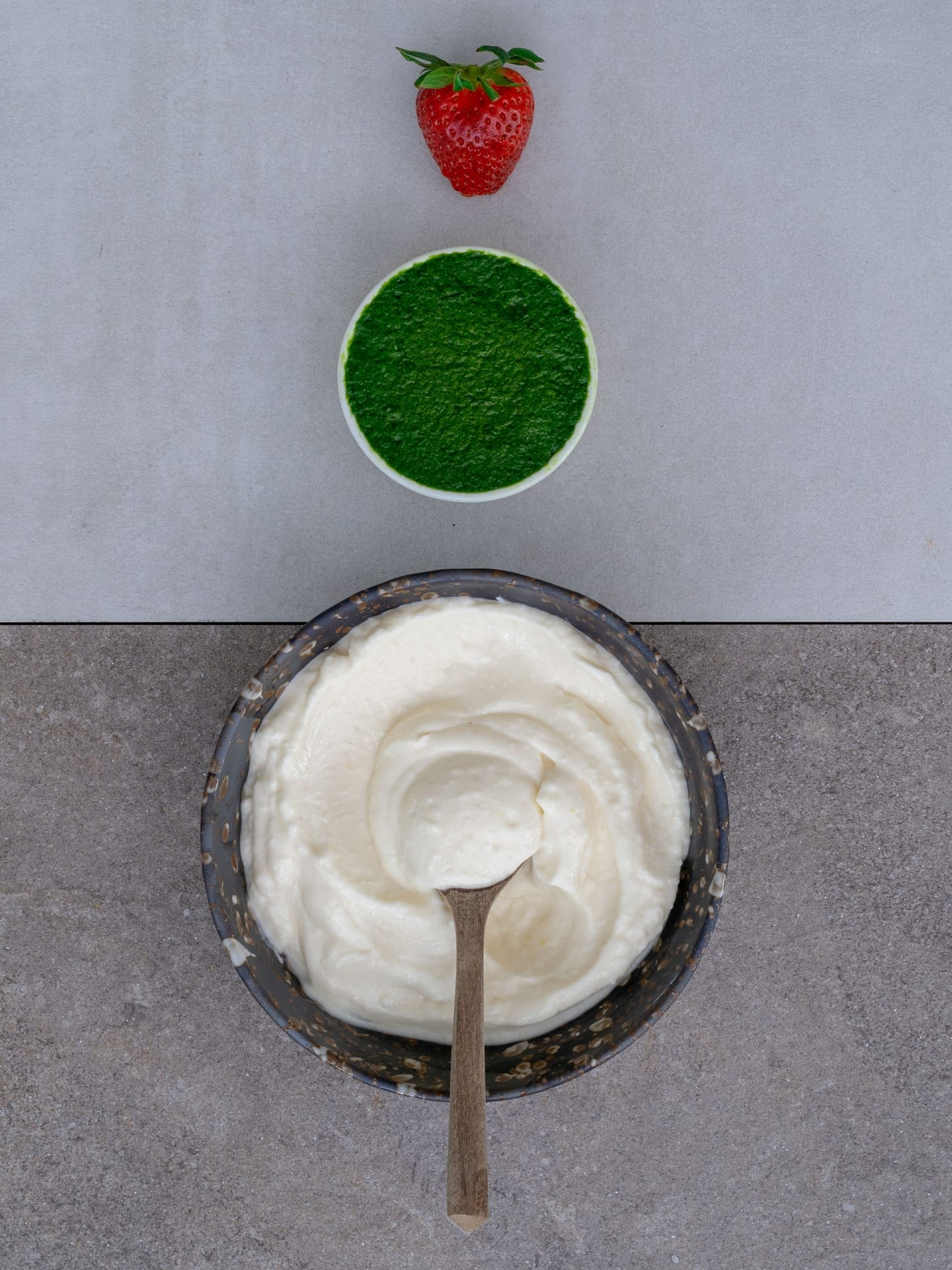 Rhubarb apple mayonnaise
Ingredients:
Aroma base:
200 g rhubarb
200 g Granny Smith
30 g maple syrup
20 g water
Egg-free mayo:
150 g organic milk 3.8% fat
10 g mirin
12 g salt
2 g mustard powder
40 g horseradish
2 g onion powder
1 squeeze of lemon juice
5 g Five Spice spice
300 g rapeseed oil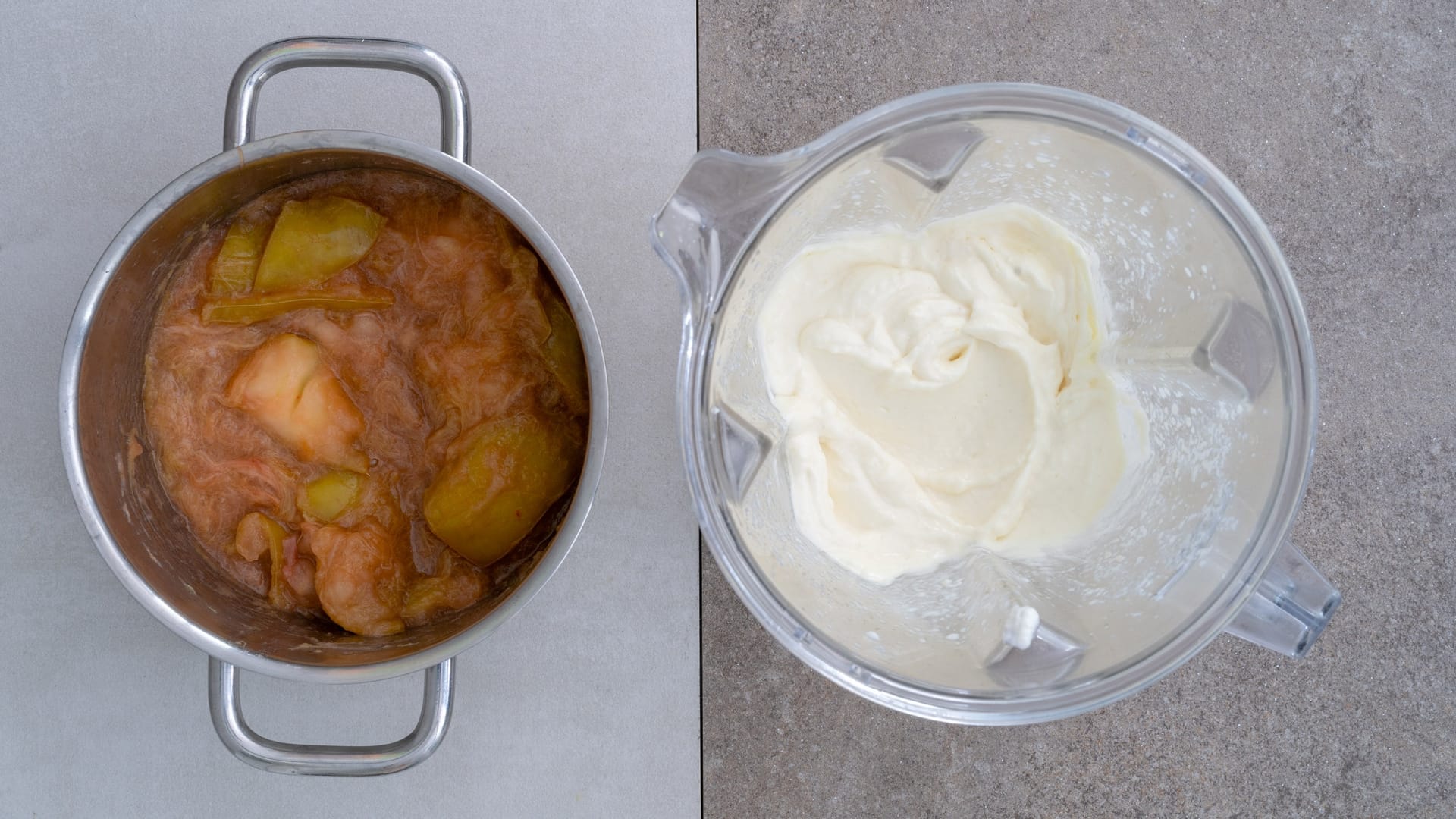 Preparation
Groundmass:
Peel the rhubarb, cut the apple into pieces and put them in a pot with the sweetness, the water.
Simmer for about 5 minutes, then finely puree and let cool completely.
Egg-free mayo:
Add all ingredients except the oil to the blender jar and blend briefly. Then slowly pour in the oil at medium speed. Continue until the mayonnaise has formed.
The consistency becomes super creamy and nice and fluffy-firm. Taste very interesting, tasty and round. However, nowhere near as intense as the wild garlic mayo. It behaves like a cheese tasting, my recommendation: try the milder version in advance. This mayo has a slight spiciness from the horseradish and original flavors from the Five Spice seasoning with a pleasant acidity from the apple-rhubarb compote.
These variants can also be made very well with soy milk. But even without an egg, there are a few rules to follow:
TIPS:
Fill the mayo into dark jars, so the color remains longer
It is best to use all ingredients at room temperature, this facilitates emulsification
A high-performance blender facilitates the preparation enormously and is 'almost' sure to succeed
I would not recommend a hand mixer, but possibly a hand blender.
Shelf life: I recommend fresh preparation and use. But depending on the ingredients and storage at least three days.
Once the mayos are made, they can also be used directly in a double pack:
Beet and potato waffle + 2x mayo = Hmmmmmm
For 4 waffles
Required: A good and powerful waffle iron
Ingredients:
1 liter beet juice
600 g potatoes grated
20 g butter, liquid
60 g processed cheese, spreadable
7 g salt
Pinch of pepper & nutmeg
Preparation
Peel potatoes, grate coarsely on a square grater. Squeeze rasps and place in boiling beet juice for two minutes. Drain into a colander and rinse/cool slightly (otherwise the rasps will continue to cook).
Drain the potato rasps well and pat them a little dry. Mix with butter, the processed cheese, salt, pepper and the nutmeg.
Heat a well coated waffle iron, grease it properly with clarified butter and pour in ¼ of the potato mixture and press down lightly to make a compact waffle. Bake for about 8-10 minutes until crisp (depending on the power of the waffle iron).
Of course, this can be enjoyed with completely different varieties of mayo. You can make them yourself or may soon be available in the supermarket, I'm curious what seasonal specials there will be then – gladly also vegan – fantastic!