Review of our first years as winegrowers
It was an inner flower picking for us!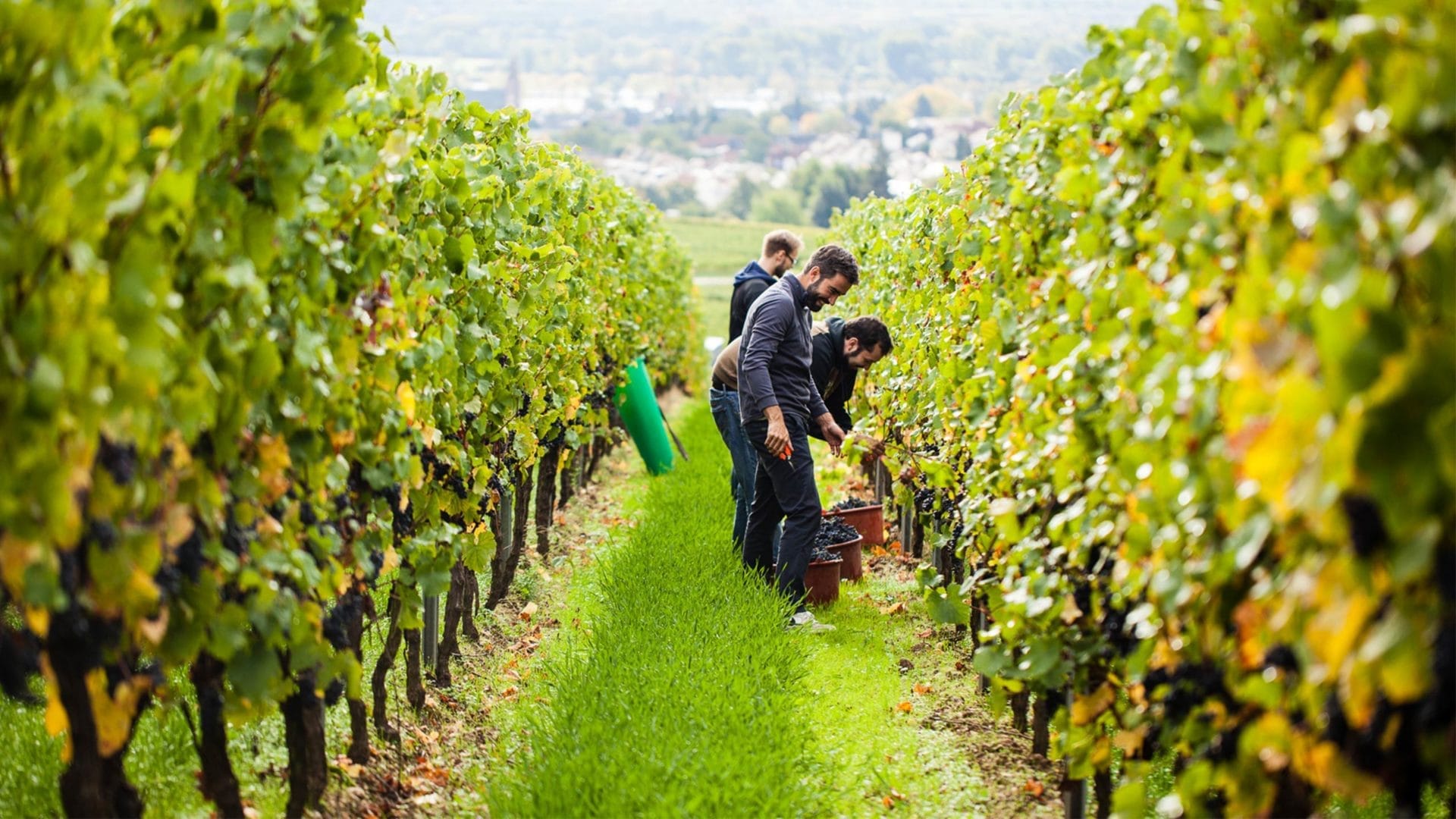 In 2015, the adventure with Allendorf started: Since then, we have regularly driven three quarters of an hour east of Frankfurt to Oestrich-Winkel to our beautiful vineyard, helped with the harvest ( e.g. Pinot Noir, see picture above), picked grape leaves and assisted with quality assurance. The team around boss Andreas Milk had a lot of fun – maybe that's why we picked grapes so slowly :/ – and looks back on the first 5 years in short form on this page.
After a short visit to the Rheingau, we can hardly wait to hold the first own vintage in our hands.
But we let the 2015 rest for a long time and were patient. Now we hope that it tastes even better to you and yours. 120 bottles for 120 people who have accompanied us in 10 years of packaging design "for the love of food".
After an incredible summer 2018 (the second warmest since the beginning of regular weather records) we allow our vines their well-deserved winter sleep.
Of course, in 2019, we then couldn't resist checking in on the good stuff from the previous year. Uli Allendorf confirms: Something big is coming! From this point of view, drinking wine is always a review of a particular year.
But first, the 2017 can be shipped to the friends of the agency.
Those were just the first years of our partnership with Allendorf. We hope that at least 5 more will follow!
Our food has fascinated us – also in a professional context for more than a decade. Where outstanding packaging design for small and large food manufacturers is created, you want to smell, feel, hear and taste before you've seen too much. The eye (our dominant sensory organ) greatly influences purchasing decisions. We know that! To ensure that we follow the purchase with the right product experience to match the packaging design, we take a closer look at the food products our customers present to us.