Liver sausage from lentils
The MILK Food Lab is now quite experienced with sausage and substitute products. It is only consistent after a 50:50 vegetable sausage now no more half things to make. So here 100% sausage with 0% meat. This is our lentil liver sausage. Hearty vespers or a warm dinner with full-bodied spicy flavors, this is possible not only with sausage, but also with Vurst.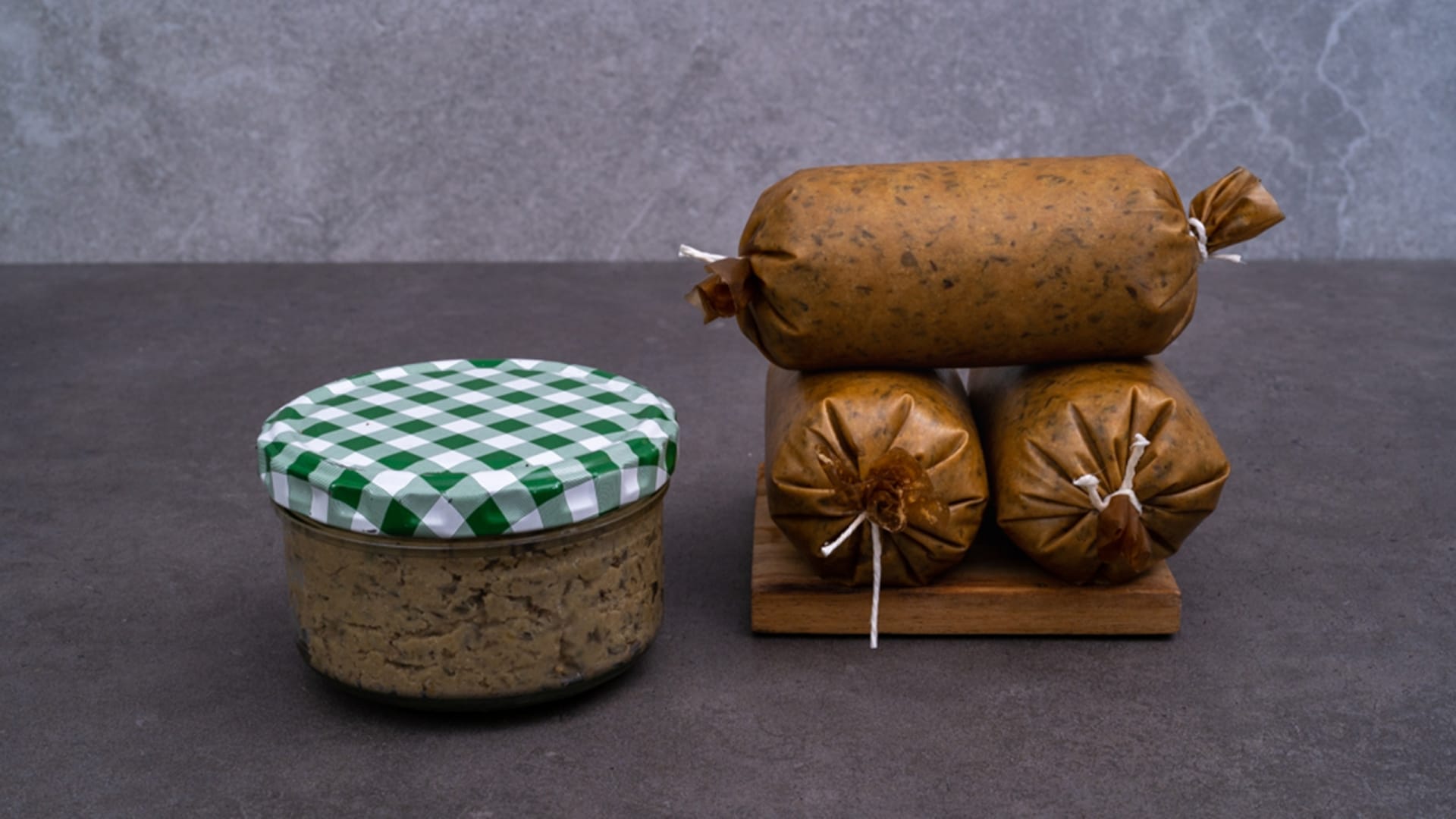 The basis for our liver sausage are green delicatessen lentils, from which we reproduce a coarse, hearty farmer's liver sausage. Lentils are a promising source of vegetable protein. In order for them to become a liver sausage, they have to have a lot of flavor, and we have also gained a lot of experience with umami . For this we resort to mushrooms of two types: shiitake and porcini. Aromatic it becomes thyme, marjoram and oregano, classic sausage spices. Smoked tofu and paprika powder add an additional hearty layer of flavor. Tofu also makes the Vurst nice and creamy and is an additional source of protein.
Here is the complete recipe:
Lentil liver sausage
400 g green lentils
200 g shallots
1 clove garlic
100 g shiitake (fresh)
10 g porcini mushroom, as powder
1 g oregano
1 g thyme
1.5 g marjoram
3 g onion powder
3.5 g garlic powder
1 g paprika powder, smoked
1 pinch nutmeg
1 package smoked tofu
1 g mustard powder
10 g salt
1 g pepper
1 bay leaf
Roughly chop shallots, garlic and shiitake and sauté in a little olive oil until translucent. Pluck the fresh herbs, add onion powder, garlic powder, paprika powder, and nutmeg and continue to saute for about five minutes. Let cool while the lentils cook (with bay leaf but without salt).
Blend 400 g of the cooked lentils, the onion-mushroom mixture, the tofu, pepper, mustard powder and salt until creamy (but it may still have texture). Add the remaining lentils and pulse until coarsely chopped, creating a coarse liver sausage look. Fill the mixture either in jars or deceptively in sausage casings. So the vegan liver sausages can be made into stock sausages and are not only suitable as a spread.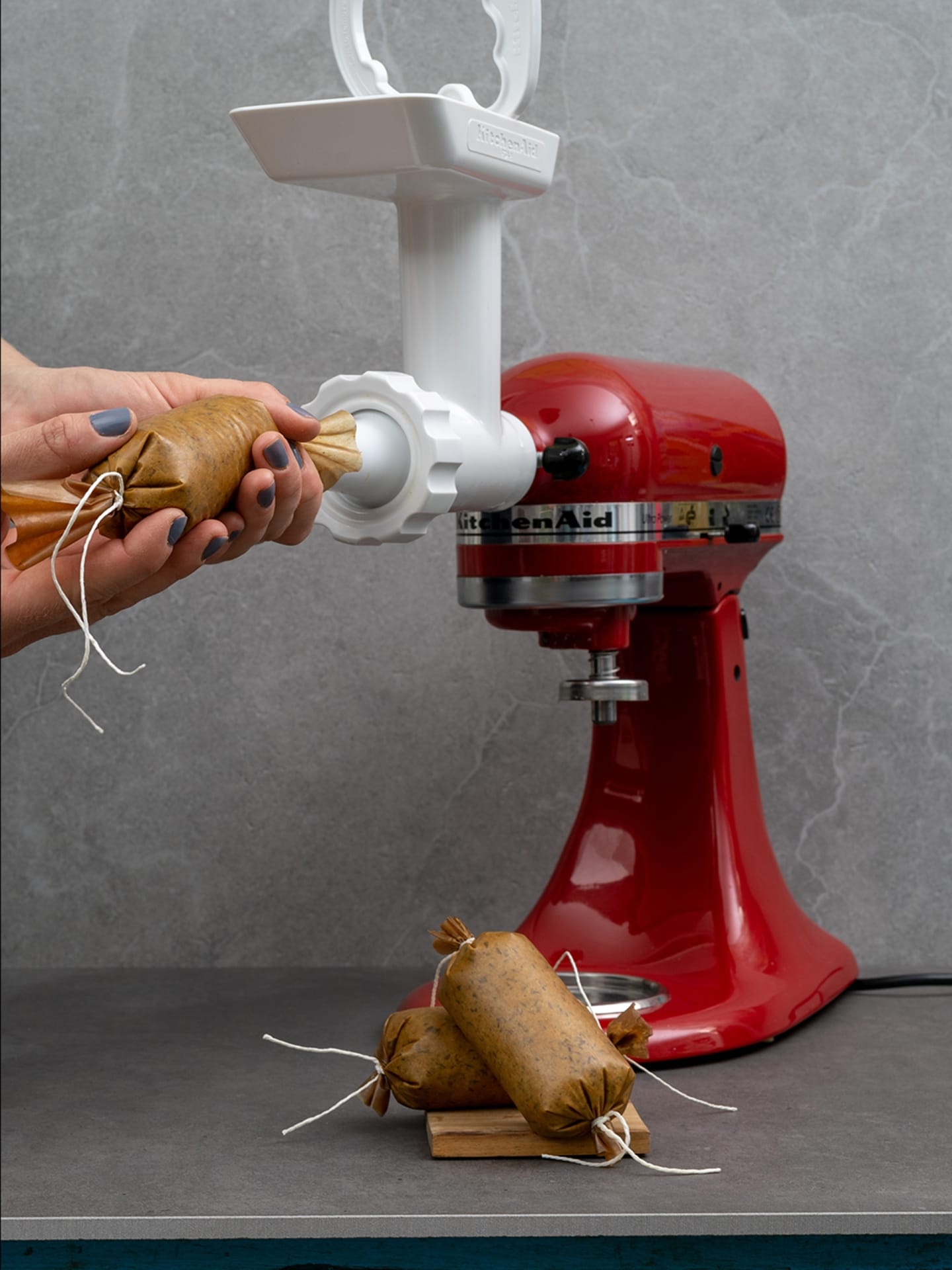 So either enjoy cold as a spread or continue cooking and serve a dish with scalded sausage, that's the way to go:
Liver sausage cooked in artificial casing with rice and green asparagus
(for 4-5 people)
Makes approx. 5 Brühvürste in the size of Rengschburgern (Regensburgers)
Cut artificial casing to desired size and number of pieces and place in lukewarm salt water for about 10-15 minutes and soak. Pat artificial casing blanks dry and tie one side tightly closed at a time. Put the liver sausage mixture through the meat grinder with sausage stuffing horn and fill the blanks, again tying them tightly. If you don't have a meat grinder with a horn of plenty at hand, you can use a piping bag to fill the mixture into the artificial casing.
The scalded sausages can be prepared 2-3 days in advance and stored in the refrigerator. They then shrivel up a bit, but after brewing they are taut and presentable again.
200 g wild rice or brown rice
1 pack green asparagus
Olive oil
Coarse sea salt
Pepper
Cook the rice, then drain and season with olive oil and salt. Toss the asparagus in a little olive oil for 2-3 minutes and add salt. Place the brewing brush in 75°C water and steep for 8 to 10 minutes. What is really important is that the brushes are well knotted. Otherwise, these may rise during the brewing process.
Arrange the rice on a plate and garnish with the hot sausage. Optionally sprinkle with Parmesan cheese and pepper.
Gude Abo – bon appétit!